N27P23 (2/2/14)
suddenly here
& then
here
"through perpetual experience
I plunge into the thickness
of the world." <211>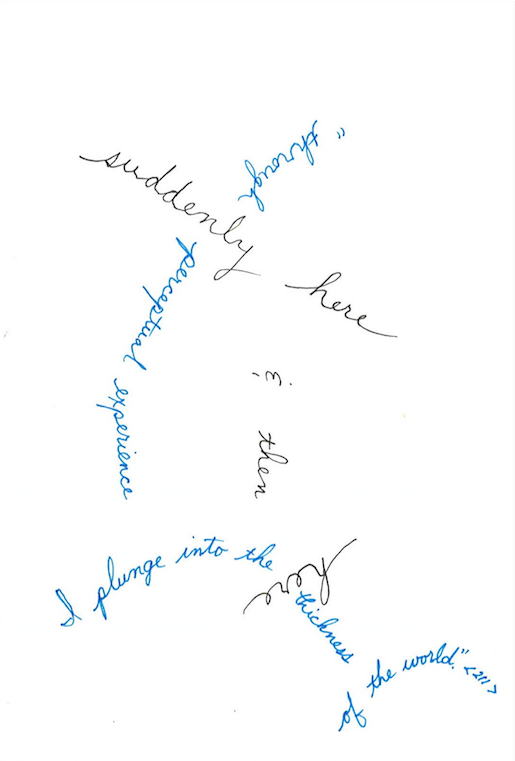 N27P26   (2/7/14)
even frost that cracker jack philosopher
knew it     knew it to be too much
. . . The present
Is too much for the senses
Too crowding, too confusing –
Too present to imagine.
so in this very moment of creation too
the writing of it     the reading   through which   & from
to what degree are we here now
you & i     in what senses
"How is it that the world is not
perfectly explicit in front of us,
and why does it only deploy itself little by little and never 'in its entirety'?" <215>
N27P29   (2/9/14)
re
constituted
each word
being thought
"given that they are inwardly prepared"
"and sensation is, literally, a communion" <219>
(note: quotations followed by page numbers are from Maurice Merleau-Ponty's Phenomenology of Perception)
Hank Lazer (Professor Emeritus and Associate Provost Emeritus) has published twenty-three books of poetry, including Poems Hidden in Plain View (2016, in English and in French), Brush Mind: At Hand (GreencupBooks, 2016), N24 (Little Red Leaves / Textile Series, 2014), N18 (complete) (Singing Horse Press, 2012), Portions (Lavender Ink, 2009), The New Spirit (Singing Horse, 2005), Elegies & Vacations (Salt, 2004), and Days (Lavender Ink, 2002).   Selected Poems and Essays of Hank Lazer, completed by a group of translators and with a Preface by Nie Zhenzao, was published by Central China Normal University Press in 2015.  Lazer's Selected Poems have also been published in Italy (Pensando Cantando: Poesie Scelte di Hank Lazer, QuiEdit, 2015, translated by Anny Ballardini) and will be appearing shortly in Cuba (Pensando Cantando, Torre de letras, translated by Omar Pérez).