Welcome to Issue # 19 of Plume.
As with this month's Newsletter, a very brief Editor's Note this January. As many of you teach,  as do I, I understand that you have more pressing matters to attend to.
Still, it occurs to me that I should speak just a little about the Best American Poetry 2013 selections from Plume. As I noted in the Newsletter, and am pleased to announce here again,  as well,  in case you missed that missive, there are three:
David Kirby                        "Pink is the Navy Blue of India"
Jean Valentine                   "1945″
Beckian Fritz Goldberg     "Henry's Song"
Happy to have even one, I remained, however, interested in discovering if this was…unusual, or even fewer than should have been the case, or about right for a journal of our description. So, of course, I pulled up the BAP 2012 and reviewed the acknowledgments. And found that Plume has, well, acquitted itself nicely. Only three, I think, on that list had more selections that we, in the upcoming volume, and all are well-established journals and magazines whose names I am certain you can conjure easily. Especially gratifying in that Plume has been extant for a mere 18 months. And I must tell you, thinking back to the weeks before our first issue went live, I find this…astonishing. I, together with Chris Katz of Pequod Books (for the anthology) and the indispensable Jason Cook, a former student, technology wizard and all-around wise man-advisor (and editor in his own right – see the splendid Ampersand Books) on all things publication-related, put this little adventure into motion with the gravest doubts regarding its future. To be honest, I had no idea at all that we would receive even a handful of submissions via Submishmash, and would have regarded its early demise as altogether probable. And why wouldn't I? There are hundreds of literary journals to be found online, and even the old-line "stars" such as Pleiades, Kenyon Review, Paris Review, APR, Ploughshares, Prairie Schooner and the rest, maintain robust online appendages to complement their print operations. Why on earth should a poet trust us with her work? Naive, and without much to lose, I wrote request letters to the poets I most admired, and hoped for the best – expecting silence in reply, or worse, a curt dismissal, a cease and desist order (though a well-composed one).  Which, in most cases, never came. For reasons still unknown to me, so many of you, our contributors, have had sufficient faith in us to send us your work – when it so easily could have taken by far more reputable, more highly esteemed and surely much longer-lived publications. I say this in all modesty, I really do: I am not trawling for praise: you have your reasons, and they are yours alone. I wish only to express once again my profound gratitude and to assure you that we will continue to provide as best we can a hospitable environment in which your work will present itself to optimal effect, and surround it with the most congenial company we can round up.
Along those last lines, if I might detain you for a few moments more: let me thank you also for the kind words so many of you have had for Plume. It seems, actually, by chance more than intention, we have done a few things right, or that, let's say, have a certain appeal. Foremost among these are the decision made from the outset to present only twelve poems in each issue. Alone, this has permitted us to a rare freedom: to offer the reader the mental space to attend to each poem with some intensity – a focusing of intellectual energy that your sometimes "difficult" — though I do not like the word, perhaps "challenging" is better – pieces demand. Along with this came naturally the relative austerity – to use a word I do like and one employed by a number of you – of our design, the more-than-one-would-think number of seemingly minor details of aesthetic presentation of which I was utterly ignorant as we began,  but have coalesced to comprise, what? – a look, a feel ("hand-made in a digital age" as one poet put it) –that is fundamentally enclosed: I refer you to the closest analog that comes to mind, Barthes' essay from Mythologies, "The Nautilus and The Drunken Boat."  Color, font, logo, motto, the wording of our Mission Statement – these and a hundred other elements we put in place for the simple reason that we liked them.   It is gratifying to learn that you do, too.
Last – and I will leave you in what peace is yours today – a word about that motto and that mission statement. The former, from Prevert,  in French ( roughly – for those who loved it, the garden remains open –): I am –as has been remarked upon elsewhere — more than a casual Francophile: my earliest affections for – and affectations born of – poetry were sparked by the surrealists, and I have followed that winding  path all of my reading life, moving from Eluard and Reverdy to Cioran to Houllebecq (the latter both poets first, in my mind), not to the exclusion of all others, of course, but as a kind of guide star, a sort of tropism. I hope this has not put off those who do not share this inclination; I don't think it has, and it does not, of course, preclude my admiration for any other work – as a glance at any issue will attest. As for the statement of our mission, that, too, came almost without effort: it had been gathering itself, to use the Rilkean phrase, for as long as I have been reading seriously. The poets I note as formative of my tastes have been over these many years those to whom I am drawn almost unconsciously. As Ron Slate observed in his lovely Forward to the Plume Anthology of Poetry 2012, they constitute a kind of personal pantheon (and haven't we all constructed such mental temples, whose gods we could name as we could our brothers and sisters?), admittance to which I alone approve or deny. In either case, I want you to know this is the sole criterion by which I am steered as I write to you, asking humbly for work, or accept when work is sent so generously unrequested. Others – many, many others , as many I hope as there are editors – have different  opinions, different standards which lead them to conclude that this or that poem is "right" for their publications, and I would not quarrel with any of them — for, in the end, who am I to argue with those who have long ago mastered what I still learn, so ineptly, so fumblingly?
All of which is to say, once more: much much gratitude, poets.
Oh – I am learning this at least – please do drop into a reading if it is convenient – we have put together a remarkable series, with wonderful poets. And please forgive me if I include an advertisement – one only – for out print anthology, which will be on sale at those readings and is available through our store or at various online venues.
More on these issues next issue, I think – a few additional thoughts raised their hands as I composed this note, and I will call on them then.
Daniel lawless 
Editor, Plume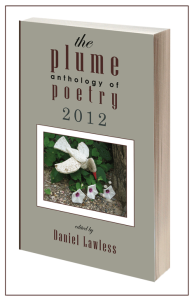 We are happy to introduce — at last – The Plume Anthology of Poetry 2012. It is a a handsome volume, we think, comprising work from our online issues, new work from new poets, and a splendid Featured Poet section devoted to multiple works by a single artist: in this initial volume, that would be the great Dutch poet M. Vasalis, translated and with a beautiful and edifying introduction from one of our own great poets, David Young, together with Fred Lessing. Almost seventy poets are represented in this inaugural volume, often with several poems, representing a broad range of the best work by the best U.S. and international poets working today —  the latter with both originals and English translations, from some of the finest translators in the field, including Stuart Friebert, Marliyn Hacker, Mark Wunderluch, and others.
Also available at Porter Square Books in Cambridge, Elliot Bay Books in Seattle, Carmichael's Books in Louisville, and Barnes & Noble, Amazon, and elsewhere online.