The Plume 4 Anthology of Poetry
 "American poetry as the dream, the dream of what we are, the dream of who we were, the dream of who we can be. It's here again as Plume continues to come back to us anew, diverse, fresh, vibrant, symphonic, and enduringly real."  – Afaa Michael Weaver
"A remarkably and deliciously eclectic collection, Plume 4 gives a wonderful sense of just how far the definition of poetry can stretch, and how much territory it can cover – and uncover. The editor has a keen sense for living language and, through all this diversity, there runs a vibrant thread, a vivid pulse, a raw edge that is life itself."–  Cole Swenson
"…thoughtful, entertaining, capacious, full of mystery… " — David Rivard
"Plume is a gem, in the rare-and-wondrous kind sense… delivering batches of the freshest, most provocative, and necessary writing around."  — Lia Purpura
We are proud to introduce fourth annual installment of The Plume Anthology of Poetry.
$21.95 USD

The Plume Anthology of Poetry, 2014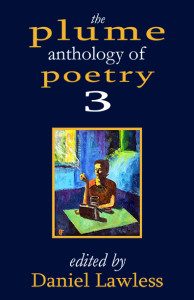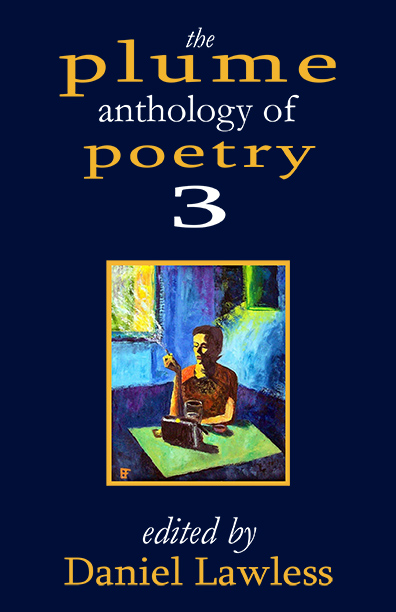 "Plume's apparent lack of a narrow editorial policy (except a fondness for interesting poems) makes for lots of strange bedfellows, but what was the last time that was a bad idea?"  ~Billy Collins
"Of all the things that might claim one's attention, and they are in the multitudes! Plume is well worth making time for since it isn't just another magazine. Its difference? Wonderful work, on the edge, room for play and dash, new forms, a great discerning editor in Danny Lawless!"   ~ Tess Gallagher
"Plume is one of the most exciting, eclectic gatherings of writers on the web. Editor Daniel Lawless has a knack for putting together voices that create surprising neighborhoods of words, related in complex ways that only gradually reveal themselves. It's one of very few webzines that I always read."   ~ Chase Twichell
We are proud to introduce third annual installment of The Plume Anthology of Poetry.
The Plume Anthology of Poetry, 2013
We are proud to introduce second annual installment of The Plume Anthology of Poetry, featuring selections from online issues of Plume, but comprised mostly of new work unavailable in our online pages or anywhere else. Again we present a wide range of some of the best working today, a truly international selection this time with work by poets from several continents. This year, we offer a selection of work from Karl Krolow, translated by Stuart Freibert, and a generous preface by Linda Pastan.
$19.95

The Plume Anthology of Poetry, 2012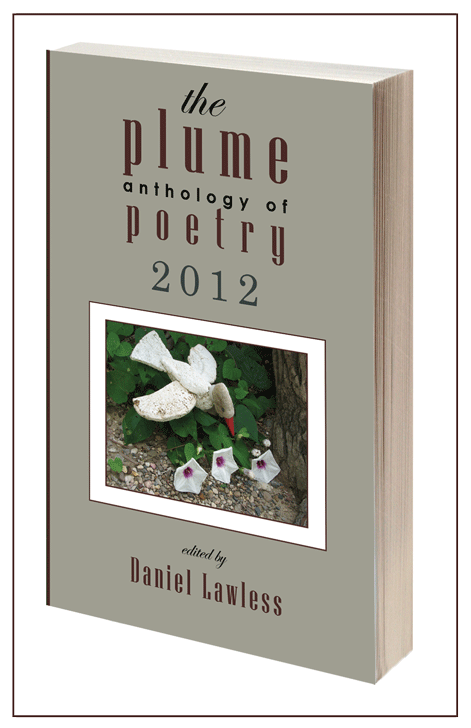 We are happy to introduce — at last — The Plume Anthology of Poetry 2012. It is a a handsome volume, we think, comprising work from our online issues, new work from new poets, and a splendid Featured Poet section devoted to multiple works by a single artist: in this initial volume, that would be the great Dutch poet M. Vasalis, translated and with a beautiful and edifying introduction from one of our own great poets, David Young, together with Fred Lessing. Almost seventy poets are represented in this inaugural volume, often with several poems, representing  a broad range of the best work by the best U.S. and international poets working today —  the latter with both originals and English translations, from some of the finest translators in the field, including Stuart Friebert, Marliyn Hacker, Mark Wunderluch, and others.
Also available at Barnes & Noble and Amazon.
Published by Pequod Books
Publication date: Sept. 1, 2012
204 pages
5.5 x 8.5
$16.00