Readers: Welcome to Plume Issue # 58 –
May: up early and feeling already…wistful for some reason as I ran this morning — perhaps the soundtrack I had selected, the old Blur LP Think Tank, Eno's Another Green World – and following a different route than usual, it was as if it – that lurking nostalgia — had been awaiting my passage, its physical manifestation of my inchoate nostalgia: a shack. Or rather the beginnings of one. About 10' x10', half-clad in tar paper, around which were strewn saws and hammers, assorted wood scraps, empty bottles of Gatorade, a discarded tee shirt, faintly glistening in a light dew. All set in one corner of a row of three or four empty lots, that amounted to of all things in this densely populated county, a field.
My initial reaction was simply surprise: as one might enter a nondescript modern apartment and find its occupant, normal in every other way, engaged in conversation on a rotary telephone, watching a black and white television. How many years since I had seen such an artifact as this, outside the vaguely scarifying simulacra found on Tiny Houses Hunters, Nation, Builders etc., or the cinema? (Most children's "playhouses" come prefabricated now, perfect, pastel cottages or molded-plastic castles, as you know.)
But there it was. The very image of the ramshackle, and more important, bearing the unmistakable imprint of authentic childhood endeavor: with all its architectural errancies and ill-considered design elements (was that a chimney-in-progress or a turret?), clearly even in this early stage the product of its builders' private reveries and doubtless innumerable hours of sun-dazed labor.
Immediately, I thought of my own construction projects, aged ten or twelve – tree houses and structures not unlike this one, but also what we called generically "forts" made of whatever materials we could pilfer or that presented themselves ex machina (resinous cut-down tree sections, sheets of corrugated metal, plywood planks, et cetera), fashioned into lean-to's, dens hollowed out in thick hedges, sometimes underground rooms reached by series of tunnels a la "the Vietcong" or The Great Escape. Sometimes, too, our sanctuaries were merely a kind of "squat" – disused bus shelters, abandoned tool sheds — but the fact remained that we had selected them, and made them our own.
And sanctuaries they were, fixed and anchored points in the flux of that turbulent age, happy refuges from the adult world where we could temporarily evade not only the well-intentioned but soul-destroying advice of our parents — insert here your own science project cliché – but indulge rebelliously in such nascent vices as sprung to mind.
Or so we believed, as we snuffled up our Marlboro Reds and turned the rippled pages of a damp Playboy or Penthouse.
Yet, not once did it occur to us that, far from an act of revolt or at least protest, what we were truly engaged in was…replication. For as soon as we had completed one of these projects, rudimentary or temporary-seeming as they might appear, our thoughts turned to furnishing it – and not with centerfolds or some other semi-illicit paraphernalia, but merely the slightly rearranged bric-a-brac that surrounded us daily in our middle-class homes. Here a shoplifted alarm clock, there a floor of discarded shag carpet squares, transistor radios, swathes of foraged tarpaulin for window shades, trembling tables and off-kilter folding chairs…each adding its authority to the proposition that this was a kind of home, yes, with all the potency of that word: its safety and closed-ness, dominion over the (imagined, gleefully) freighted threats of the wilderness. But one of our design and subject to our rules So: a kind of playing "doctor" or "school," construction-style: assuming the role of the adult in order to subvert it by proportion and also exert power over it– if I can play the (very) amateur psychiatrist for a moment. Not that such a notion would have occurred to us then, of course.
Nor in the following years has this fascination with the "little house" waned. I have remained a "claustrophile." As other men become ossified in their devotion to dollhouses or model trains or scaled-down Civil War battlefields, I developed an eye for and love of these diminutive enclosed spaces– the smaller the better – and felt in their (fictional or real) presence something of the security and tranquil solitudes of that earlier time. From Kerouac, the fire-watcher's tower called me, from Kafka, the burrow. The rustic hermitages of Gethsemane, ice-fisherman's shanties and Dick Proenneke's Alaskan cabin, igloos, toll booths and bridge-keepers'offices, prison cells, Japanese capsule hotels, fallout shelters and electrical equipment sheds, too. For several years, I lived in a walk-in closet, for several more an attic, both of which I kitted out with the greatest care and such extravagances as I could afford. Why? I think I was – as almost all children are –and still am drawn to the notion of compactness and its impositions, of the act of efficient ordering it requires, the denseness it engenders somehow…luxurious, gem-like. Is it any wonder I turned to poetry rather than prose?
So, I hear you say: the point? Alas, none, really. Only that that shack I encountered this morning finds tonight some kinship with this issue's cover art – "Silo" by Randi Ward, taken on the Faroe Islands (see "Cover Art" below) – that small archipelago off the Danish coast a kind of extrapolation from it – the shack – in its rusticity and isolation from the "adult" world of the market and its inane complexities. And serves, now, that shack and that photograph, as an excuse, really, to offer you the essay below from Barthes' Mythologies, which I re-read just a few minutes ago (before starting on this Note would have been nice) and says so much more eloquently, so much more astutely and gracefully than I what I have attempted to get at.
'The Nautilus and the Drunken Boat'
[First published together as Mythologiques (Paris: Seuil 1957); trans. in English (London: Jonathan Cape 1972; Vintage 1993); rev. edn. (London: Vintage 2009)]
The work of Jules Verne (whose centenary was recently celebrated) would be a good subject for a structural study: it is highly thematic. Verne has built a kind of self-sufficient cosmogony, which has its own categories, its own time, space, fulfilment and even existential principle.
This principle, it seems to me, is the ceaseless action of secluding oneself. Imagination about travel corresponds in Verne to an exploration of closure, and the compatibility between Verne and childhood does not stem from a banal mystique of adventure, but on the contrary from a common delight in the finite, which one also finds in children's passion for huts and tents: to enclose oneself and to settle, such is the existential dream of childhood and of Verne. The archetype of this dream is this almost perfect novel: L'Ile mysterieuse, in which the manchild re-invents the world, fills it, closes it, shuts himself up in it, and crowns this encyclopaedic effort with the bourgeois posture of appropriation: slippers, pipe and fireside, while outside the storm, that is, the infinite, rages in vain.
Verne had an obsession for plenitude: he never stopped putting a last touch to the world and furnishing it, making it full with an egg-like fullness. His tendency is exactly that of an eighteenth-century encyclopaedist or of a Dutch painter: the world is finite, the world is fill of numerable and contiguous objects. The artist can have no other task than to make catalogues, inventories, and to watch out for small unfilled corners in order to conjure up [73] there, in close ranks, the creations and the instruments of man. Verne belongs to the progressive lineage of the bourgeoisie: his work proclaims that nothing can escape-man, that the world, even its most distant part, is like an object in his hand, and that, all told, property is but a dialectical moment in the general enslavement of Nature. Verne in no way sought to enlarge the world by romantic ways of escape or mystical plans to reach the infinite: he constantly sought to shrink it, to populate it, to reduce it to a known and enclosed space, where man could subsequently live in comfort: the world can draw everything from itself, it needs, in order to exist, no one else but man.
Beyond the innumerable resources of science, Verne invented an excellent novelistic device in order to make more vivid this appropriation of the world: to pledge space by means of time, constantly to unite these two categories, to stake them on a single throw of the dice or a single impulse, which always come off. Even vicissitudes have the function of conferring on the world a sort of elastic state, making its limits more distant, then closer, blithely playing with cosmic distances, and mischievously testing the power of man over space and schedules. And on this planet which is triumphantly eaten by the Vernian hero, like a sort of bourgeois Antaeus whose nights are innocent and 'restoring', there often loiters some desperado, a prey to remorse and spleen, a relic from an extinct Romantic age, who strikingly shows up by contrast the health of the true owners of the world, who have no other concern but to adapt as perfectly as possible to situations whose complexity, in no way metaphysical nor even ethical, quite simply springs from some provocative whim of geography.
The basic activity in Jules Verne, then, is unquestionably that of appropriation. The image of the ship, so important in his mythology, in no way contradicts this. Quite the contrary: the ship may well be a symbol for departure; it is, at a deeper level, the emblem [74] of closure. An inclination for ships always means the joy of perfectly enclosing oneself, of having at hand the greatest possible number of objects, and having at one's disposal an absolutely finite space. To like ships is first and foremost to like a house, a superlative one since it is unremittingly closed, and not at all vague sailings into the unknown: a ship is a habitat before being a means of transport. And sure enough, all the ships in Jules Verne are perfect cubby-holes, and the vastness of their circumnavigation further increases the bliss of their closure, the perfection of their inner humanity. TheNautilus, in this regard, is the most desirable of all caves: the enjoyment of being enclosed reaches its paroxysm when, from the bosom of this unbroken inwardness, it is possible to watch, through a large window-pane, the outside vagueness of the waters, and thus define, in a single act, the inside by means of its opposite.
Most ships in legend or fiction are, from this point of view, like the Nautilus, the theme of a cherished seclusion, for it is enough to present the ship as the habitat of man, for man immediately to organize there the enjoyment of a round, smooth universe, of which, in addition, a whole nautical morality makes him at once the god, the master and the owner (sole master on board, &c.). In this mythology of seafaring, there is only one means to exorcize the possessive nature of the man on a ship; it is to eliminate the man and to leave the ship on its own. The ship then is no longer a box, a habitat, an object that is owned; it becomes a travelling eye, which comes close to the infinite; it constantly begets departures. The object that is the true opposite of Verne's Nautilus is Rimbaud's Drunken Boat, the boat which says 'I' and, freed from its concavity, can make man proceed from a psycho-analysis of the cave to a genuine poetics of exploration.
A fool's errand, to take the stage before the master, yes? I think I've learned my lesson. But best case: you will be moved to read again that marvelous book, and your time not completely wasted.
Moving on —
Allow me, then, in hopes you'll forget that introductory rambling, to turn swiftly to the many "thank-you's" in order after this hectic month.
First, to AWP, where Susan Sanford stepped in at the last minute to fill the otherwise unoccupied chair at the Plume booth: how kind of you, Susan – all who stopped by, who have written me, extolled your virtues: intelligence and humor always are appreciated.
And the readings! At LACE Gallery and the Library Bar. By all accounts…interesting: fun and illuminating. And how could they not have been? At LACE, for Plume, the readers were Arthur Vogelsang, Marilyn Kallet, Phillis Levin, Susan Rich, Lynn Emmanuel, Andrea Cohen, Cornelius Eady, Patricia Smith, Ralph Angel, and Hélène Cardona, the last of whom merits special thanks for producing and emceeing the event.
At the Library Bar, a combined Plume/MadHat/White Pines event: Sally Bliumus-Dunn, Jennifer Kwon Dobbs, Julie Bruck, John Hennessy, Bill Yarrow, Larissa Shmailo, Jeffrey Ethan Lee, Hélène Cardona, Elizabeth Hodges, John Fitzgerald, Salgado Maranhao, Alexis Levitan – and emcee extraordinaire Elena Karina Byrne – much gratitude to each and every!
Also, a thousand thank-you's, too, to Terese Svoboda for reading in St. Petersburg for the second installment of the Plume Poetry Series. A delight in every respect. (And that joke…).
Finally: what to say of the Featured Poet at the annual Plume Reading Series: current U.S. Poet Laureate Juan Felipe Herrera? That he was everything I imagined him to be – erudite, passionate, hilarious, graceful – and nattily attired per usual – yes. And modest, and…fascinating…and…new receptor of a second stint as U.S. Poet Laureate! A wise choice, to say the least.
Upcoming readings: Margo Berdeshevsky, Chantal Bizzini, Marilyn Hacker, Marilyn Kallet, and Emmanuel Moses, in Paris at Shakespeare & Co   37 rue de la Bûcherie 75005 Monday, May 30   7 p.m. If you're there, well, come!
Readings in Boston/Cambridge, NYC, Chicago, New Orleans, et cetera, in the fall, announced as plans are firmed up.
And: if you'd like to organize a reading – or allow us to do so – in your neck of the wood (auto-corrected from "words"!), please, email me at plumepoetry@gmail.com .
But now, again, to   Plume Poetry V 4.  Use the zoom on your computer if you'd like to read an excerpt from Daniel Tobin's Preface, the roster of contributors, or blurbs from Afaa Weaver, Cole Swensen, David Rivard, and Lia Purpura.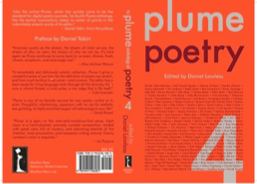 Let me remind you, too, teachers of Creative Writing classes, lo-res drop-ins, and the like: past volumes of the anthology have proved successful employed as texts in a number of such classrooms — owing to the quality of the work and its…diversity, I imagine. So, should you be in the market for such a text for the fall, or even the summer, please consider Plume Poetry V 4 – available at MadHat Press at a discount, of course.
Our Featured Selection this month is from Thomas McCarthy, with an introductory interview conducted by Co-International Editor Hélène Cardona. Stunningly good, both.
Don't forget that the first offering from Plume Editions, Boogie-Woogie Crisscross, a collaboration between Tess Gallagher and Lawrence Matsuda, is available now at MadHat Press.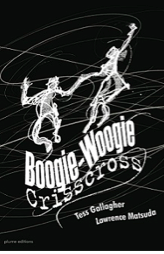 As noted, our cover art, "Silo" is from the marvelous Randi Ward, a writer, translator, lyricist, and photographer from West Virginia. She earned her MA in Cultural Studies from the University of the Faroe Islands and is a recipient of the American-Scandinavian Foundation's Nadia Christensen Prize. During her last six months in the Faroe Islands, Ward lived on the island of Hestur. Fewer than 20 people reside in the lone village of Hestur. There are no longer any school-age children living in the village; nearly all of the remaining residents are over the age of 65. Faroese politicians have decided that an undersea tunnel, currently slated for construction between the islands of Streymoy and Sandoy, will not incorporate Hestur. Being connected to the main island of Streymoy, via tunnel, was considered Hestur's last hope for revitalization.
Here's a bit more of the back story, from Randi Ward:
Anxious to disembark, I went about gathering my luggage into a manageable pile on the rumbling car deck of Teistin. The ferry's hydraulics made a shrill yelp when the hull opened and the ramp began to lower, jouncing toward Hestur's deserted quay. The final crash of the heavy ramp striking rain-soaked concrete made me flinch, and then it hit me: I was the only person going ashore that afternoon. The rest of the passengers were waiting for the ferry to resume its course across Skopunarfjørð to the more populated island of Sandoy.
Hestur, which literally means Horse, is one of eighteen storm-swept islands situated north of Scotland, approximately halfway between Iceland and Norway, in the North Atlantic. These remote Faroe Islands, a self-governing archipelago under the sovereignty of Denmark, are home to forty-nine thousand people, only twenty of whom live in the lone village of Hestur.
My final six months in the Faroes were spent on Hestur. I rented a house, near the village school, from a retired fisherman named Óli. The last family with school-age children had just moved to the capital; nearly all of the remaining residents were over the age of 65, and that holds true to this day.
"There are so few of us left now," Óli writes in his most recent letter. He lists the neighbors who have passed away as well as those who have moved off of the island and into the nursing home at Boðanes.
Faroese politicians have decided that an undersea tunnel, currently slated for construction between the islands of Streymoy and Sandoy, will not incorporate Hestur. Being connected to the main island of Streymoy, via tunnel, was considered Hestur's last hope for revitalization.
"Do you think you'll make it back for a visit?" Óli asks near the end of his letter. "Feel free to come back anytime, the house is waiting for you."
Ah!  Look for a Featured Selection of Danish and Faroese poets soon.
Now, shall I remind you, again, to subscribe to our Newsletter? I shall.   As there, every month, aside from bits of business and upcoming Plume-related events, you will find a "secret poem" introduced by some luminary or other. This month Anatoly Kudresky does the honors. His selected poem:
Work Received this month includes new poems from Paul Guest, Linda Pastan, Okla Elliott, Marilyn Kallet, Margo Berdeshevsky, Chantal Bizzini, J.D. McClatchy, Angela Marinescu (tr Tara Skurtu), Pamela Alexander, Ira Sadoff, Martha Silano, Sylva Fischerova (tr Matthew Sweney), Wendy Barker, Laure-Anne Bosselaar, David Wagoner, Joseph Millar, Dong Li, Jana Prikyl, and David Lehman.
That's it, for now.
As always, I hope you enjoy the issue!
Daniel Lawless
Editor, Plume