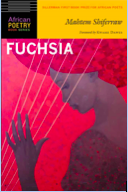 Fuchsia by Mahtem Shiferraw
University of Nebraska Press
$15.95, 108 pages
published March 2016
"In the Lion's Den," a rare persona poem in Mahtem Shiferraw's debut poetry collection Fuchsia, gives voice to the biblical Daniel, who yearns "to open my/mouth and tell them something, anything—/speak as if I have any authority upon/myself." One senses Shiferraw herself behind these lines since her poems brim with questions of identity, as they traverse the fraught majesty of her native Ethiopia and Eritrea, and later, document a tentative relocation to the United States. Throughout, we encounter the lushness, history, and violence of home, the arbitrary cultural expectations of gender, and the sensual pleasures of the body that so often sustain a nomadic existence. A robust debut, Fuchsia resonates as a book of exile, witness, and new beginnings, marked by its international perspective, its deft ability to position us in a large, ever-changing world, and its technicolor detail.
Much of Fuchsia reads as a bittersweet love song to East Africa in poems that chronicle the region's wild beauty and myriad hardships. The rhythms of village life, the pulse of tradition, the hyenas braying on the periphery, and the deafening clack of gunfire all swirl together to immerse us in the tangible sensory details of place. Poems such as "How to Peel Cactus Fruit," "Sleeping with Hyenas," and "Broken Men" show a poet celebrating the richness of her homeland while simultaneously cataloging the horrors that compelled her to leave it. A stylistic departure from the book's usual expressiveness, the staccato rhythms and taut minimalism of "Listro (Shoe-Shiner)" recalls Langston Hughes' early character studies, situating us in the plight of the working poor. The poem's opening stanzas follow below:
Brush, black shoes,
brown shoes,
brush.
Mother is sick.
No injera at home.
Sara was raped.
Father, drunk.
Shred the towel
for the white shoes.
Rip off your notebooks
(brush!)
school won't heal
Mother. No detergent:
spit! It'll do.
Apart from some casual references to Los Angeles and a single poem about New York City (the aptly titled "While Weeping (Broadway & 5th)"), Shiferraw avoids writing directly about her new surroundings in the United States. Instead, she meditates on themes of the body, womanhood, and family, all of which mark the poet's search for a unified identity despite the lingering anxiety about claiming two homes and feeling some degree of alienation from both. The book's most ambitious and mature poems, including the sustained sequence "Dialectics of Death," the intimate confessional "Being a Woman," and the taboo-breaking meditation "The Language of Hair" confront the intricacies of mortality, gender, and race, respectively. Not only do these poems demonstrate Shiferraw at her strongest, but the free democratic society in which the poet currently finds herself proves to be just as fraught with double standards, code switching, and hypocrisy as the society that she left (if not more so). Similarly, the biological litany in "Blood Disparities" seeks "what it meant to be together and alone at the same time," and its four brief stanzas–three of which follow below–are notable for their expansive diction and visceral description:
My sister—not the weird artist who
drew me with a hammer soaring over
my forehead—but the one who's trying to become
a doctor—she said that understanding biology and chemistry
will help me understand lives, and perhaps save them;
she said, if I looked at the intimacy shared between the
small and living intestines, crawling comfortably with each
other in sprawling heated caves, I would understand
what it meant to be together and alone at the same time;
she said, if I witnessed autopsies of lab cats, murdered rats
I would understand the devotion and dedication
of red blood cells, scurrying and flinching to sink into
our veins, or if I fathomed the duplicity of the different colors
of blood—raspberry blood, strawberry blood,
teething gums blood, bloody hell blood—I could make poetry
…
Rendered with fierce precision and frequently charged with violence, Shiferraw's vivid imagery startles. The opening couplet of "Effervescence" is a poem unto itself: "The moon splits in half cheeks—/drooling honey and saliva." In "A Secret Lull," a late poem, "a secret lull rises to the mountaintops/and hovers beneath the shadows of oak trees/sharpening skulls into the white corpses/of eucalyptus trees." In the fourth section of the book's title poem, even translation becomes incarnate, proving itself a tactile and ominous process:
If you ask how to say "burgundy" in Tigrinya, you will be told
it's the color of sheep blood, without the musty smell
of death attached to it. It's also the color of my hair, dipped
in fire. And the greasy texture of clotted arteries, and the folding
skin of pineapple lilies, and the sagging insides of decaying roses,
and the butterfly leaves of blooming perennials, and spongy
strawberries drowning in wine.
As with most first books, Fuchsia has its share of experiments that simply don't coalesce. "The Monster," a prose poem imitation of David St. John's "The Face," seeks to unnerve us with its menacing anaphora, but buckles under the weight of its dull repetition. "Something Familiar and Freezing" grows melodramatic with its variable refrain "this is what you should remember," while "Polka Dot Dreams" feels unfinished, scattering haphazardly down the page with jerky associations that fail to unify or resolve. Ambiguous and flat, "Small Tragedies" strains to express universal truths about suffering, but doesn't get far, as its opening stanza will attest: "Everybody has a story/about how they didn't fit/until they do—/and they want to tell it."
These concerns aside, Shiferraw's poems reveal craft, wisdom, and a panoramic gaze. It's easy to see why Fuchsia was chosen for the Sillerman First Book Prize for African Poets. Those of us committed to inclusiveness should be particularly grateful to series editor Kwame Dawes and the University of Nebraska Press for stewarding this award—now in its third year—and the emerging African Poetry Book Series. As Editor Dawes poignantly writes in his introduction, Shiferraw "reminds us just how varied and exciting the poetry emerging from Africa is" since her work, and the work of others, "eschews the overgeneralized notion of Africa and Africanness." One hopes the future collections in this series will continue to champion the diversification of our poetry by bringing vibrant, vital, and underrepresented voices—such as Shiferraw's—into the national spotlight for many years to come.
Adam Tavel won the Permafrost Book Prize for Plash & Levitation (University of Alaska Press, 2015). He is also the author of The Fawn Abyss (Salmon Poetry, forthcoming) and the chapbook Red Flag Up (Kattywompus, 2013). Tavel won the 2010 Robert Frost Award and his recent poems appear or will soon appear in Beloit Poetry Journal, The Gettysburg Review, Sycamore Review, Passages North, The Journal, Valparaiso Poetry Review, and American Literary Review, among others. He can be found online at http://adamtavel.com/.