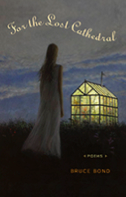 For the Lost Cathedral by Bruce Bond
Louisiana State University Press
$16.95, 84 pages
published April 2015
"This is how it feels, he thought, to be/the orphan of what you sacrifice to see," Bruce Bond writes in "The Desert Fathers," one of many stunning and accomplished poems in For the Lost Cathedral. As its title suggests, themes of spiritual yearning and transcendence unify Bond's poems, which overcome the avoidance, cynicism, and refusal that so frequently inhibit our metaphysical inquiries in their search for "the heaven inside/a handful of water." The capaciousness of Bond's vision—coupled with the graceful, legato fluidity of his measured lines—resists convenient assurances of eternal truth, just as it questions the historical failures of organized religion. His vast gaze encompasses architecture, painting, mythology, the brute destructiveness of two world wars in Europe, the quagmire of global terrorism, and his own childhood premonitions of the divine. In an age when some of our best poets cannot resist the urge to preach, Bond's poems champion Keats's negative capability, and in doing so remain moving and ruminative for devout and doubtful readers alike. Bond's earnestness, patience, and inclusivity sustain his journey through, and beyond, our human failures, as we see in the closing lines of "Air," one of the book's final poems: "Bless us/children of no particular word,/we who bear our wounded through/the strain of vaulted ceilings, a crosshair/above us that blossoms into smoke." For the Lost Cathedral may very well be the best poetry collection from 2015 you've yet to read. Bruce Bond may very well be the most gifted lyric poet writing in America today.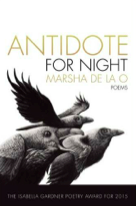 Antidote for Night by Marsha de la O
BOA Editions
$16, 104 pages
published September 2015
A sweeping inventory of the ecological and political complexity of Southern California, Marsha de la O's second book is an adventurous, rangy collection that probes place-based poetics as well as the elemental power of family. Winner of the Isabella Gardner Poetry Award for 2015, Antidote for Night resists mere regionalism, however. While poems such as "Northridge Quake," "Chinese Lantern," and "Wildfire at Witch Creek" are undeniably Californian in their circumstance and detail, other poems such as the elegy "Sanchez"—which mourns the senseless murder of a former student—investigate the intricate racial and socio-economic realities of urban life that gnaw at the poet's conscience and cry out for witness. Like Gary Soto and Philip Levine, de la O has that rare gift to write poems rooted in a consistent landscape, yet the variety, nuance, and emotional maturity in her work transcend local considerations to achieve universal appeal. While a few inclusions suffer from didacticism ("Same Loom," "The Beautiful World"), others such as the pregnancy confessional "Possum," the aching threnody "Crossing Over," and the dazzling childhood narrative "To Go to Riverside"—arguably the book's best poem, and a master class in lineation, pacing, and euphony—blossom exquisitely with each reading. Antidote for Night is an ethereal, sonorous, and gripping collection that seeks, for humanity and for the earth, a reckoning with "the actual damage/the way the body took it."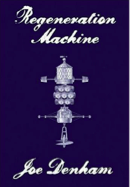 Regeneration Machine by Joe Denham
Nightwood Editions
$18.95, 80 pages
published October 2015
Whitmanesque in its sprawl and grandeur, Canadian Joe Denham's Regeneration Machine frames itself as a hundred-stanza letter-poem to his friend Nevin Sample, who committed suicide after a botched bank robbery twenty years ago. Though the poem is equal parts soliloquy and apostrophe—Sample isn't referenced until page 20—Denham's ambition is admirable. A sustained, unbroken work of this magnitude violates conventional wisdom and risks losing readers who can't follow the poet's associative leaps in a book-length work where "you feel the ghosts/like the inner skin of a balloon blown around you." Propelled by vivid imagery, shifting registers of diction, and strong alliteration, Denham's nine-line stanzas stray from, and return to, the past as they seek wisdom in early middle age "to keep my cynicism/from being the legislator of my days." Though Denham casts a wide net—fatherhood, the wild majesty of the Canadian landscape, ecological ruin, and our cultural obsession with technology all garner considerable attention—the tension between machinery's exacting logic and life's messy unpredictability endures as the book's most dynamic juxtaposition. Despite a few weak passages ("what's right seems nothing but a fool's errand along/a bitter road"), Denham's epic indicts our collective ennui and yearns "to believe we/aren't alone, in our hideous accumulation, without/the possibility of more than what we find when we look/upon the day finally, sleep rinsed from our eyes, and see." Part journal, part psalm, Regeneration Machine illuminates the terrifying insatiability of grief while simultaneously confronting the moral dilemmas of our zeitgeist.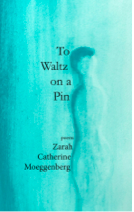 To Waltz on a Pin by Zarah Catherine Moeggenberg
Little Presque Books
$14, 78 pages
published November 2015
With titles like "Fucking Against the Bookcase" and "When I Tell a Lover I Have an STD," Zarah Catherine Moeggenberg's debut poetry collection To Waltz on a Pin explores queer intimacy with gritty candor. Her best poems channel the changeless, decaying landscapes of Richard Hugo's Midwest and the ragged-hearted confessionalism of Anne Sexton in their examinations of sexuality, abuse, intoxication, and familial dysfunction. At times uneven—Moeggenberg flirts with melodrama, and poems such as "Promises to a Son" and "Mohawk" cry out for greater concision—To Waltz on a Pin remains a courageous first book that transgresses taboo and poetic restraint in its search for self-discovery and an articulation of queer romance that moves beyond cultural stereotypes. Poems such as "Drawing Her," "A Story I Never Told You," and "Hendrix" reveal an emerging poet with a strong, assertive voice and a commanding grasp of the free-verse narrative. "Things I Haven't Told My Father," included here in its entirety, captures the book's tenacious spirit:
They keyed my car six different times at Aquinas College,
Fag to driver's side, Faggot to hood. My girlfriend wrote
with a box-cutter from Meijer into her left arm, her stomach
most nights. I did nothing about either.
During my gap year at The Bier Garten, black tank-topped,
lace-leggings, spandex skirt, men told me it'd take one night
to change me back. Called me Carpet Muncher, Pussy Lover,
cupped my waist with meaty hands. I paid interest off student loans.
In Traverse, teenagers called us dykes. Cera ran four blocks
down Division until there were no more streetlights.
Most yards fenceless, I found her curled behind a garbage can.
She told me not to cut my hair off. I still haven't
three years later. In Marquette: my first officemate
said I'm a sinner. More men, one night.
And yesterday, my eleventh student came out to me
behind my desk, looked me straight in the eyes.
Adam Tavel won the Permafrost Book Prize for Plash & Levitation (University of Alaska Press, 2015). He is also the author of The Fawn Abyss (Salmon Poetry, forthcoming) and the chapbook Red Flag Up (Kattywompus, 2013). Tavel won the 2010 Robert Frost Award and his recent poems appear or will soon appear in Beloit Poetry Journal, The Gettysburg Review, Sycamore Review, Passages North, The Journal, Valparaiso Poetry Review, and American Literary Review, among others. He can be found online at http://adamtavel.com/.