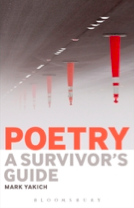 Poetry: A Survivor's Guide by Mark Yakich
Bloomsbury Academic
$19.95, 232 pages
published November 2015
Metaphor is a form of illness. Sometimes writers ought to clothe rather than bare their souls. If we don't know a word we encounter in a poem, we should look it up or die. These sort of irreverent and often profound pronouncements define Mark Yakich's Poetry: A Survivor's Guide, which seeks to bridge the gap between those haughty academic treatises on verse (such as Ezra Pound's ABC of Reading) and those quaint, but ultimately limited, workbooks brimming with writing exercises. As he states in his introduction, Yakich aims to establish "a practical and enjoyable guide about how poems work or how to engage them outside the classroom," a task he accomplishes with verve. A light yet bountiful read, Poetry: A Survivor's Guide offers concise, practical advice for those who yearn to hone their craft and deepen their appreciation for poetry's strange majesty.
Primarily geared toward novice poets, Yakich's aphorisms provide a quirky crash course in all things poetry, as the book evenly divides its focus between holistic discussions of reading and writing. Short topical sections only run between three and five pages, making them easy to absorb in brief sittings or revisit as stand-alone meditations on symbolism, enjambment, revision, and a host of other topics. In his best moments, Yakich captures a genuine excitement for artistic possibility while remaining ever mindful of the practical demands we must confront with the world's oldest art form. Take, for example, this passage from his very first section on "Essentials":
Whether or not you are conscious of it, you are always looking for an excuse to stop reading a poem and move on to another poem or do something else entirely. Resist this urge as much as possible. Think of it as a Buddhist regards a pesky gnat. The gnat, like the poem, may be irritating, but it's not going to kill you to brave it for a little while longer.
One can easily envision a library patron or tentative undergraduate taking comfort in such candid, plainspoken wisdom. Nearly a hundred pages later, in his section on "Spirituality," Yakich articulates why poetry, for over two millennia, has maintained its cultural significance: "Poems are apparitions of what was once there, poised between piety and desire. They are mechanisms of suddenness that spring from a want for mystical or spiritual life." Despite this earnestness, Yakich's humor abounds, as the book contains several endearingly crude sketches (crude in execution and, in at least one case, crude in suggestion) and countless zingers, lest we take all of this poetry business too seriously. Here is how he begins his two-page section on poetry readings: "The way to really know how close you are to someone is to test the relationship to near destruction. Take him or her to a poetry reading."
For more experienced practitioners of verse, Poetry: A Survivor's Guide proves most fascinating when Yakich's own poetic gifts transcend the lesson at hand, or when he reminds us of poetry's limited material significance in a late capitalist society. This paragraph from the book's introduction remains one of Yakich's best, careening into a prose poem after its first three sentences:
For poetry, according to any number of young, emerging, or weathered poets, is all about survival. Not the I'm-good-in-an-emergency kind, but the let's-get-through-this-day kind. The truth is that being a survivor often simply comes down to being alive. Being your own star witness to the ending that is always inside you. And being considerate to all those who came before. The fathers and mothers who got together and sometimes loved each other; their endings, too, are in you. All those screaming nights, sleep-filled babies, beans harvested as they were dying on the vines. All those men who killed other men—religion or not—bludgeoned them with rocks, gutted them with sharpened sticks—blood for honey, flies atop dead bodies—and all those women who were taken in caves or behind bushes or on downy meadows and then lobbed over cliffs. The dead and the super dead. The thousands of generations, all of it—evolution or not—coming to a head right now. Your head, literally, so that if you put your middle finger gently into your ear, you can hear the low-pitched hum of a spacecraft travelling through time. Earth. And yet here you are, still as a book splayed on a shelf, bored by the idea of looking at the stars one more time.
Other passages participate in that most hallowed of poetic pastimes: lamenting the futility of it all. Yakich begins the second half of his book with the chipper understatement that "there are so many things one could do other than write poems." On closer examination, a sciencey-looking chart on page 115 actually illustrates that a poet's readership is comprised of "50% other poets; 10% family; 10% friends; 10% students; 10% (ex-)lovers; 10% unknown (figures approximate)." Later, he offers this pearl of wisdom regarding the elegiac impulse: "You begin an elegy because you want someone else to feel as wounded as you do. As you keep writing, the writing prolongs the grief and that someone else turns out to be you." One of Yakich's greatest insights comes when he articulates the central paradox of all confessional writing in three frank declaratives: "If you experience a terrible event, you will slowly dilute it by writing about it. But if you don't write about it, it will slowly dilute you. What you realize sooner or later is that you can no more rewrite wrongs than you can rewrite rights."
Occasionally, Yakich loses perspective on his audience and his open-mindedness veers into stringency. Halfway through the book's first major section on reading, Yakich patiently explains the meaning and value of imagery, metaphor, and ambiguity as poetic tools, providing several examples of each. Some pages later, however, he uses terms like euphony and deconstruction with the expectation that readers are familiar with them. The book's second major section on writing, to its credit, accommodates various aesthetic choices and acknowledges that there is no single path to poetic fulfillment, so its handful of terse, professorial proscriptions stand out. "Forego the idea of jotting down lines on your phone," Yakich states on page 143, "buy a pen and pocket notebook." He goes on to say the notebook should be oddly shaped. One might retort that documenting a flash of inspiration on an octagonal notepad in a parking lot is simply impractical in our digital age, and moreover, an informal survey of today's best poets would reveal that many of them regularly draft on laptops, tablets, or cell phones. Similarly, near the end of the book, Yakich opines that "the more poems you publish, the more each poem will potentially get diluted" and "the fewer published poems, the more attention and value they may receive." This reviewer humbly submits four of the previous century's most vital voices—Robert Frost, Langston Hughes, Gwendolyn Brooks, and Hayden Carruth—in addition to three of this year's most celebrated poets—Frank Stanford, C.D. Wright, and Norman Dubie—as evidence to the contrary.
Overall, Poetry: A Surivor's Guide succeeds due to its sincere, idiosyncratic counsel for those embarking on their poetic journey. Though the field of creative writing suffers from no shortage of craft books, few offer readers a study so accessible, engaging, and comprehensive. If, as Yakich asserts, "even the best book reviews have the life expectancy of a cloud," perhaps a few stargazers will spot this little tuft of cumulus above their heads and follow where it floats.
Adam Tavel won the Permafrost Book Prize for Plash & Levitation (University of Alaska Press, 2015). He is also the author of The Fawn Abyss (Salmon Poetry, forthcoming) and the chapbook Red Flag Up (Kattywompus, 2013). Tavel won the 2010 Robert Frost Award and his recent poems appear or will soon appear in Beloit Poetry Journal, The Gettysburg Review, Sycamore Review, Passages North, The Journal, Valparaiso Poetry Review, and American Literary Review, among others. He can be found online at http://adamtavel.com/.