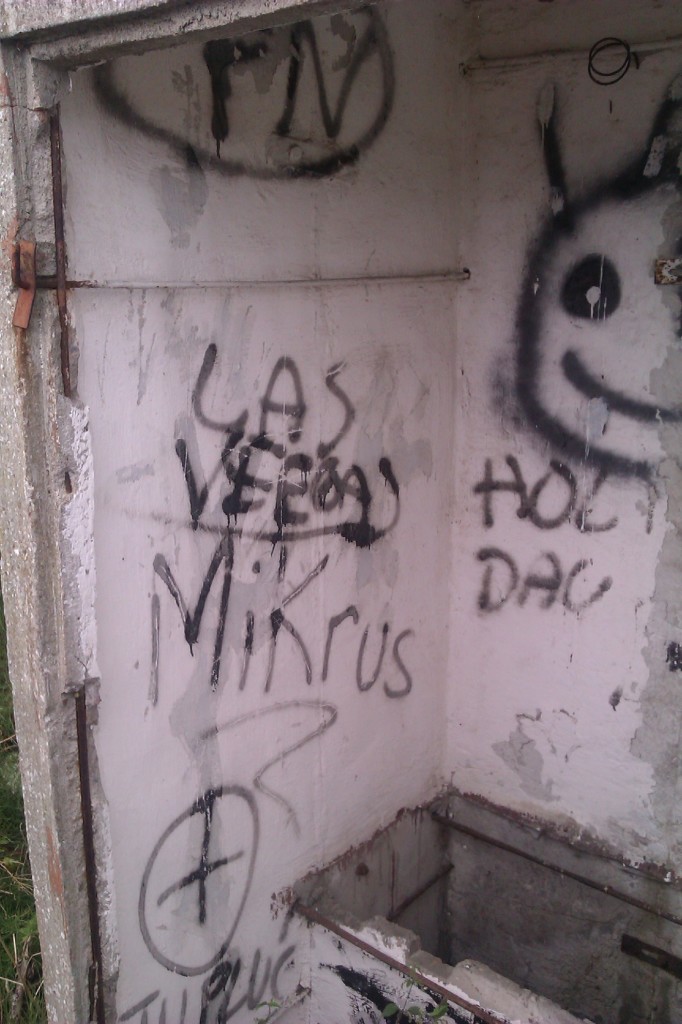 Reading Between the Lands: An Introduction to a Poetry Road Trip Through Northern Poland
As an "author's photo," I offer a description of myself standing on the edge of a sandy road in the little village of Sasek Mały, in the middle of the Mazurian Lake District, a region similar to northern Minnesota or Wisconsin, with a little bit of northern Michigan thrown in.  No mountains, but lots of lakes, wetlands and trees.  And this isn't any spot, but the actual nerve center of the village—the crossroads.  As you can see from the signage, there are choices.  The top sign "Plac zabaw wiejski," points out that behind me is the village playground.  The lower arrows motion to the right should you wish to visit the beach (do plaży) or  the village mayor (do Sołtysa)— truly opposite fates, one involving swimming and the other rural bureaucracy.  But the red arrows point off in another direction, the sandy road leading off into the forest, past the graves of a German family (with Polish last names), interred in these spots in the last months of World War II when this area was still East Prussia and on the verge of yet another disruption of family and nation and language— when even the ghosts often end up being deported. This one family plot, however, was the exception, and its collapse into the surrounding birch trees seemed to be slow, on its own terms. Maybe it was that the family's name actually was Polish, despite the German words on the gravestones (Hier Ruht in Gott unsere liebe Mutter Auguste Chmielski geb. Kowizki). Or, perhaps the newly installed Poles decided to honor these forest graves as their own.
For a photo of Tadeusz Dziewanowski, I offer my memory of him poised by the railroad tracks leading past the ghost of the Osława Dąbrowa train station in the Kaszubian countryside to the west of Gdańsk. The only remains are that of a dilapidated sign—half buried in the ground with only a few letters of the village's name still intact—and some old Communist-era cement outhouses, his and hers, with some globally-aware graffiti sprayed across them with true tomcat flare. Here too the world was disappearing, and Tadeusz and I were trying to notice and make sense of this ongoing vanishing. Indeed, one of the aims in Tadeusz and my "poetic road trip" conducted in August 2013 was to try to slow down the disappearance of the world we were traveling through just long enough to capture, through words, some traces of its passing. Likewise, we were aware of how we were both here in this one place in our lives and already vanishing as well, hence many of the poems from our bilingual collaboration in Polish and English were also tuned towards ourselves—our own thoughts and reactions to these glimpses of a Poland continually fading in the rear view mirror of our minds.
Thanks in part to a "New Directions Initiative" grant from the Great Lakes College Association and Henry Luce III grant from The College of Wooster, I had the good fortune to hang out in Poland from mid-July 2013 until the end of January 2014, combining my decades' long interest in Poland and Polish literature with my equally strong interest in environmental issues. Basically, I was itching to get beyond the usual orbits of Warsaw or Kraków, of Wrocław or Gdańsk, and take a look not just at some new areas of Poland (because I have already done a lot of traveling or hiking in Poland's more "natural" areas), but to look at these new places through a completely different lens—one involving the environment as well as culture. All fine and good. Unfortunately, however, the day after Tadeusz picked me up at the Gdansk airport, he became floored with a high fever and a nasty series of back aches that eventually was diagnosed as pneumonia. When we finally did head out on our trip, Tadeusz was still fragile. (In fact, just a few days before our departure, he had to take a final exam for a post-diploma degree in English literature he was pursuing, fielding a question on William Blake's poetry while being delirious with a temperature of around 103 F. —He aced it.)  But as we headed out of Gdańsk at last, passing the last vestiges of shopping malls and multi-lane bypasses, I was hopeful. The admonition of William Least Heat-Moon in Blue Highways kept cycling through my head: "Look at the land; it too is medicine." I was hoping for Tadeusz's breathing to get stronger. And, like plums ripened on a low-hanging branch, for the poems to come.
But what we found was a world that itself was ailing, under stress. Our first stop in Oslawa Dąbrowa was hardly an interlude in a fairy tale village with peasants making paper cut outs on the doorsteps of their thatch-roofed huts. Instead, we found a place in which there was a complex and often contentious interplay of land usage: a mosaic of untended woods and both large and small scale agriculture, the presence of logging and a large cement and other building materials factory (Prefabet) alongside birch woods and reed-lined lakes where people fished and swam and hunted mushrooms. (Add to that the complexity that the Kaszubian people themselves are a Slavic group distinct from the Polish, with their own language, so that among other differences the road signs with the names of towns and villages in Kaszubia are printed bilingually.) Also taking place were new nation-wide garbage and recycling strictures that drove our landlady crazy, who not only provided us with plastic buckets to separate every scrap of refuse we produced into paper, plastic, and biodegradable components, but also provided us with hourly warnings about the need to use these containers or else. The sorting was sound, but she wasn't so much worried about saving the earth as avoiding a fine. She was hardly a font of knowledge about the local environment either. When we asked her about the possible identity of a bright yellow bird we had seen through our binoculars as it hung out on a faraway electrical line (I thought it was some sort of European oriole counterpart while Tadeusz insisted it was a parrot solely because he wished parrots lived in Kaszubia), she snapped back that she was too busy working to worry about the names of birds. But she did brood constantly about her daughter leaving home for the big city of Gdansk or even nearby Bytów (whose glory days were actually in the 14th century when it was the site of a major castle of the Teutonic Knights). True, there were some "fairy tale" elements—for example, a nearby lake which according to a local Kaszubian legend possessed a submerged causeway that had been created by the Devil as part of a Faustian deal gone bad with a local sheepherder—but above all there were tensions in evidence that were much more contemporary: resentments towards both Warsaw and the EU for the new trash/recycling regulations; worries about fracking very similar to those in Pennsylvania or eastern Ohio; a group of young men not getting paid at a local factory on time so they ended up being thrown out of their lodging because they couldn't pay their rent; worries about overdevelopment because of Gdańsk city-slickers (mieszczuchy) building too many vacation homes. Meanwhile, with Tadeusz's wistful indulgence, I set about learning and naming (in Polish) all the birds and trees and plants surrounding us. I was like a kid in a candy store of language.
And this is where Tadeusz and I began our poetic dialogue, writing new texts partially in response to work that the other writer already created, but also in response to what we were noticing during the long walks we took each day. He wrote in Polish, I wrote in English, and then we translated the other's work into our own tongue. The result is a poem-cycle in two languages, and one we hope makes sense in both Poland and the United States. Moreover, we are hopeful the excerpt you see here in Plume gives you an idea of the entirety of the project, containing as this fragment does what I think are some of the project's central pieces.
Indeed, after Osława Dąbrowa, we then traveled onward to Sasek Mały in the Mazurian Lake District and further eastward to Białowieża Forest, the last old growth forest in Europe, located on the eastern border of Poland with Belorus. Almost 1200 square miles in area, it is approximately one half the size of the state of Delaware. It is also the site of oak trees ranging up to 600 years old, including one tree under which Władysław II Jagiełło supposedly rested before leading the Polish and Lithuanian army in a decisive victory over the Teutonic Knights at the Battle of Grunwald in 1410. That tree, named Jagiełło in popular parlance, survived intact until early November in 1974, when it was toppled over by a windstorm. (Legends of course are very powerful, especially since tree-ring dating established that the oak's sprouting didn't take place till the early 1500s.)
As with many natural regions, Białowieża still survives today due to a fortuitous interplay between its own natural features and the various twists and turns of human history. Not felled for timber or agriculture because of its boggy terrain when most of the rest of Europe's forests were being cleared, Białowieża became a hunting preserve first for the Kings of Poland and Grand Dukes of Lithuania, then the Romanovs of the Russian Empire. As recently as World War II, Hermann Göring envisioned claiming Białowieża as the Third Reich's Hunting Preserve über alles. It is also the site where the European Bison (żubr, in Polish) made its last stand, and where the only free-roaming herds of this animal currently exist in the world. There is not only a vodka (Żubrówka) and a beer (Żubr), but a luxury hotel in the village of Białowieża named after this august beast. Thus, nature is still being appropriated—but by commerce rather than czar. (It's no different here in America, where there are countless examples of the commodification and other re-purposing of nature, including the turning of Walden Pond into a crowded summertime swimming hole). But this is the eastern Polish version of this popular narrative. Where else on this planet can you buy in one store an umbrella imprinted with a bison on its ribs as well as all sorts of Ukrainian herbal liqueurs made from balsam or black currants?
Certainly Tadeusz's and my poems were marked by the natural features of Mazuria and Białowieża—as well as our bemusement at the commercialization and commodification we saw. But we also found ourselves almost against our wills immersed—or rather re-immersed— in the tragic human history of these seemingly remote and bucolic regions. We were here to experience to some degree "the wilderness" of Białowieża, yet Tadeusz and I instead kept coming into contact, mainly through discussions with local people, with numerous stories concerning literally centuries of ethnic cleansing and other types of strife taking place in these villages seemingly remote and buffered from the grasp of civilization. Yet, while on the one hand the imagery found in these poems we ended up writing fits within the well-known "category" of Polish historical tragedy, on the other hand what happened in our poetry (and our understanding) was a realization of the connections between natural place and these atrocities suffered by humans as well as animals. Poems such as "To the Dead Children of the Wilderness" or "Budy" (named after the village where Tadeusz and I stayed) were not the type of poems we had expected to write, but they turned out to be ones that we felt we needed to compose.
Otherwise, we will let these poems speak for themselves. Already we have presented some of them during a bilingual poetry reading held in late January 2014 at the Pionova Art Gallery in Gdansk, but this is their first appearance to an American audience. We hope that they have survived their travel from one world to another more or less intact.
Daniel Bourne, Wooster, Ohio, December 22, 2014
from A Journey Between the Lands
Glistening Wings (Daniel Bourne)
A day in which so much glistens
but nothing can be seen. At least the trees stay in one place
long enough to name them. Linden sap seeping onto cars, the small puddles
even a foreigner can recognize. Or the pine trees
always standing in the background, like a Greek chorus
choosing their words carefully, because they involve our fate.
Osława Dąbrowa, a land of geese of sand of lake. Tadeusz and I walk
the railroad's slightly buckled tracks, the platform
already breaking into weeds, the pockmarked cement
of the old Communist era toilets
now standing side by side, pan i pani, husband and wife.
No wonder then, how the blue robes of the Virgin Mary gleam.
Each porcelain-fold of her statue a small country in itself, the glaze
enough to blind me as I try to watch
a small family scurry by her shining feet, their own afternoon of glare
waiting at the shallow lake, its neon crop of algae, bright bathing suits
and umbrellas, their hands held up against the glare.
But I keep my own eyes open. I want to name the birds,
this one with a black mask, that one with its yellow belly
perched on the power line in the distance. The unknown bird
in the rowan tree at the corner of the shed. I despise
what I recognize in English. I tell Tadeusz the words sparrow and stork,
Queen Ann's Lace and ash, but I'm like the parent who obsesses
only with the child they can never understand.
But even in this village, everything keeps moving.
The dog who won't stay home. Our landlady's daughter
who wants to fly off  to Gdansk or Liverpool. Everything I've done
I've done for my own children, Pani Jadwiga says, clipping
a rose beside her greenhouse, rubbing
her mind once again upon the wound. But they fly off.
Oh my god! Oh my god! Glistening wings! Glistening wings!
Here and Now, After James Wright   (Tadeusz Dziewanowski, translated from Polish by Daniel Bourne)
Yellow plums, wild blackberries, the dog that joins us from the house beside the road, the call of cranes, the nodding mahogany stems of buckwheat, the warmness of the evening after a long day of cloud and chill—Dan names each thing in Polish, these gifts of time and place.
Except that here and now the dog with the big snout and one eye smaller than the other starts in eating berries from the bush and accepting us into her pack. Except that here and now the yellow plums taste succulent as peaches, the buckwheat concealing its secret life of kasha behind the white droplets of its flowers, the cranes in their courtship screeching loud as the sawmill. Except that here and now, our footprints mingle with the tracks of deer and boar, with the paw prints of the dog, when finally she deserts us in the forest and gallops off to home. Except that here and now the driver on the freight train smiles out at the stupid rube who still waits on the platform of the closed station to catch the train to Bytów. The low sun starts to blind. In a few hours the moon will shed its light on all these tangled things. Here and now I know— I have not wasted my life.
(August 10, 2013
Kaszuby, Osława Dąbrowa)
Fruits of the Forest (Runo leśne)  (Daniel Bourne)
Mirabellas so yellow and sweet, blueberries in August, a dog who eats blueberries as we eat blueberries tearing her tongue through the leaves and smiling from pleasure the shrill call of the cranes that made us crash through the white-flowered gryka to get closer to see them the orange yellow back of a deer in the moment she saw us she jumped straight up but then slowly loped to our right as if it was no big deal for her to take her party elsewhere.
We saw the silhouettes of the cranes but did not see the cranes we saw the insides of the berries on our fingers but did not see the berries as we ate them we saw the ants in giant rivers swimming to their anthills and their small floods up our pants legs as we turned on the road through the birch and pine but we did not see the road as it ended in the water nor the tops of the pine trees or nests of nervous birds that flitted in the blessed give of the branches that held their weight but for a moment but that was long enough.
In Kaszubia every town has a second name every word a second way of saying it every person a second language they pretend to never speak only when the forest is around them do they fall down on their knees and say the words for bird and mushroom the true words for dog and deer the true words for what has flown off beyond them in the pounding hammers of new houses built by mieszczuchy from Gdansk the last fruits of the forest the last harvest of the year when anything will taste the way it did when first they came and named the world.
Fragment in Four Colors   (Tadeusz Dziewanowski, translated from Polish by Daniel Bourne)
A fragment of crooked tracks from the Prefabet Factory to the next bend, just a local segment of the infinity of railroads. Beyond the wall of forest, beyond the yellow silos of the plant, lie the endless steppes of the Ukraine divided by the parallel lines of straight track, the mountain highlands wrapped in serpentine coils of steel. From Lipusz the last crows of the day return home to their nests near the abandoned station, in the darkness calling out like wild geese. Perched on a telephone wire, two lemon-yellow birds look with alarm at the black swirl of these ghosts, their silhouettes looming larger and larger in the gloom. But none of them can see what really awaits, the deep freeze of winter. The blue diesel, already turning gray in the last scraps of light, pulls its two boxcars behind it, coupled love-birds of cement and sand. And the dark cloud, laden with water, dragging its heavy belly through the tops of the pines.
(August 9, 2013
Kaszuby, Osława Dąbrowa)
Rewolucja śmieciowa (Garbage Revolution, Osława Dąbrowa, July 2013) (Daniel Bourne)
Sometimes Poland bursts into blossom, the dangling red necklaces
on the rowan berry trees, the tents opened around
the lazy blue lake, the smoke through the trees.
It's Friday. One cottage over, the four boys roar in
from the cement plant, their fingers itching
to pull the triggers on their beer. But the landlady
has changed the locks on their door. Pay me, she says, pay me,
and they race off, back to Prefabet, to see if their boss
will cough up the cash he owes them.
It's another bad weekend. None of them thinks
to recycle. Nothing
will ever blossom from trash. Nonetheless,
all over Poland
the great sorting has begun.
Plastyk and bio, papier and people.
Who goes in this trash can
and who is predestined for that one?
The Mazurian Lakes  (Daniel Bourne)
Sometimes too much tries to be in one place.
We drive by the fish ponds, the stained silos
on the edge of the forest to the east of Olsztynek.
So many lakes, so many trees, a fish so large
it can break a pole in two. But here,
it's fin to fin, a steady rain
of antibiotics and feed
made of other fish.
Don't get me wrong.
We all like to eat. The browned filet
in the black mouth of the skillet.
I think about this a lot, shoulder to shoulder
with a stranger in the store. Farm raised,
the package in the freezer always says.
As if sympathetic cows
Were mooing in the distance.
Domination  (Tadeusz Dziewanowski, translated from Polish by Daniel Bourne)
The alpha crow sidles along the ridge of the barn roof, trying to shoo off the magpie, who is at first taken aback, but then turns it all into a joke, as magpies are wont to do. But the top crow isn't joking, and with little malevolent hops it scoots sideways back in the other direction, towards a crow lower down in rank, who yields immediately and skids down from the tip of the steep-tiled roof, coming to rest in an awkward pose as he wonders at the power of his gray- and black-robed boss.
A spotted old beta mare past her years disrupts the whole herd, irritating the three philosophers who have to turn their hindquarters to their sharp-hooved colleague so they can more easily complain about their ill-fitting saddles and the continual senseless jaunts through the village forest.
In the dining room the entire gang of subordinate males sits. Long ago they gave up their chance of being top dog either at work or in their family. But regular, meaty feedings put down just before their nose quickly puts to sleep the sense of struggle in these particular specimens, puny intellectuals on vacation from the big lights of Warsaw.
(August 14, 2013
Sasek Mały, Mazurian Lakes)
Bialowieża  (Daniel Bourne)
Does it matter that the queen of Poland slayed twenty five bison
Or her husband could kill a bear with one thrust?
This young family walking through the oak trees
Are the true denizens of this preserve, the man
Carrying their young acorn strapped to his back,
The mother with her camera pointed upwards in the branches
Of a massive beast with arms both withered and mighty.
These are the oaks of the Polish kings! The Grand Dukes of Lithuania!
The young boy needs his diaper changed. Meanwhile,
On the oak named after the last king of independent Poland,
I hear a woodpecker record his own history, hard beak
Drumming through the falling bark. The young boy coos.
He has a new diaper. The end of the boardwalk looms.
A group of girls swoop by on their bicycles, mad laughter and magpies.
To the Dead Children of the Wilderness (Tadeusz Dziewanowski, translated from Polish by Daniel Bourne)
A dead field vole, toppled oak,
the carrion beetles
dancing in their chitinous gowns
in their colored stripes
in the shallow grave of a deer print
from the snout to the tail
from paw to backbone
on the gray scrap of fur
on the black ground.
The eternal rest of Jagiełło
the slender young elms
and the hornbeam tough as steal
the linden and ash
a new generation of subjects
praying for a thin ray of sun
the one true god of the wilderness
In the cradle of the villages
stir descendants of the char-men, the shack-makers,
the wardens of beavers, the beekeepers tending forest hives,
beyond the blackened ashes of the huts the bison
croon to the children both lullabies and laments,
the balsam of Belarus liqueur
from the store Alcohols of the East
swathing perfectly all wounds
(August 17, 2013
Białowieża, Sioło Budy)
Budy  (Daniel Bourne)
Here in this tree is a figure of god crucified,
The knots in the wood are this god's wounds
The god is the children of this village
They went shrieking to the woods like ghosts
This village burned like this ash tree burned
The Germans christened the war in the name of that lightning
The same lightning that slashed down the trunk of this ash tree
The sap evaporating like the body gives up the ghost
This place was burned and does not remain
Yes, the place is extinct but not the name of the place
As for the people drawing water from the well
Their names have rotted in the forest
They say the forest will last beyond us
They say this one oak tree has survived five hundred years
There is linden and maple there is ash and hornbeam
The local population was deported to Siberia
Tourists love to ride their bikes up the border
To piss off the edges of their worlds
This is the primeval forest of Białowieża
Where only the dying trees have second lives
Orthodox and Catholic Polish and White Russian
The pine hacked down until only the white bone remained
The old people tried to stay warm behind the oven
After awhile the children lay quiet scattered in the glens
A Romanticism  (Daniel Bourne)
Somewhere in the forest the bison steam.
It's a cold spell. Even the birds that winter here
Are desolate in their own biology, not able
To buy a ticket out. In the bogs
The deer break down slowly, each hoof caught
By the slow jaw of ice. Their bellies
Grow lonely. The thin bark of the trees
Can only write to them so often, a language
That dies out each season and then slowly revives.
Meanwhile, in the library of each spruce and each pine,
The books all crowd together. Some years
They might speak of heaven. But this year they produce
Only the tight ring of hell.
Fragmenty z cyklu "Podróż przez cztery kraina" 
Lśniące szkrzydła, Osława Dąbrowa (Daniel Bourne, translated from English by Tadeusz Dziewanowski)
Dzień w którym tak wiele lśnienia
lecz wszystko niewidoczne. Chociaż drzewa stoją w jednym miejscu
na tyle długo by je nazwać. Syrop z lipy kapie na samochody, jego ślady
rozpozna nawet obcokrajowiec. A sosny zawsze stoją w tle, jak
grecki chór wyraźnie szepczący słowa, które przepowiadają nasz los.
Osława Dąbrowa, ziemia gęsi piasku i jezior. Tadeusz i ja idziemy
krzywawym torem, peron zarosły chwastami, dziobaty
cement komunistycznych toalet dla pana, dla pani – mąż przy żonie.
Nie dziwi więc, że błękitne szaty Maryi Dziewicy tak się mienią. Każda
porcelanowa fałda, mały byt sam w sobie, wystarczający by oślepić każdego,
kto próbuje patrzeć, nawet tę małą rodzinę u progu spokojnego popołudnia.
Jaskrawe kostiumy kąpielowe, parasole, rękami zasłaniają się przed poświatą.
A ja chcę nazwać każdego ptaka –  z czarnym łebkiem czy żółtym brzuszkiem.
Dzięcioł usiadł na szczycie słupa elektrycznego. Nieznany ptak
i drzewo. Nieznany chwast pod płotem. Wypowiadam przed Tadeuszem słowa sparrow i
stork,
Queen Ann's Lace i ash, lecz cóż rodzic może powiedzieć o dziecku, które
wszyscy dobrze znają. W tej wsi wszystko jest w ruchu. Nawet
pies nie trzyma się domu, i córka pani Jadwigi, która chce odlecieć do
Gdańska lub Liverpoolu. Wszystko, co robiłam,
robiłam dla moich dzieci – mówi
rozdrapując stare rany.
One odlatują, a skrzydła lśnią, skrzydła lśnią.
Tu i teraz (Tadeusz Dziewanowski)
Mirabelki, czarne jagody, figlarna suczka z przydrożnej budowy, żurawie, gryka na wątłych, mahoniowych nóżkach, spokojny, ciepły wieczór po chłodnym i pochmurnym dniu – Dan wymienia po polsku wszystkie dary czasu i miejsca.
Tylko tu i teraz suczka z wielkim łbem i jednym mniejszym okiem potrafi jeść jagody prosto z krzaka i tak bezwarunkowo przyjąć nas do swojego stada. Tylko tu i teraz mirabelki smakują jak najlepsze brzoskwinie, gryka ukrywa przed nami tajemnicę pospolitej kaszy w drobnych białych kwiatkach, żurawie w zalotach przekrzykują się z piłą tarczową. Tylko tu i teraz  nasze ślady przeplatają się z tropem sarny i dzika, śladami galopującej do domu suczki, która nagle zostawiła nas w środku lasu. Tylko tu i teraz maszynista z towarowego uśmiecha się serdecznie do głupiego Franka, który nigdy nie doczeka się pociągu do Bytowa na nieczynnej stacyjce. Niskie słońce nas oślepia. Za kilka godzin księżyc wyjaśni nam wszystkie zawiłe sprawy. Tu i teraz czuję, że nie zmarnowałem swojego życia.
10 VIII 2013
Kaszuby, Osława Dąbrowa
Runo leśne (Daniel Bourne, translated from English by Tadeusz Dziewanowski)
Mirabelki żółte i słodkie, czarne jagody w sierpniu, suka, która je owoce wraz z nami uśmiecha się radośnie wsuwając język między liście, przenikliwe wołanie żurawi wabi nas w pole biało kwitnącej gryki, spłoszona łania podskoczyła, pokazała nam pomarańczowo-żółty zad, po czym wolnymi susami, jakby zupełnie nie zależało jej na tym miejscu, skierowała swoją ważną osobę na prawo.
Widzieliśmy sylwetki żurawi, nie widząc ich samych, widzieliśmy wnętrze jagód na naszych palcach, lecz nie widzieliśmy zjadanych jagód, widzieliśmy wielkie rzeki mrówek płynące do mrowisk i małe ich strumienie na naszych spodniach, gdy skręciliśmy przez brzozy i sosny ku ginącej w wodzie drodze, której nie widzieliśmy, ani też wierzchołków sosen ani gniazd niespokojnych ptaków, które z wdzięcznością przyjmowały pomoc wiotkich gałęzi dźwigających przez moment ich szybki ciężar.
Na Kaszubach każda miejscowość ma drugą nazwę, a każde słowo można wypowiedzieć w inny sposób, każda osoba ma drugi język do którego się nie przyznaje, tylko w środku lasu pada na kolana i wypowiada nazwę ptaka i grzyba, prawdziwe nazwanie psa i jelenia, prawdziwe słowo dla nazwania czegoś co uleciało w huku młotków na budowie domu dla mieszczuchów z Gdańska, ostatnie leśne owoce, ostatnie zbiory, a wszystko smakuje, jak w dniu, kiedy tu przyszli i nazwali świat.
Fragment w czterech kolorach (Tadeusz Dziewanowski)
Fragment krzywych torów od Prefabetu do zakrętu to oswojona część kolejowego kosmosu. Za ścianą lasu, za żółtymi silosami fabryki leżą bezkresne stepy Ukrainy przecięte prostą linią szerokich torów i alpejskie wzgórza oplecione serpentynami stalowych szyn. Spóźnione wrony wracają z Lipusza do swojego domu przy nieczynnej stacji kolejowej, w ciemności nawołują się jak dzikie gęsi. Dwie, siedzące na drutach telefonicznych cytrynowożółte papugi z przerażeniem patrzą na powiększone przez zmrok  czarne sylwety kraczących upiorów. Nie wiedzą jeszcze, że czeka je najgorsze – mroźna zima. Niebieska lokomotywa, teraz już szara w resztkach światła, ciągnie dwa wagony nierozłączki,  z cementem i piaskiem. Ciemna chmura pełna wody ciągnie gruby brzuch po wierzchołkach sosen.
9 VIII 2013
Kaszuby, Osława Dąbrowa
Rewolucja śmieciowa  (Osława Dąbrowa, lipiec 2013 r.)  (Daniel Bourne, translated from English by Tadeusz Dziewanowski)
Czasami Polska bujnie rozkwita rozkołysanymi
gronami jarzębiny, namiotami rozbitymi
nad leniwym błękitem jeziora, dymem wśród drzew.
Jest piątek. W sąsiednim domku letniskowym ryczący chłopcy
z cementowni niecierpliwie targają zawleczki
piwnych granatów. Gospodyni zdążyła
wymienić zamki w drzwiach. Płaćcie – mówi – płaćcie.
Ruszają do Prefabetu wyciągać od szefa
zaległe wypłaty.
Następny zły weekend. Nikt z nich nie myśli
o recyklingu. Nic teraz nie rozkwitnie
ze śmieci. Jednak
w całej Polsce
zaczęło się wielkie sortowanie.
Plastyk i bio, papier i populacja.
Kto do tego śmietnika
a kto do tamtego?
Mazurskie jeziora (Daniel Bourne, translated from English by Tadeusz Dziewanowski)
Czasami zbyt wiele, jak na jedno miejsce.
Mijamy stawy rybne, zardzewiałe silosy
na brzegu lasu na wschód od Olsztynka.
Tak wiele jezior, tak wiele drzew, a ryba tak wielka,
że może złamać wędkę na dwoje. Lecz tu
płetwa na płetwie, ciągły deszcz
antybiotyków i karmy
powstałej z ryb.
Nie zrozumcie mnie źle.
Wszyscy lubimy jeść. Brązowy filet się spełni
w czarnym łonie patelni
Dużo o tym myślę, ramię w ramię
z kimś obcym w sklepie. Opakowanie w
zamrażarce zawsze głosi: z hodowli.
Jakby krowy zaryczały
ze współczuciem w oddali.
Dominacja  (Tadeusz Dziewanowski)
Wrona alfa posuwa się bokiem po kalenicy stodoły. Zdecydowanie wyprasza srokę, która trochę zmieszana obraca wszystko w żart, jak to sroka. Alfa jednak nie żartuje i naciera drobnymi kroczkami, znowu bokiem, na szeregową wronę, która z respektem zsuwa się na strome dachówki, i tak stoi cierpliwie w akrobatycznej pozycji, podziwiając moc czarno-siwego olbrzyma.
Łaciata klacz beta, agresywna chabeta, sieje zamęt w stadzie i przeszkadza trzem filozofom, którzy odwróceni zadami do kopytnych koleżanek, narzekają na niewygodne siodła i bezsensowne galopy po wiejskim lasku.
W stołówce cała gama samców gamma oddala swoją szansę na uzyskanie dominującej pozycji w pracy i w rodzinie. Regularne, kaloryczne posiłki, podane pod nos usypiają ducha rywalizacji w wątłych organizmach inteligentów z Warszawy.
Mazury, Sasek Mały
14 VIII 2013
Białowieża (Daniel Bourne, translated from English by Tadeusz Dziewanowski)
Czy to ma znaczenie, że królowa Polski zabiła dwadzieścia pięć żubrów
A jej mąż potrafił uśmiercić niedźwiedzia jednym ciosem?
Młoda rodzina idąca wśród dębów
To prawdziwi bywalcy rezerwatu, mężczyzna
Niesie młodego dąbczaka na plecach,
Matka z kamerą skierowaną na korpusy
Masywnych bestii o mocarnych, choć słabnących ramionach.
To dęby polskich królów! Wielcy Książęta Litewscy!
Chłopiec wymaga zmiany pieluchy. Tymczasem,
Na dębie nazwanym imieniem ostatniego króla niepodległej Polski,
Słyszę dzięcioła zapisującego swoją historię, twardy dziób
Bębni przez odpadającą korę. Chłopiec gaworzy.
Ma nową pieluchę. Koniec drewnianego chodnika widać w oddali.
Dziewczęta przemykają na rowerach z szalonym śmiechem, jak sroki.
Martwe dzieci puszczy   (Tadeusz Dziewanowski)
Martwa nornica, powalony dąb
Tańczące omarlice
W chitynowych sukienkach
W łowickie pasy
W płytkim grobie jeleniego kopyta
Od pyszczka do ogona
Od łapek do grzbietu
Na szarym futerku
Na czarnej ziemi.
Śpiący Jagiełło
Żywi młode wiązy
Twarde jak stal graby
Lipy i jesiony
Nowe pokolenia jego poddanych
Modlą się o promień do słońca
Jedynego boga puszczy.
W matecznikach  wiosek
Rodzą się potomkowie smolarzy
Bobrowników, budników, bartników
Na zgliszczach spalonych chałup
Żubry mruczą im kołysanki i treny
Balsam białoruskich nalewek
Ze sklepu Alkohole Wschodu
Doskonale leczy wszystkie rany
Białowieża, Sioło Budy
17 VIII 2013
Budy (Daniel Bourne, translated from English by Tadeusz Dziewanowski)
Wewnątrz drzewa figura ukrzyżowanego
Boga. Sęki to jego rany.
Ten bóg to dzieci z wioski, które zawodząc
Szły do lasu jak duchy.
Wieś paliła się tak jak ten jesion.
Niemcy ochrzcili wojnę imieniem tamtej błyskawicy,
Która rozpłatała jego pień.
Soki wyparowały, jak duch opuszczający ciało.
To miejsce zostało spalone, unicestwione.
Tak, miejsce zniknęło, podobnie, jak imiona ludzi,
Którzy czerpali wodę ze studni,
Lecz nazwa została.
Mówią – nie będzie nas, będzie las.
Mówią – ten dąb przetrwał czterysta lat;
Stoją lipa i klon, są jesion i grab –
Mieszkańcy zesłani na Syberię
Turyści lubią podjeżdżać na rowerach do granicy.
Mają gdzieś krańce ich świata.
W dziewiczym lesie Białowieży
Tylko umierające drzewa mają drugie życie.
Prawosławni i katolicy, Białorusini polscy,
Sosna ociosana aż do białej kości.
Starzy ludzie grzali się jeszcze na przypiecku,
A już dzieci legły cicho w dolinach okolicy.
Romantyzm (Daniel Bourne, translated from English by Tadeusz Dziewanowski)
Gdzieś w lesie żubry parują.
Atak chłodu. Nawet ptaki owej zimy
Są osamotnione w swojej biologii, niezdolne
Do podróży.  Na moczarach
Jelenie powoli poddają się, każde kopyto łapie
Powolna paszcza lodu. W ich brzuchach rośnie
Samotność. Jedynie cienka kora drzew
pisze do nich dość często, językiem
Który wymiera co sezon a potem powoli odradza się.
Tymczasem, w świerkowych i sosnowych bibliotekach
Książki tłoczą się. Któregoś roku może
Przemówią niebem, lecz teraz przedstawiają
Tylko ciasny krąg piekła.
Born in Gdańsk in 1953, TADEUSZ DZIEWANOWSKI was involved in Polish street theater as both a writer and performer during the 1970s, and was a co-founder of the Gdansk-area creative group, Tawerna Psychonautow (The Tavern of the Psychonauts) in the 1980s. More recently, he has been a poet and translator from English.  His first book of poetry, Siedemnaście tysięcy małpich ogonów (Seventeen Thousand Monkey Tales), appeared in 2009, and his poetry, reviews and translations from English appear regularly in the major Polish literary journal Topos.  In the U.S., Daniel Bourne's translations of his poetry have previously appeared in Plume, International Poetry Review and Cerise Press.
Daniel Bourne's books of poetry include The Household Gods (Cleveland State University Press, 1995), Where No One Spoke the Language (CustomWords, 2006) and a collection of translations of the Polish political poet Tomasz Jastrun, On the Crossroads of Asia and Europe (Salmon Run, 1999). He teaches in the English Department and Environmental Studies at the College of Wooster, where he edits Artful Dodge. His many trips to Poland include a graduate fellowship between Indiana University and Warsaw University in 1982-83 and a Fulbright fellowship in 1985-87 for the translation of younger Polish poets. His poems have appeared in such journals as Plume, Ploughshares, FIELD, Guernica, American Poetry Review, Prairie Schooner, Shenandoah, Salmagundi, Tar River Poetry and Cimarron Review. His translations of other Polish poets such as Bronisław Maj and Zbigniew Machej appear in FIELD, Boulevard, Mid-American Review, Virginia Quarterly Review, and elsewhere.  In July 2013, Plume printed as its Special Feature his translations of another Polish poet, "The Angel's Share:  Six Poems by Krzysztof Kuczkowski."  Finally, "Agitprop" and "To the Feral Cats of Vilnius," two of Bourne's poems from his collection Where No One Spoke the Language and originally appearing in Salmagundi, will be re-printed in a special issue celebrating that journal's 50th anniversary in the coming year.