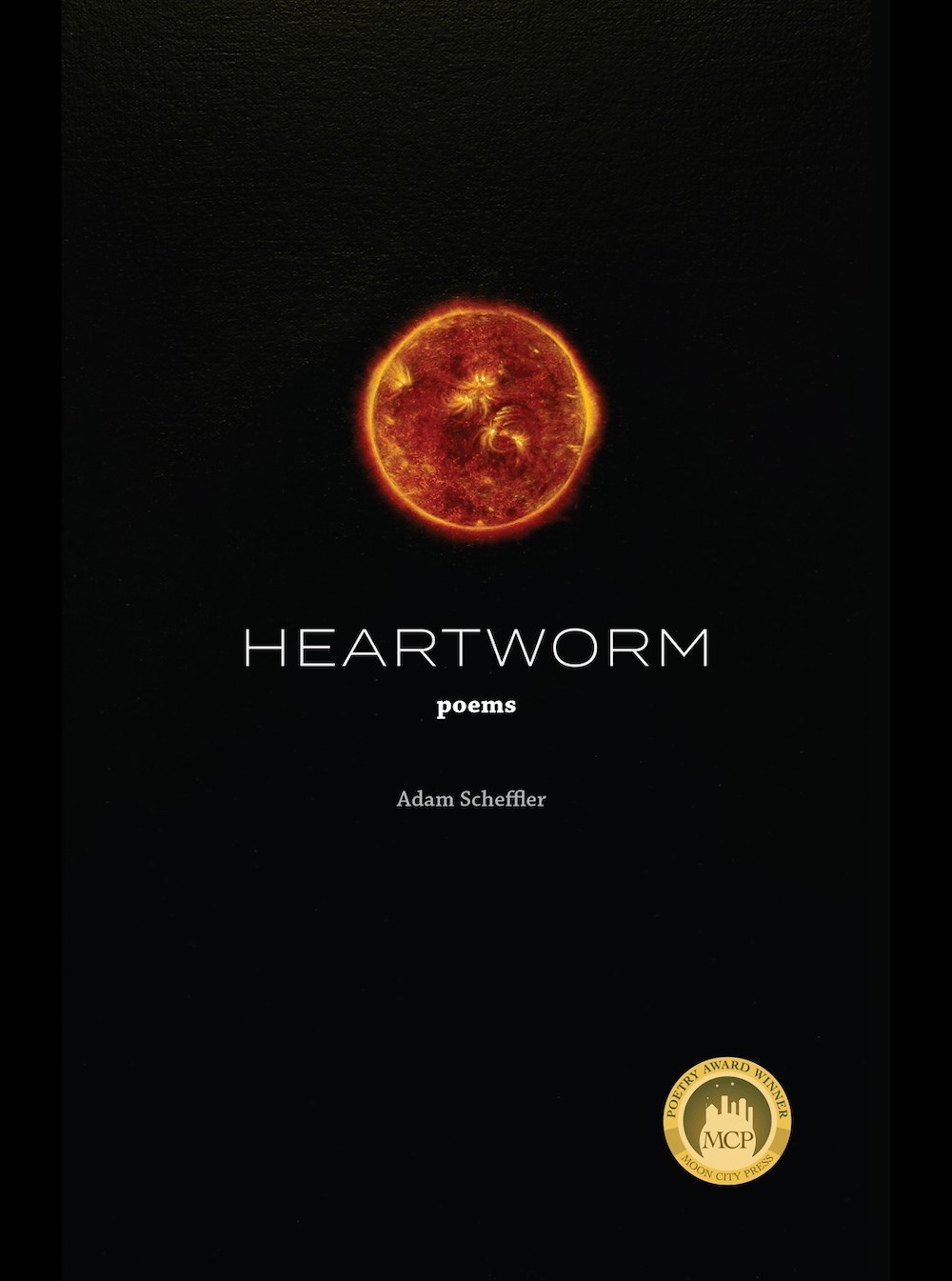 HEARTWORM: POEMS by Adam Scheffler
(Moon City Press, 2023; paper, 66 pages; ISBN 9780913785607; $14.95)
Adam Scheffler's HEARTWORM: POEMS is a brilliant, laconic, and intensely alert second collection of 40 poems; which won the Moon City Press's  Poetry Award for 2021.  Although each poem surprises, there are variations and  interwoven themes.   The speaker is Millennial.  The settings are Florida (where his retired parents seem to live), Kentucky (a land of prisons, consumers, blue grass, race horses, and politicians), Indiana (past family vacations) and Cambridge MA  (suburban brain trust).
In the opening poem, "Florence, Kentucky," the speaker is riding a bus something like Hawthorne's "Celestial Railroad," reflecting on an older passenger, whom he imagines unable to remember a family past, and then on the distance between  "the prison and the Walmart, there," where the speaker witnesses a sad, if not tragic tableau, caught in frozen progress:  "a bald man…is hector-lecturing / his infant-hushing / girlfriend—as her unhappiness, / radiant as a cleat, sharp as an ice skate / sprays to a sudden stop."  The metaphor of "frozen" reflects the poet's vision, as he goes on to imagine possible terrors.  From the bus he sees an "emergency crisis center" ironically adjoining a "gun store," and imagines a bored nurse, who watches a waiting- room TV, which (in another skating metaphor), spins (advertises, tells, defies) "despair's golden honey."  And then, if that's not enough for a full stop, the poet pushes to the personal payload, as it were: about the poet's childhood as a form of thin ice that cracks but "miraculously, / mercilessly" without breaking.  This poem introduces a medley of themes more fully explored in the poems to follow, where gaiety blends with grief and wit, like colors in collage.
Some highlights follow.
"Checkout" (about our consumer culture and its bankruptcy, exemplified by Walmart's on Christmas Eve,  where the holiday clerks are octogenarians forced to wear reindeer horns, while profits go to the chain's owners, the Waltons).
"Ode to Zamboni Machines" begins in ironic tribute to the inventor of "resurfacing machines" for skating rinks; and while the poet plays with the Wikipedia factoids of this invention, he imagines our efforts to resurface our emotional lives (especially bitterness).  He pleads for a Zamboni "for my knee-jerk stupidity," wishes he had patience like snails ("the shining Zamboni's of the soil"), etc., and then,  considering the inventor's efforts to improve his  machine, reaches a well-earned aphorism in the ending: "there's no such thing as one's / life's work being finished to oneself, but only to / others, who want you do die as soon  as you've completed it."  Of course, claims to fame/name is another prominent motif.
"Googling Myself" and "Facebook" are comic critiques of contemporary vanity (and its underlying despairs and doubts).  In the first, Scheffler in the spirits of, say, Mercutio or Touchstone, finds two self-proclaimed poets with his own name.  One is a slam poet (as different a mode as far as possible from Scheffler's witty finesse), and the other is shamelessly bad.  "I wanted tell everybody I met, / That's not me! which felt great / being superior to myself, / and I'm sure the Nebraskan slam poet me / would agree.  Together we could shout It's not us…"
The most ubiquitous Scheffler of all proves to be a sportscaster, allowing the poet to feel superior in his earnest search "for good ideas about life" and lucky to be unknown.
These are followed by two masterpieces about vanity and pop culture, "I Want To Be Jeff Goldblum,"  where Scheffler moves from envy ("I want to be the nice Jewish boy that I already am, but raised to an art form") to resignation ("if I lived a million years I will never be Jeff Goldblum. / …there is only a terrifying stretch of me-ness waiting me for me day / Upon day until I wear out."  And "Objet D'Art," Scheffler's irresistible riff on a lover's figure of speech: "She said my butt was a piece / of art…"
There are also graver poems about mortality, aging, loss, and about politics in our media and high tech age: "Union" (about social justice for underclasses and the difficulty of "sticking your neck out / far, far out from its shell, so others / will stick out their necks…"), "Dear Florida" ("Florida, is your heart a concealed carry?"), "School Shooting," "Other People's Pain," "45,"
"Courage" (about a couple's attempt at marital sex after forty years),  and "Ode to Running."
The latter begins with  the poet's gratitude to regular jogging as "a good marriage counselor" and a substitute for writing, then veers to a description of a running partner, "a brain surgeon friend who likes you, too, / though he never liked poems," and who leads to one of Scheffler's noblest endings  as he compares writing to brain surgery with the patient awake: "…so you can see / if they can understand or if you're taking / away their words, which like movement, / like running, arise from the gray mush / of our brains, from the darkness of nothing / like God, or how God came from our / grief at the darkness of nothing."
Actually, if  there is a weakness in lesser poems, it is in an occasional forced sense of ending, where the poet settles for a platitude.  Preponderantly,  HEARTWORM  is inspired and instructive;  and Scheffler's first-class imagination (in Coleridge's sense) remains on necessary alert.