Readers: Welcome to Plume Issue # 57 –
April. Brief, this time, thanks to my having been rather long-winded in my mediations on chess and intertwined birthday salutations to my brother M. last issue (and, thank you, all, for your kind words regarding that little missive). And so we begin rather than conclude with our cover art this month: Reynier Llanes' "Dancing to Ellegua." (See his biographical note below.) A remarkable work, as I told the artist, one that incorporates both jubilance and threat in equal measure. Like the month's weather, perhaps. As an aside, there was, in my mind, much back-and-forth in the choosing: I had thought at first I would run the rather more somber "Target" from Chris Maynard – a photograph taken in the eighties whose central image is a paper target profile as viewed through the rear window of a hearse. My natural inclination was to side with that austere melancholy, as those of you who have followed Plume and these little notes will not find surprising. But, the blue bird of happiness had temporarily shed his prisoner's garb for some reason, and I feel something of Follain's "turbid joy" as I write tonight. Will it last? Undoubtedly not. And so I have that death wagon idling in the May issue's folder, ready for its inevitable cargo.
But to this month's news, mostly concerning the launch of Plume Poetry V 4 and various readings in support of its launch. So – behold once more the peak at the almost-complete cover, designed by Marc Vincenz – noticing as you will that we now can present the front and back of the book. Use the zoom on your computer if you'd like to read an excerpt from Daniel Tobin's Preface, or blurbs from Afaa Weaver, Cole Swensen, David Rivard, and Lia Purpura.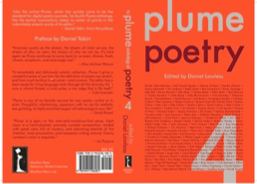 Let me remind you, too, teachers of Creative Writing classes, lo-res drop-ins, and the like: past volumes of the anthology have proved successful employed as texts in a number of such classrooms — owing to the quality of the work and its…diversity, I imagine. So, should you be in the market for such a text for the fall, or even the summer, please consider Plume Poetry V 4 – available at a discount, of course.
Please, if you are at AWP, stop by our booth – shared with Madhat: we're at Booth # 754.
The anthology will have its launch in Los Angeles, at AWP. Here's the poster for that event, from Hélène Cardona. It will be held at the LACE Gallery. (Again, please use your computer's zoom Feature to view.) Wine, snacks — poetry from a stellar group!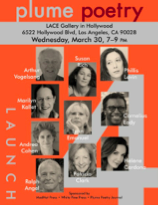 There will be another off-site event, as well: a combined MadHat-Plume-White Pine Press Reading, on Thursday, at the Library Bar: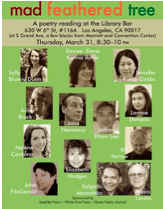 Two other reading on the schedule – but no flyers yet! –are as follows:
Saint Petersburg, Fl
Studio@620 620 First Avenue South, St. Petersburg, FL 727.815.6620
Wednesday, April 13 7 p.m.
Terese Svoboda will be the featured reader.
Paris, France
Shakespeare & Co  37 rue de la Bûcherie 75005 Paris, France
Monday, May 30   7 p.m.
Margo Berdeshevsky, Chantal Bizzini, Marilyn Hacker, Marilyn Kallet, Emmanuel Moses.
More readings to come – Boston/Cambridge, NYC, et cetera, announced as plans are firmed up.
Many, many thanks to Dzvinia Orlowsky, John Skoyles, Marc Vincenz, and Afaa Weaver for reading for Plume at Grolier, in Boston, on Tuesday, 8 March. Although I was unable to attend, I have heard from all – and many present –that it was a wonderful gathering – a full house, marvelous speaker, exquisite work.
A very special note: Our Featured Selection this month is Blue Cocoon, a collaborative work from Tess Gallagher and Lawrence Matsuda, with an introductory interview conducted by Associate Editor Nancy Mitchell. Blue Cocoon is the third installment of the trilogy entitled Boogie-Woogie Crisscross. This marks the debut of Plume Editions, which makes me very happy. We plan to put out three or four volumes annually. Here is the brief backstory, as it were, of Boogie-Woogie Crissross:
In the late summer of 2011 Tess Gallagher and Lawrence Matsuda were e-mailing each other while she was in her cottage in the West of Ireland and he was at home in Seattle. The exchanges evolved into a series of nine poems. The collaboration was like a poetry jam session where they traded and borrowed images, ran riffs on each other's poems in a responsive, competitive, and lighthearted way.
The resulting initial section entitled Pow! Pow! Shalazam! was published in the April 2013, Issue #22 of Plume Poetry. In 2014–15, two additional collaborative segments evolved: Wild-Haired-Labyrinth Renga (nine poems) published in Plume and Blue Cocoon (five poems) was finished in August of 2015. The three sections consisting of 23 poems and artwork were then combined to create Boogie-Woogie Crisscross in Fall 2015.
At the start of each section we have given some thought as to what was happening in our exchange. Early on, Tess characterizes it as being "kind of hip and comic boo and jangly," and also "prickly with antennae." Like any dance it's also an invitation to lose time and as Larry says—to show your "chops." A kind of dueling banjos.
Tess Gallagher
Co. Sligo, Ireland
Larry Matsuda
Seattle, Washington
Fall 2015
The book will be available 10 April.
Next up for Plume Editions: Albert Goldbarth's breath-taking The Loves and Wars of Relative Scale. Its principle subject and gathering center-point: "Anoni (or Anton) van Leeuwenhoek (1632-1723), the Dutch fabric merchant, local bureaucrat, and (as of circa 1671) self-taught lensmaker," per the author. Watch this space.
As noted, our cover art, "Dancing to Eleggua" is from Reynier Llanes. In 2007 LIanes availed himself of an opportunity to emigrate from Cuba and moved to the United States, first settling in Naples, FL and then in Charleston, SC.   In 2012 Oxford America recognized Llanes as one of the "New Superstars of Southern Art." He was awarded a "first purchase award" for a piece now in the art collection of the city of Charleston 2011 at Moja Art Festival Juried Exhibition Award. His art is on permanent exhibition in the Museum collection of Franklin G. Burroughs – Simeon B. Chapin Art Museum in Myrtle Beach, SC,Cornell Fine Arts Museum Rollins College, and Snite Museum of Art – South Bend, Indiana. His work has been exhibited in numerous museums and galleries throughout the east coast, among them the Naples Museum of Art in Naples, FL. While living in Charleston, SC, and in addition to painting, Llanes worked as an art consultant for the renowned artist Jonathan Green at Green's Downtown studio.   In 2015 Llanes relocated with his family to Miami in order to take advantage of the city's international art market and vibrant cultural life and to be closer to his home country. South Florida is, of course, home to a large Cuban exile and emigré community many of whose intellectuals, collectors, and fellow artists have welcomed Llanes into their cosmopolitan scene. He recently had a solo exhibition, his first in South Florida, at Miami Dade College West, in Doral.
Shall I remind you, again, to subscribe to our Newsletter? I shall.   As there, every month, aside from bits of business and upcoming Plume-related events, you will find a "secret poem" introduced by some luminary or other. This month Jonathan Weinert does the honors. His selected poem: Ted Hughes' "Crow Hill."
Work Received this month includes new poems from Stephen Dobyns, William Trowbridge, Pimone Triplett, Bruce Cohen, Garret Hongo, Joyce Peseroff, Carolyn Guinzio, Eric Pankey, Amit Majmudar, Pui Ying Wong, Bradford Trice, Jill McDonough, Simon Armitage, Barbara Ras, Arthur Sze, and Bob Hicok.
As always, I hope you enjoy the issue!
Daniel Lawless
Editor, Plume