Readers: Welcome to Plume Issue # 49 —
July: And at last – it seems so long – we put our farewells behinds us and turn to happier subjects. For instance, a look over our – Plume's – shoulder, where we find among other things, an uncanny antecedent, thanks to the remarkable-in-all-ways Ron Slate*, who founded and served as editor of The Chowder Review from 1973-1988. That longevity alone would merit more praise than I think Ron could withstand; he is as humble as he is gifted.  (I know, Ron: cringe.) But, should Plume manage such a run, believe me… Yet not only its life-span is to be noted, but the quality of the work in its pages: eclectic, far-seeing, meticulously curated – all those qualities I had hoped for when the notion of our own little effort first took real shape. As I write this, the copies Ron sent (dredged from boxes in his basement, I think) are beside me.
Some pertinent information:
Ron Slate, Editor
Floyd Skloot, Associate Editor
David Clewell (this months Featured Selection poet), Michael Heffernan, and Leonard Nathan, Contributing editors
Published twice annually, individual copies could be had for the sum of two dollars and fifty cents.
At one time, I think Ron told me, CR was on the shelves of periodical rooms on over 80 libraries. Aside from poetry, The Chowder Review ran reviews and commentary, something Plume is considering, I might add.
But, about that poetry: as I scan the pages of the issues I received, I find — often as regular contributors — such luminaries as Stephen Dunn, Mark Halperin, Mark Jarman, Kelly Cherry, Carol Frost, Albert Goldbarth, Robert Pack, Brendan Galvin, Laura Jensen, Linda Bierds, Christopher Buckley, Arthur Vogelsang, Naomi Shihab Nye, Charles Baxter: and so many others, names that readers of contemporary poetry will recognize instantly, and whose work Plume had been fortunate to publish as well, many of them.
So, it is with much gratitude that I pay tribute to this forbear, whose existence was unknown to me when it was in publication but in whose long shadow our own efforts have proceeded, halting and paltry as they seem in comparison.  Though out of print for over a quarter of a decade, The Chowder Review feels as fresh and dynamic as was in its heyday, and if I feel a subtle kinship with it, I hope this does not displease Ron.
And what better way to conclude this encomium than to pull from its pages our "secret poem" –actually two – this month — "Night Air" and "Plans For A House In Latvia" from Kelly Cherry – who soon will be appearing with new work in our own journal.
NIGHT AIR
A Pavane
These are the nights of being inner-isolated,
dangerous nights when the bed
closes up like a rose, dark red
under the star light and still moon
air.  Nights when no one
can breathe.  The cold horn
spills its notes across the sky,
flings them ruthlessly
to the ground, saying:  Someone someone knows is going to die.
Oh yes, the moist air clings to the cave of the throat
like a bat,
and won't fly.  Last night, tonight,
a cloud dimmed the eye of God,
like a cataract.  The bed,
too, the bed is becoming blind,
is closing,
cradling
satan's seed, the iris-corroding devil's drop, dew, is becoming
forgotten and heart-
sick, set apart,
is becoming you.
PLANS FOR A HOUSE IN LATVIA
In a basket on the sideboard,
pile ripe apples;
when the sun reaches them through the open door,
we'll have fire for food.
In fine weather, you write music out back –
or steal off.
"Good fishing among birches and pines!"
In the winter, we skate
on the lake in the field,
and come in late,
blowing on our hands.
Silence falls on the little house,
sticking like snow all around,
the only sound your voice,
startling and mysterious
as the shadow of a blue spruce
cast across cold ground.
At night, Princess leaps from the wood floor
to the chair where she sleeps,
while we share the big bed.
Your warm body covers mine like a blanket.
Dear heart,
a final note about the kitchen.
Keep the teacups Peteris painted
on a safe shelf:
one is for love,
one is for faith's long-enduring self.
* The Incentive of the Maggot, his first book of poems, was published by Houghton Mifflin in 2005. The collection was nominated for the National Book Critics Circle poetry prize and the Lenore Marshall Prize of the Academy of American Poets. The collection won the Bakeless Poetry Prize (Breadloaf Writers Conference) and the Larry Levis Reading Prize of Virginia Commonwealth University.
Other matters?
To contributors, let me remind you that Plume is setting up readings for the fall (mid-September through late November) in support of The Plume Anthology of Poetry 3. Many of you, I know, are on summer hiatus, but should you feel so inclined – and some of you already have asked to be included – please, email me at plumepoetry@gmail.com and let me know if you would like to read, and where. NYC, Boston/ Cambridge, and New Orleans definitely are on the schedule, as are London and Paris; venues will be announced in the not too distant future.  Our readings have been, well, successful, in the past, with rosters of poets that constituted a sort of dream team in each of those cities. I remain open, of course, to suggestions for other sites – Asheville, Chicago, Providence…the West Coast.
Also (see the PR below), I think many of you are instructors in some fashion – colleges, universities, low-res programs. Can I suggest that Plume would make – god, I do dislike this business-y part – an ideal text for your creative writing classes?  Several of you already have indicated that you will be using The Plume Anthology of Poetry 3 as such in the fall.  And although I am aware that text-ordering deadlines might have passed for some, perhaps this is not the case for all. Should this interest you in the slightest, you can order copies directly from MadHat Press at a discounted rate. Contact Marc Vincenz at that site.
Penultimately, Plume in conjunction with Bob Devin Jones at Studio@620  http://www.thestudioat620.org/ will be organizing a monthly, or even twice-monthly, series of poetry readings in Saint Petersburg, Florida. The Studio is a wonderful site, near downtown (suddenly hip, if you can believe it), and the readings I have been to there in the past have been well-received. Should any area poets, or poets touring in our vicinity, be on the lookout for a venue, please keep us in mind, and contact me at plumepoetry@gmail.com to get on the calendar.
As promised last Note, a number of intriguing Featured Selections will come to fruition in the upcoming months. Among their subjects are — and this is by no means a complete lists – we have been busy! – are  Native poets, curated by Allison Hedge Coke and including
Cedar Sigo, Leanne Howe, Trevino Brings Plenty, Crisosto Apache
and Sara Marie Ortiz;  David Clewell;  Kelle Groom; a look at British Poets Under 40 and another at Contemporary Australian Poets; new translations of work by Robert Walser and Hermann Hesse, and a  long poem, "Sibylline" by Marc Vincenz.
Remember, if you would like to be considered for a Featured Selection in Plume, or simply have an idea for one, please contact me at plumepoetry@gmail.com
And, this, as promised — threatened – above: The Plume Anthology of Poetry V 3 is available for purchase now, at Madhat Press, a bargain at $21.95, I think, given the very high quality of the work, the poets, its eclectic range, and sheer size – 323 pages.  (Soon available at other venues, as well – Amazon, B & N, etc.)  Some very nice people have said some very nice things about our little endeavor. Below, just a few of the comments Plume V 3 has received:
"Plume's apparent lack of a narrow editorial policy (except a fondness for interesting poems) makes for lots of strange bedfellows, but when was the last time that was a bad idea?"  ~Billy Collins
"Of all the things that might claim one's attention, and they are in the multitudes! Plume is well worth making time for since it isn't just another magazine. Its difference? Wonderful work, on the edge, room for play and dash, new forms, a great discerning editor in Danny
Lawless!"   ~ Tess Gallagher
"Plume is one of the most exciting, eclectic gatherings of writers on the web. Editor Daniel Lawless has a knack for putting together voices that create surprising neighborhoods of words, related in complex ways that only gradually reveal themselves. It's one of very few webzines that I always read."   ~ Chase Twichell
"Plume is rapidly becoming one of the best places in America to read poetry, online and in print, thanks to the untiring efforts of Danny Lawless. It's where to find dazzling work by new and established writers, and, thanks to the new technology, it is available instantly to readers by the millions. Plume proves once more that poetry is essential to our lives, and that 'Men die every day for want of what is found in it.'"  ~ Grace Schulman
"Plume continues to publish amazing poets in beautiful formats—both online and in-print. The magazine has an exciting vision, embracing a broad gamut of poetries, including collaborations. The work has a consistently intriguing quality about the joys and unsettling aspects of being alive."   ~ Denise Duhamel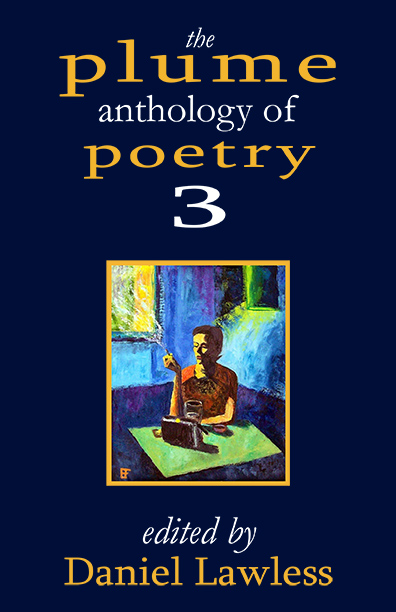 Our covert art this month comes from Alcides Pereira dos Santos. Born 1932, in Bahia, he moved to Mato Grosso in 1950, where he settled down. Before becoming a painter, Alcides tried his hand in various occupations, ranging from shoemaker to barber to stonemason. When he was 19 years old, Alcides, acccording to Aline Figueiredo, "achieved the greatest revelations in his life: religion and painting." He was evangelical and believed that art is a gift from God. His painting, consequently, is meant to highlight God's 'divine gifts' of the land, particularly nature's life-giving properties. However, Alcides' symbolic representations are not restricted to scenes of nature. Without any indication of proselytism or explicit depictions of the supernatural, Alcides also takes on religious subject matter through everyday scenes of technology and city life.
Much of Alcides' work from the seventies and eighties is comprised of these subtly religious landscapes, which are known for their serenity. However, Alcides is also known to have painted more explicitly religious scenes, such as his series of works depicting the creation of the world in seven days and other biblical narratives. His landscapes are often accentuated by geometric forms and small graphic details such as human figures – a feature that appears most often in his works from the seventies. These small figures, however, are never large enough to be considered the central focus. For Alcides, the emphasis is placed on the entire landscape as a kind of 'macrocreation'.
Alcides has taken part in numerous exhibitions in Brazil; the most recent one, entitled Arte popular, Mostra do Redescobrimento, 500 anos took place at the São Paulo Biennial Foundation in 2000. His work can also be seen in the collection of the Popular Art Museum of São Francisco Cultural Center, in João Pessoa. He died in 2007, São Paulo, Brazil.
Finally, New Work Received this month includes pieces from Daniel Tobin, Carrie Etter, Annette Barnes, Nin Andrews, Dore Kiesselbach, Arthur Vogelsang, Charles Harper Webb, Marilyn Kallet, Liela Ortiz, Marianne Boruch, Abraham Sutzkever (tr Maia Evrona), Kelly Cherry, Laura McCullough, and Patricia Clark.
As always, I do hope you enjoy the issue!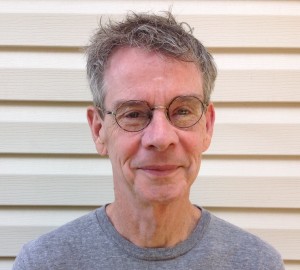 Daniel Lawless
Editor, PLUME