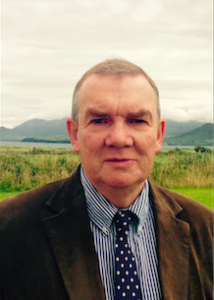 Thomas McCarthy is an Irish poet, novelist, and critic, born in Cappoquin, County Waterford, and educated at University College, Cork. Along with Maurice Riordan, Gregory O'Donoghue, Theo Dorgan, William Wall, Gerry Murphy, and Greg Delanty, he was part of a resurgence of literary activity under the inspiration of Sean Lucy and John Montague.
He has published eight poetry collections, seven of them with Anvil Press Poetry, including The Sorrow Garden, The Lost Province, Mr Dineen's Careful Parade, The Last Geraldine Officer ("a major achievement", in the view of academic and poet Maurice Harmon) and Merchant Prince, a combination of poems and a novella recounting the story of a Cork merchant, described as "an ambitious and substantive book" in Poetry Ireland Review. His new book, PANDEMONIUM, will be published by Carcanet.
McCarthy won the Patrick Kavanagh Award for his first book when he was 24. Two years later he was selected for the International Writers Program in Iowa. His many awards include the Alice Hunt Bartlett Prize (1981); the American-Irish Foundation's Literary Award (1984); and the O'Shaughnessy Poetry Award, Irish-American Cultural Institute (1991). His fiction includes two novels, Without Power, and Asya and Christine. He has also published a memoir, The Garden of Remembrance.
The main themes of his poetry are Southern Irish politics, love and memory, family, past, and place. His monograph "Rising from the Ashes" tells the story of the burning of the Carnegie Free Library in Cork City by the Black and Tans in 1920 and the subsequent efforts to rebuild the collection with the help of donors from all over the world.
According to Maurice Riordan, The ludicrous and the homely go hand-in-hand but the relaxed, conversational style can switch from emphatic narration to literary observation, as when the poet quotes Henry James's remark, 'As the picture is reality so the novel is history/And not as the poem is: a metaphor and closed thing.' That reminds us that within digression, 'droll pathos', and various ironies, McCarthy deals with serious matters, both social and personal. You can, he says, 'figure/And pick among things' like a novelist, but as you do so the tide 'advances and recedes'. The sea, he tells his Beloved, 'is your fable/Spinner, giving us knowledge abundant and vicarious'.
Eavan Boland describes McCarthy as the first poet born into the Republic to write about it critically. He is considered by Dennis O'Driscoll to be, along with Paul Muldoon, the most important Irish poet of his generation. Brendan Kennelly opines that "Not many poets have the gift of being able to write so tenderly about private affections and so acutely about public figures and events."
Colm Tóibin states that "There is always in his work a moral overtone, a savouring of certain moments, when he finds a sweet parable for how the world should be, moments of private love and grief that make up a whole universe."
McCarthy's work has been widely translated and has appeared in over thirty anthologies.
He has worked for Cork City Library and lives in Cork. He is a member of Aosdána.
Hélène Cardona: The first poem is titled "Waterford Crystal." Tell us about Cappoquin, County Waterford, where you're from, and Cork, where you now live and were librarian, and how they've influenced you. You said of Cappoquin that it's a place that breeds poets.
Thomas McCarthy: My native county, Waterford, is where the famous luxury glassware is made, though in recent years this business has had difficulties. Cappoquin is a little town on the banks of the Blackwater, a beautiful river that dominates the atmosphere of the town: 'Cappoquin he came from, Cappoquin on the Blackwater' is what Molly Bloom says of her Gibraltar lover in Joyce's ULYSSES. Though it's a town of less than 1,000 people, it has a long tradition of poets, from Padraig Denn, the Gaelic poet, to Maurice Walsh and Michael Cavanagh, poets in the English language. Nearly forty years ago when I told the great Irish poet Maire Mhac an tSaoi where I was from, she exclaimed 'Ah, Cappoquin of the Poets!' The salutation says everything of my native place.
HC: You are a poet and writer. You've written poetry books, novels and essays. I would call you the ultimate poet as poetry informs everything else you do. Poetry has influenced your approach to fiction and non-fiction. Do you agree? Can you speak to that?
TM: Poetry governs everything I write, and it has from the very beginning of my writing when I was a teenager. In Ireland the 'poet' as political idea, as moral leader, is still very strong. This has a lot to do with our national history and our continuous revolutions that always seem to have a Latin American flavor. Poets were often the theorists and propagandists for a ruined nation. It is a powerful idea or affirmation for a poet. But it is also dangerous because one begins with very little skill and too much public expectation. In Ireland a poet has nearly always begun by wanting to save Ireland, only to end up trying to save himself or herself. This pattern continues, even today.
HC: "What the Poor Are For" is such a powerful and poignant poem. You address "the malleability of [my] memory –" Memory is a double–edged sword. You write "It is life that finishes / Our sentences;" and it hits the reader like a hammer. Will you share your thoughts?
TM: The poor are always with us. I come from a poor family myself, I understand that incredible alienation from success that poor families feel. That atmosphere of remembered failure comes back to me from my childhood, that sense of passivity, of hopelessness and displacement. To be poor is to be an inner exile in any nation. In Ireland, especially, we've had a huge element of poverty and even famine in our past. It is something that Ireland has had to deal with for at least four centuries since the earliest land confiscations from the Gaelic land owners by British settlers in the Sixteenth century. The story of Ireland is the story of the re-integration of those historically dispossessed and the expulsion, by mass deportation, mass emigration or mass famine, of the surplus population. In Ireland, unlike North America, this native population refused to die. The poor of Ireland constantly reassert their right to life. This struggle fascinates and horrifies me. I want to know, genuinely, politically, why does a modern society tolerate conditions of poverty for, perhaps, one third of its population; and why is this tolerated generation after generation?
HC: You've been steeped in literature and books your whole life. You edited, at various times, The Cork Review and Poetry Ireland Review. How did your editorial work affect your writing?
TM: I think it's the other way round. I mean my writing effects my editing. All writing has an element of editing in it. As poets we only know how to be editors by expanding outward from our own work, by perfecting our own voice and aesthetic and by learning to read other poets through our own aesthetic. The key in editing is to arrive at a view of what constitutes a truly successful poem, even when someone else has written it. Editing calls us out of ourselves and forces us to be part of a wider community, a community of others who really struggle hard to write well. There is something deeply poignant about being an editor. Sometimes you can be almost overwhelmed by witnessing so many individual struggles to write well, but you always dream of receiving a manila envelope full of brilliant new work.
HC: You're also a historian. The Last Geraldine Officer features ballads, a series of poems in quatrain form, and a sequence of prose poems consisting of the campaign diary of an Irishman serving as an officer in the British army of the Second World War. It's a masterpiece. It mixes mid-century Gaelic verse and County Waterford recipes.
Can you tell us how this book came to be? And can you speak about arranging the poems in this collection and your use of form?
TM: This book was in my head for over twenty years. I wrote the short lyrics in Gaelic (a kind of pastiche of the Gaelic language as published in the 1920s and 1930s) in 1987 but the collection wasn't published until 2009. The material is riddled with ambiguity and it is difficult to settle on a poetic form that might embody two points of view in history. The book is narrated by a persona, Colonel Sir Gerald FitzGerald, based on the character of someone I was very close to personally for many years, an Anglo-Irish aristocrat who gave me a library and an apartment to work in when I was only seventeen years old. I had that beautiful refuge to retreat to until Brigadier Denis Henry FitzGerald, a grandson of the Duke of Leinster who'd spent his childhood at the great houses of Carton and Kilkea Castle, until DHF died after twenty years. It is not normal for an Irish poet, or any Irish citizen, to take on the uniform of a British officer, but I always found Denis's love of Ireland and Irish culture intriguing, as, socially, he would be seen by most people as English; imperial English, that is, having been educated at Eton and Sandhurst Military Academy. He led an Allied Tank Regiment through the awful battles of Normandy, Arnhem and the Rhine Bridges. He survived a Waffen SS Heavy Tank battle, several Stuka bombings and the sinking of his troop-ship off Norway in 1940, but if you met him on the street in Cappoquin you'd think he's just been a gentle gardener all his life. I should explain that Ireland, like much of Catholic Europe and South America, was neutral during the Second World War, but thousands of Irishmen and women went off and joined in the fight against Fascism in Europe. While I politically understand Irish Neutrality, I admire those who donned a British or American uniform to fight Hitler. There are two lines in that collection that sum up the key feeling I wanted to communicate about this Anglo-Irish viewpoint: in these lines my Colonel FitzGerald addresses his fellow-Cappoquin man, Sergeant Foley, who has gone to war with him –
'An naisiun priobhaideach do dheineamar
Fe eide Ghallda: saol ionraic san Iodhbairt Dhoite'
which means
'The private nation we made together
in that foreign uniform: an honest life in a Holocaust.'
No further comment is necessary, I think.
HC: MERCHANT PRINCE (The life and passion of Nathaniel Murphy, gentleman-merchant, in Italy and Ireland) is a prose novella set in Italy and bookended by two sequences of poems, set largely in Cork, in the period from 1769 and 1831, all of which are interrelated. The writing is refined, splendid, and the novella reminds me of Henry James. This is a very original, lyrical book, with again a mixture of verse and prose. What inspired you to write it? What research did you do?
TM: I loved writing this large book, I completely indulged myself, and my publisher, Peter Jay of Anvil Press Poetry, also had complete faith in the project. I think Peter enjoyed Nathaniel's company as much as I did. The novella at the centre was originally planned as a mass frieze of footnotes beneath the lyrics, in the manner of an early Nineteenth century edition of Byron with Hobhouse's great notes or an edition of Sir Walter Scott. But Peter Jay, the publisher, didn't think the 'notes' worked, so I rewrote the entire prose as a novella. The Italian poets translated by my Nathaniel are not Italian at all, but Italian versions of living Gaelic poets of Ireland, so that Count Luigi da Pora is really the brilliant Irish poet Louis de Paor and Principessa Nulana Nigonelli is actually the sublime Nuala Ni Dhomhnaill and my 'translations' from Italian are really translations of texts by these Irish poets; but I have exchanged Irish place names for Italian place names. You can see what I mean by being self-indulgent – it is the kind of project dreamt up by an English professor in a provincial university who hasn't been given enough work to do by his Department chairman. My created character, Nathaniel Murphy, is an 18th Century Irishman who goes to Rome to study for the Catholic priesthood, but loses his vocation after making love to the wife of a Vatican silversmith. Yet again, it's a novelistic narrative that comes out as a set of lyrics. But again, it's all about ambiguity, Nathaniel's deep faith versus his sexual needs, Nathaniel's patriotism versus his cosmopolitan viewpoint. The book was quite successful, getting terrifically respectful reviews; and I see that it is stocked in most of the great University libraries in America. I became so obsessed with the writing, I remember my wife, Catherine, used to say to me 'Are you finished talking to Nathaniel for the day, now could I talk to you about the kids' school reports?' She used to say that nobody will understand this, it's too Irish, too Cork. But I think of it as my happiest book, a book that created an entirely benevolent atmosphere in my life for several years.
HC: Your writing is exquisite, so precise, concise, the work of an exacting, meticulous hand. What is your editing process like? Do you have a daily writing routine?
TM: When I was a teenager, and really until our two children were born in my early thirties, I wrote for two hours every day. These two hours were sacred, I would feel ill if I didn't have them. If I knew I was going out in the evening I'd get up at 6 am and have my two hours of writing. Children change every routine, with children you must learn to catch-crop, to snatch hours. Now I am writing fulltime again, having left the Library service after over thirty years. I sit and read or write for five hours every day. Reading is also a kind of writing, as day-dreaming is as good as full dreaming. I am like a young man again, indulgently writing away, hidden away like a badger and pretending not to be at home. My only task now is how to write well. I've become obsessed with this. It is the only task. NOT to write a lot, but to write WELL. I have become a much sharper reader of poems, of other people's work, as I learn to concentrate fiercely on texts and texts alone. I am not interested in what texts might mean – that is academic work – but in what texts DO on the page, the music of the thought, its weight and shape, its emotional aptness. I went back to giving poetry workshops again just two years ago. I had given up on workshops for years and years, but now I think I will do two workshops a year from now on; as long as the workshops last for six sessions or less. It is good to see new work and new voices, and we must learn to praise the young and push them onward. I am much more purposeful, much more ambitious, for new poets. I don't see why they shouldn't be the best, the very best, and why they shouldn't intend to be published in the very best places. The competition is fierce, yes, but that only helps standards of writing. This all comes from my own sense of a renewed purpose. Don't ask me where this new energy came from, it just did. I think I have a burst of such energy every seven years or so.
HC: I love the opening sentence of the novella Memory: "It is poetry that constitutes our deepest memoir; and my sojourn at Rome—kept by me when I was hardly formed as an Irishman—is best remembered as an act of translation." Would you say a few words about it?
TM: The words are Nathaniel Murphy's, my narrator in Merchant Prince. Rome to him is now like a dream, something so far away from Ireland that it is unreal. So it is as unreal as a different language; and the life lived within linguistic differences between people. Because Nathaniel is a poet as well as an ex-priest, he knows that poetry is the source of our deepest strength because through poetry we can get in touch with the deepest parts of our nature, with what is divine or immortal within us as humans. That's what he means by poetry as a deep memoir.
HC: Can you tell us about your new poetry collection PANDEMONIUM?
TM: Hopefully, PANDEMONIUM will be published by Michael Schmidt's Carcanet Press late this year or early 2017. It was already with Anvil Press Poetry when Anvil had to shut down because of a catastrophic loss of funding. Carcanet have taken over Anvil Press Poetry lock, stock and barrel in an incredibly brave move, taking me, Martina Evans and James Harpur into the Carcanet fold. These poems were written during the dark years of Ireland's great Recession following the Banking collapse and the beginning again of mass emigration (both my children have emigrated). I spent a great deal of my free time walking the seashore of County Kerry and brooding darkly on things, from banking to the deaths of two keys poets, Seamus Heaney and Dennis O'Driscoll. The seashore, water, waves, seabirds, cliffs, the Atlantic wind, all permeate the lyrics I wrote and create a peculiar atmosphere in the collection. But it is a book of individual lyrics, written when I was beginning to find a new technical energy and a renewed ambition for my poems. Hopefully, people will like the book.
HC: What are you currently working on?
TM: I am reading voraciously and writing steadily. I've been thrilled by encounters with American poets like Linda Norton and Jan Beatty and new books by Terrance Hayes and August Kleinzahler have really blown me away. But I write in bursts now, not hour by hour, so in the closing months of 2015 I wrote maybe fifteen new poems and in a burst of blessings in February-March this year I also wrote a bunch of sharpish lyrics. I have also been working on a play called BARRY MULHOLLAND, a play set in my home place of Cappoquin, Co. Waterford. That is a different task entirely and nothing may come of it. But it is worth trying something different, something that keeps the prose out of one's poetry.
HC: You've had an incredibly busy year with new poems published in Poetry Review, and the London Journal, among others, and many readings, a filming of your reading memorial poems in the Gardens of Remembrance in Dublin, and the Listowel Writers Week in early June. What are you looking forward to most?
TM: I am really looking forward to the two workshop sessions, at the Molly Keane House in Ardmore, Co. Waterford in May and September and at the Listowel Writers' Week in June. It is nearly thirty years since I directed a workshop at Listowel, the mother of all Irish literary festivals. I'm really looking forward to meeting old friends and remembering old friends with those who, like me, have survived so far. We have lost so many poets in Ireland in recent years, Heaney, O'Driscoll, Davitt, Michael Hartnett, Gregory O'Donoghue, Desmond O'Grady, that I feel very grateful to be here still, to be able to drink a drop of whiskey or wine and chase after strong new poems. Isn't that what life is all about, isn't that what makes a poet get up in the morning and greet the new day?
WATERFORD CRYSTAL
We were brought up in a country that loved glass crystal.
Lead crystal seemed to grow on the trees and on frosted glass
That shattered underfoot in December. The red beads
Of holly seemed to have dropped from a furnace, turned
On their wires by birds; everything as burned as my father's face
Was burned by a lifetime of picking through fire. The gorse
On the Comeraghs right now, warped and giving,
Is merely a cold liquid left by the factory's sudden firing.
THE EVE OF WAR
Amber was more than a woman's name beyond the seashore,
Though as words go she always wore a Jaeger jacket;
And she pauses awhile with other rich names on the Corso,
At a café table not far from where the Eternal City
Opens out into a reddish basin of light, as if Amber
Were no morbid secretion but four bushels of light
To cast upon the ashy stones of evening, to shine
As every Amber does at candlelit dinners on the eve of war.
ICE CREAM
That time in the long ago when my father said we are what we eat
He must have meant my Venezuelan half-and-half or the triple-
Shot slim latte that you so adroitly downed in three seconds flat.
If my memory serves me correctly it was three Raspberry Ripple
Ice-cream cones I'd consumed outside Fraher's old shop, bought
With money I'd earned for myself on the early morning news run.
But my idle father was not ready to cede authority, or not yet
Willing to abandon the upper-hand. He was fooling no one; even
Then I had no time for advice. Like my stomach, I was basically
Idle and middle-aged at the ripe old age of ten, maybe eleven.
Worst luck for me rather than him, but my hatred of authority
Would set me breaking windows inside my own stomach. It is not,
Let me repeat, it is never, a good thing not to listen to your father
Even if he's drinking lukewarm whiskey from a flask Dan Fraher
Gave him: even if his voice has begun its collapse into cigarettes.
WORSE THAN NOTHING
Even then I knew that my life would be far less painless
Than my father had predicted. Cigarette poised
In a very superior gesture, a great gesture
Of idle, ill-deserved grandeur, he explained
That any effort I might make in Ireland
Would come to something worse than nothing.
It is this wet November drain I'm clearing of
Rotted leaves and cigarette-butts that puts
Him in my mind now – a beautiful cynic
For a father, a father who'd laugh at dreams,
Who only loved that one Noel Coward song
There are bad times just around the corner,
Not realizing as I did, though a boy, that Noel
Coward must have poked at many versions of
That before the sludge moved, before the song came.
BATHING IN RIMINI
Five hundred ocean-going yachts in out-of-season
Rimini, white stallions bobbing in the Adriatic trough
Here where rich Europe plunges its ravenous snout
And rises for oxygen in a gasp of folded spinnakers.
Female stragglers, in one single fountain of Italian
Breasts, play dangerously in the late waves. Connoisseurs
Of human beauty maintain their unembarrassed gaze –
It is never nearly enough to have once loved, to have
Lusted after everyone while young; but, if you own
A sixty foot ledge of heaven, you must maintain
The hope of eternal youth, of that male eternity
Covered in fresh varnish; an eternity ravenous still
In the way hard cash is ravenous when it faces sexuality
Or the way a blob of gelato melts between us and the sea.
WHAT THE POOR ARE FOR
Permit me for a moment to abandon hope
Of poetry: you must not think as you read
These words that any enjambment of thought
Or music is more important than the rhythms
Found in speaking plainly. It is life that finishes
Our sentences; and it is this perpetual thought:
That the poor must have some purpose in the end,
The abject poor, surely, must have a reason
To be constantly there, like rain in Ireland
Or the certainty of mist after a very warm day.
That I was born to a poor mother is
Undeniable; and the malleability of my memory –
I mean the memories of a childhood –
Is proof of the pudding. Or lack of pudding.
It has always struck me how adroitly
The poor amplify memory in an effort, no doubt,
To conform to some bourgeois expectations.
Of Christmas, for example, that festival of child-
Like trust in things fulfilled. Of Christmas
A poor child would prefer less said. I mean
At Christmas every poor child waits
In the foyer of life but is never called
Forward. A poor child capable of labour
Will work in frost or rain to carry Christmas
To an idle father, or to a catatonic mother.
Accept this. Nothing shall be asked for.
It is important to remember that nothing
Is asked for, still. Memory is not important:
It will pass away in a flourish of choirs
Where the comforted go, one of life's parades
Where the soul of the poor is an onlooker.
This is what it means to be poor; and when
I hear some well-meaning child
Of a bourgeois household, a child now
Grown to adulthood, a commentator
Upon the injustice of the world, a
Place-man from a long line of place-men
In Ireland, I am filled with a violent rage.
I am as violent as Hugh MacDiarmid
Or as violent as Knut Hamsun, that
Consumptive healing himself on his own,
On the roof of a fast-moving train.
I am exhausted with rage; and I am
Bitterly alone at the edge of this great cave
From which I emerged, one afternoon,
While God was busy looking after someone.
Even now I see God still shutting the cave
Doors, God in a rage that someone poor
Escaped. His Universities raising their fees,
His lists of the waiting. His hospital
Queues. There must be a purpose to this,
Don't you think? There must be a purpose:
It can't be without purpose that the best
Of our bourgeois sons, and of private schools,
Could manage four generations of public
Life only for us to end up like this –
I am thinking of all the jobs available
In the service of the Poor. I'm thinking, still,
Of the great passivity of the excluded.
Of the poor bringing purpose. Of everything.
Hélène Cardona is a poet, literary translator and actor, the recipient of numerous awards and honors including a Hemingway Grant and the USA Best Book Award. Her books include three poetry collections, most recently Life in Suspension (Salmon Poetry, 2016), and Dreaming My Animal Selves (Salmon Poetry, 2013); and three translations: Beyond Elsewhere (White Pine Press, 2016), Ce que nous portons (by Dorianne Laux, Éditions du Cygne, 2014), and Walt Whitman's Civil War Writings for WhitmanWeb.
A Romanian translation of Dreaming My Animal Selves was published by Junimea Editions in 2016. Her work has also been translated into Arabic, Chinese, Hindi, Italian, Japanese, Korean, Macedonian, Serbian and Spanish.
She contributes essays to The London Magazine and co-edits Fulcrum: An Anthology of Poetry and Aesthetics.
She holds a Master's in American Literature from the Sorbonne, and taught at Hamilton College & Loyola Marymount University. Publications include Washington Square, World Literature Today, Poetry International, The Irish Literary Times, The Warwick Review & elsewhere.