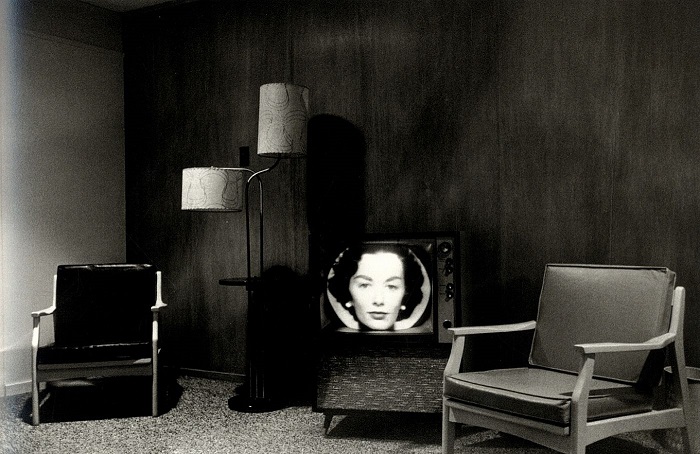 Lee Friedlander from the Little Screens, 1963.
Readers: Welcome to the January issue (#89) of Plume.
January: and one such as I looks back at those receding figures and landscapes of the preceding year   – even the joyous, the terrifying ones — already with a kind of pity, a certain indifference, for as if by their own choosing having set up camp in the past tense, they have consigned themselves to their own diminishment: like the violence in  Quan Barry's poem "Thanksgiving" below, so astutely introduced by Christopher Kempf, we are disassociated, we dissociate ourselves, from the spilled milk: violence, terror, etc. "Make it new": was not coined for nothing. In the present we wrap ourselves, in furs or armor. The present expands, crowding out what has come before and what ensues. Especially in America?  Perhaps. And though I hope that Mr. Kempf's assertion that "self-scrutiny is, in poetry as in politics, utterly démodé" is not entirely true. I suspect it is not altogether false either, by a long shot. But, enough.  The abattoir, writ large or small, is open for business as usual, and business as usual. Which is, indeed, the horror  of it all.
Christopher Kempf on Quan Barry's "Thanksgiving"
"I will admit," writes Quan Barry near the end of her poem "Thanksgiving," "I was in favor of war and now look what's happened."
The "war" is the so-called "War on Terror," and "what's happened," as the poem documents, is what we have come, in hindsight, to recognize as the post-occupation power vacuum in which militant groups like ISIS rose to and consolidated their power throughout Iraq and the wider Middle East.  What's happened, as Barry puts it—deftly condensing geopolitics to synecdoche—is that "a man halfway across the world / has been killed, torn apart by motorbikes, each limb / tied in a different direction" because "he taught girls."
The man's body is one of a half dozen bruised and damaged bodies—a car-struck deer, a woman fallen from a second-floor window—that run like a fantasia through the poem, each one shaped and blurred into the next so that, as when I teach the poem, we find ourselves hard-pressed to discern where one body joins another, just where, exactly, some localized violence opens onto a violence vaster and more terrible.
At a moment in contemporary writing—as in American culture writ large—characterized by self-righteous certainty and aggrandized proclamation, Barry's is a poem of doubt, of quiet, self-questioning introspection.  "I do not judge this," Barry writes of Thanksgiving killing floors—"how we raise them not to fly."
"We," she says here, fiercely critiquing her—our own—culpability in systems of violence from which we believe ourselves independent.
Think of that line—"I was in favor of war and now look what's happened."
By sheer mathematics—the polling numbers are consistent—no small percentage of poets and writers likewise supported the War on Terror in the months and years after September 11.  Can one imagine any other poet admitting this?
One of our most underappreciated writers, Barry's work—from her debut Asylum to her most recent collection, loose strife—bravely implicates itself at a moment when such self-scrutiny is, in poetry as in politics, utterly démodé.  We, in contrast, are certain of ourselves.  We are far from and disencumbered of the violence to which we object.  We are clean.
Which is the horror of it all.
Thanksgiving
Quan Barry
Literally the thing has been gutted, a ragged gash
carved under its tail to midway up its chest, eyes
like stagnant water, horns intricate as a woodwind.
Where did the viscera go? Where do the viscera ever go?
I am in a car driving to the northernmost point
on this spit. Porte de Mort. Death's Northern Door.
Literally where my grandmother lives. Her 89-year-old cousin
has just fallen out a window but is all right, the bruises
like stained glass. Enthusiasm. To be in God.
My grandmother says it is proof, and I nod my head
because I too would like to live in such a world
where an eighty-nine year old crawls out a window
and falls seven feet to the ground, in turn the miracle
of her body stained a deep blue, vitreous. In one room
of the unfinished mansion where we will celebrate the day,
the ninety-year-old matriarch sleeps in her four-poster bed
under the canopy of a wedding dress, its hundred eyelets
a fallacy. After dinner someone will hand around an indulgence
of the Black Madonna of Częstochowa, the lady's dark cheek
marred as if she has been scratched. Who at this table
fled the police? Who left that place in flames, the rubble
of infinite hearths? The deer's eyes like perfect cataracts,
the evidence cooling. When I think of my room in the earth,
I can't breathe. A friend of a friend recently hit a small bear
with his car. At the end of my favorite novel a bear
is dancing on a makeshift stage, the bear a grotesquerie
like the rest of us. No one stopped to help,
said my friend. Traffic barely slowed. I do not judge this,
or even the surreptitious footage of the workers
somewhere on the killing floor, stomping
the breast-heavy creatures with their rubber boots.
How we raise them not to fly, what should waft
gnostically through the air, the hollowness of evolving.
My heart is doing that thing again, saying climb the stairs
on your knees. I tell a friend a man halfway across the world
has been killed, torn apart by motorbikes, each limb
tied in a different direction. Could a universe be born this way?
One minute you are scarping the silvery bark off a birch
when it comes to you forever and there you lie
in the bed of a blood-smeared truck at a stoplight
on Highway 41 because this is the season of messages.
The man was a teacher. He taught girls.
When they came for him he told his children
not to cry. Then the men took out half his bowel,
the viscera steaming as they do, and they tied him
ingeniously in such a way that they tore him apart.
In that other place three million of us died. When I left,
I left them all behind. In the unfinished mansion
someone will ask me what I'm thankful for.
What to say? That one of the most beautiful things
I have ever seen was a paper nest secreted by wasps,
and that in the summer I would sleep under it,
the runnelled mass turning like a planet in the moonlight?
I will admit I was in favor of war and now look what's happened.
At the end of the road the man driving the truck will eat
the deer. If I had to watch someone be torn apart by motorbikes
I would still be me, which is the horror of it all.
Born in Saigon, Vietnamese poet and novelist Quan Barry was raised on the north shore of Boston. She earned a BA from the University of Virginia and an MFA from the University of Michigan. Barry is the author of the poetry collections Asylum (2001), Controvertibles (2004), Water Puppets (2011), and Loose Strife (2015). She also wrote the novel She Weeps Each Time You're Born (2015). Her writing has appeared in the New Yorker, the Missouri Review, Ploughshares, the Kenyon Review, the Virginia Quarterly Review, and elsewhere. In a review for the Los Angeles Review of Books, Rigoberto González noted, "Quan Barry's poetry outlines a sustained meditation on violence, though she has cultivated quite an expansive territory by locating violence not only in the timelines of personal and world history, but also in representation, in literature and film. … She gives herself permission to participate in the narrative, admitting, in a slightly tongue-in-cheek way, how obsessed she is with violence."
Christopher Kempf is the author of Late in the Empire of Men, which won the 2015 Levis Prize from Four Way Books.  Recipient of a Pushcart Prize, a National Endowment for the Arts Fellowship, and a Wallace Stegner Fellowship from Stanford University, he is currently a doctoral student in English Literature at the University of Chicago.
Bracing, yes? Every angle is terrible.
But, what else?
Two items only: I can report that the upcoming print anthology, Plume Poetry 7, is well on its way to publication; like its predecessors it will debut at AWP, this time in Portland in late March. Also as with its forbearers, there will be an off-site reading, with a stellar – if I may use that descriptor – roster of Plume poets reading from their work. So – set the date:
Thursday, March 28, 2019  Plume Launch: Plume 7: New Poems 2018
6 to 8 PM   (Come Early To Browse and Shop!)
CARGO    81 SE Yamhill St, Portland, OR 97214
The second item is a request. As you will note, I try to highlight recent or soon to be published books by Plume contributors at the conclusion of this newsletter. My method for gathering these materials is haphazard, to say the least. Now, I want to rectify that to whatever degree that is possible. So – if you have a new book — or have won some award or grant or other — perhaps send me a quick email.  I want to highlight your many wonderful achievements here. And a little PR never hurts, right?
Our cover art this month comes, again, from one of my current obsessions —  Lee Friedlander, of whom artnet offers this  brief biographical note: [Friedlander is] a seminal American photographer known for his innovative images of city streets. Often featuring candid portraits of people, signs, and reflections of himself in store front windows, Friedlander's street photography captures the unexpected overlaps of light and content in urban landscapes. "I'm not a premeditative photographer," he has said. "You don't have to go looking for pictures. The material is generous. You go out and the pictures are staring at you." Born on July 14, 1934 in Aberdeen, WA, he studied at the Art Center College of Design in Pasadena before moving to New York in 1956. Influenced by the work of Eugène Atget and Walker Evans, he attempted to see things as if a step removed, spontaneously reacting to all the potential images in front of him. Along with Diane Arbus and Garry Winogrand, Friedlander was represented in the historic "New Documents" exhibition at The Museum of Modern Art in 1967, curated by John Szarkowski. He went on to publish his acclaimed photobook The American Monument in 1976. The artist continues to live and work in New York, NY. Today, his photographs are held in the collections of the Art Institute of Chicago, The Metropolitan Museum of Art in New York, the Los Angeles County Museum of Art, and the Victoria and Albert Museum in London, among others.
Look for interviews and reviews in the New Yorker – here, for example, and here.
And finally, as mentioned, a few new releases from Plume contributors:
Grace Schulmann            Strange Paradise: Portrait of a Marriage
Ilya Kaminsky                   Deaf Republic: Poems
C. D. Wright                     Casting Deep Shade: An Amble
Andrei Codrescu              no time like now: Poems
Joe  Manuel Cardona,      Birnam Wood
tr. Hélène Cardona
Bob Hicok                         Hold
That's it, for now.
I wish you peace and pleasure and whatever joy there is to be found in the new year!
I do hope you enjoy the issue!
Daniel Lawless
Editor, PLUME
Daniel lawless
Editor, PLUME