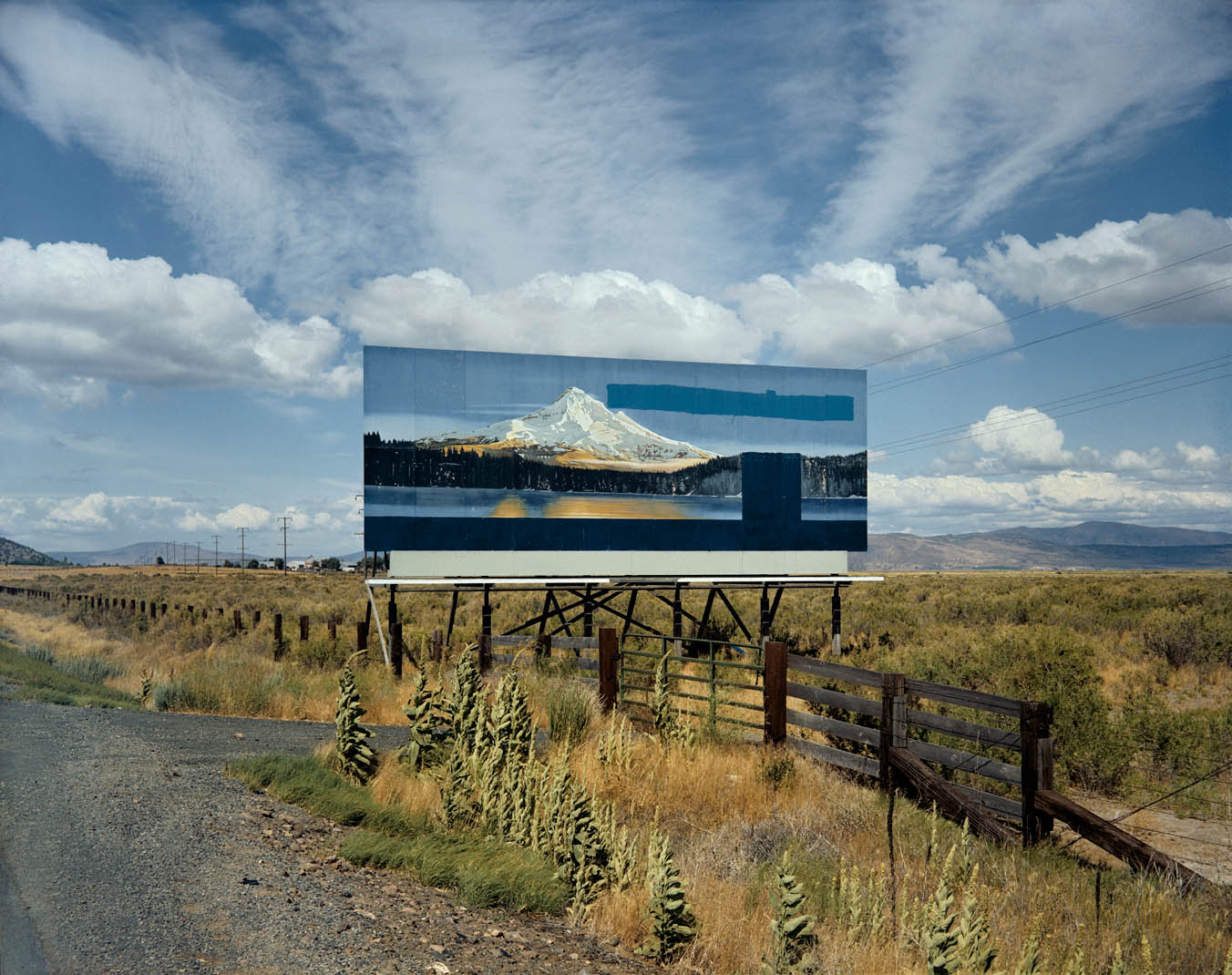 Steven Shores: South of Kiamath Falls, U.S. 97, Oregon, July 21, 1973, from Uncommon Places.
Readers: Welcome to the December issue (# 88) of Plume.
December: and   — and and and and: the holidays. Events, obligations, errands. How different from all that went before, when I was a child: then, only weather ruled the hours. Oh, the distant murmur of a certain gift, the barely glimpsed kingdom of the day itself, , but much more insistent was snow, and deep cold, the overcast skies the Ohio Valley pulled over itself, not to be disturbed until March. Images, sentimental — yet, enough.  Better to look below – those lines of Marie Howe's "The Copper Beech" – before David Huddle gets his practiced hands on them:
Sitting close to the center, not very high in the branches,
I heard it hitting the high leaves, and I was happy,
watching it happen without it happening to me.
What better way to say childhood and the world than this?
But read on.
Marie Howe
On Marie Howe's "The Copper Beech":
a Poem with a Double Life
When Ted Kooser introduced Marie Howe's "The Copper Beech" in his American Life In Poetry column, he presented it this way:
"Some of the most telling poetry being written in our country today has to do with the smallest and briefest of pleasures. Here Marie Howe of New York captures a magical moment: sitting in the shelter of a leafy tree with the rain falling all around."
Mr. Kooser's summary is reader-friendly and accurate as far as it goes.  I have very high regard for him as a poet and a poetry citizen–he's a serious but accessible poet, who's done a great deal to make poetry available to people who might not read it at all if not for his column.  What particularly intrigues me, though, is whether or not Mr. Kooser was aware of the disturbing deeper dimension of Marie Howe's poem.
The Copper Beech
Immense, entirely itself,
it wore that yard like a dress,
with limbs low enough for me to enter it
and climb the crooked ladder to where
I could lean against the trunk and practice being alone.
One day, I heard the sound before I saw it, rain fell
darkening the sidewalk.
Sitting close to the center, not very high in the branches,
I heard it hitting the high leaves, and I was happy,
watching it happen without it happening to me.
"The Copper Beech" is two poems, or, more specifically, a single poem that can be read two ways.  The first is the "magical moment" as Kooser sets forth.  The second is a young girl's ritual for coping with trauma. These two readings are not in conflict.  The first stanzas suggest a motherly aspect to the tree that must have drawn the speaker to it–a suggestion that doesn't necessarily indicate a desperate need for comfort.  However, one might "feel" the presence of the child's suffering from the poem's final line–"watching it happen without it happening to me."  Without reading the poem in the context of its companion pieces in Howe's What the Living Do, the reader can only guess at what the last line means to convey.  And that reader probably wouldn't puzzle over the meaning of the last line for very long, likely content to figure the poet was addressing a private meaning she didn't wish to be understood by everyone.
In the opening fifteen-poem sequence of What the Living Do, "The Copper Beech" is the thirteenth piece; that section of the book presents portraits of the speaker's neighborhood and family life.  The speaker never directly reveals that her father is sexually abusing her and her sister, but each one of its pieces hints at serious disturbance.  So discreet are the lines that suggest the abuse it is possible to read all fifteen poems and not get it.  In my opinion, the poet had to struggle to find a way to write about the experience–by circling around it.  Her discretion was not for the purpose of going easy on her readers; it was her necessarily oblique way to "process" the trauma she experienced.  Here are some lines from other poems in the sequence that say but don't say what the true subject is:
From the poem titled "From My Father's Side of the Bed":
When he had fallen deep asleep and was snoring
and I had moved out slowly from under his heavy arm,
I would sometimes nudge him a little,
not to wake him…
and
From the poem titled "The Mother"
…the same woman who stood many nights at the foot of that attic stairs
as her husband waved and stammered up into the room where her daughter slept
I'm writing this essay a couple of weeks after Dr. Christine Blasey Ford gave her heroic and riveting testimony to the Senate Judiciary Committee about the sexual assault she experienced when she was fifteen.  Dr. Ford provided explicit details of what happened to her, and those of us who viewed her reading her written statement to the committee could see and hear the courage it took for her to describe what had happened to her.  And she had managed to escape her assailant before he actually raped her.  Had she been sexually abused by her father as a child in her own home, the difficulty of giving a detailed account of what happened would have been unbearable.
And yet the victim of such trauma–as the Me-Too Movement of 2018 has taught us–would be both reluctant and driven to tell her story.  I'm guessing that Marie Howe wrote "The Copper Beech" and its companion pieces in the early 1990s.  It's my opinion that the poet composed "The Copper Beech" primarily as a work of art and only secondarily as testimony to what happened to her.  But the forces of art-making and personally testifying were both working on her.  The conflicting impulses of telling and not telling, in this instance, generated a sequence of poems of restraint and power.
Full disclosure–I've known Marie Howe since 1992, when I met her at the Bread Loaf Writers' Conference, and I consider her a friend, even though we've crossed paths only a few times since then.  We've had very few exchanges, and I've never discussed this sequence of poems with her.  When I carried out a cursory search of the Internet to see if she had commented on them in an interview, I found very little that she had to say about them.  I did, however, find this sentence in a 1997 interview:  "Well, my own father's sexuality was boundariless, and frightening."  (https://bombmagazine.org/ articles/marie-howe/)
As to whether Ted Kooser was aware of the "true subject" of "The Copper Beech," I can't say.  The editors of the newspapers that carried Mr. Kooser's column might not have published it if its "true subject" had been set forth in the introduction.  So I prefer to think that Mr. Kooser was completely aware of both aspects of the poem and that he wanted readers of all levels of sophistication to have access to it.  It delights me to imagine him deciding to "slip it past" anyone who might take offense to it.  And I certainly appreciate his bringing the poem and the poet to the attention of the readers of his column.
What I've realized in the act of writing this essay this morning is that the title of the book that contains these poems–What the Living Do–is meaningful in a way I hadn't considered before.  What Marie Howe does in this book and what Dr. Christine Blasey Ford did in testifying before the Senate Judiciary Committee is to tell their stories in such a way as to give comfort and understanding to readers who've had similar experiences.  Dr. Ford's telling was a political act, and Marie Howe's telling was an artistic one.  Both these living women, in converting the harm that was done to them into words that can help heal suffering, have made profound contributions to the community of human beings.  Though many of us don't, what the living can do is tell us how they've survived the harm that has been done to them, what they've made of themselves, and how they've reclaimed their lives.
Marie Howe is the author of four volumes of poetry: Magdalene: Poems (W.W. Norton, 2017); The Kingdom of Ordinary Time (W.W. Norton, 2009); What the Living Do (1997); and The Good Thief (1988). She is also the co-editor of a book of essays, In the Company of My Solitude: American Writing from the AIDS Pandemic (1994). Her poems have appeared in The New Yorker, The Atlantic, Poetry, Agni, Ploughshares, Harvard Review, and The Partisan Review, among others.  She was the New York State Poet Laureate from 2012 through 2014.
David Huddle taught for thirty-eight years at the University of Vermont, and he currently serves as a Faculty Member at the Bread Loaf School of English.  His fiction, poetry, and essays have appeared in The American Scholar, Esquire, The New Yorker, Harper's, Poetry, Shenandoah, Agni, Plume, The Hollins Critic, and The Georgia Review.  His most recent books are Dream Sender, a poetry collection, and My Immaculate Assassin, a novel.  In 2019, his new novel, Hazel, is forthcoming from Tupelo Press, and his new poetry collection, My Surly Heart, will be published by LSU Press.
Fascinant, non?
What else?
Ah — alas, this issue (actually last) marks the end of Robert Archambeau's tenure as Associate Editor for Essays & Comment. A superb essayist himself (see the archives!), Bob was able to wrangle essays from a wide range of contributors, from Amish Trivedi to T. R. Hummer,  Kathy Lee Schultz to David Wojahn.  Linda Ashok to Michael Anania to Lawrence Raab. Several of the essays went on to be featured in Poetry Daily and other such venues. He will be sorely missed – although now, some time for his own work and teaching, respite from a schedule that staggers the mind.
So: moving on, as they say —  drumroll, please:  Very happy, indeed, to announce that the estimable Chard deNiord will now serve as Bob's replacement as Associate Editor for Essays & Comment. Like Bob, he will contribute several essays each year (see the unofficial first one in this issue – "Can Poetry Save America?") and round up others from his far-flung colleagues and admirers.  We're in for a wild ride, I think – an enlightening and lively read, each month. You can see a photograph of Chard and his biographical note (the merest tip of a very large iceberg) under Staff, under ABOUT on the nav bar.
Our cover art this month comes from Stephen Shore.  From an article in International Center for Photography, Alicia Josten notes,… [he] was something of a prodigy as a photographer. Born in New York City in 1947, he learned about and practiced photography from the age of six. In 1958, Shore was given a copy of Walker Evans' book American Photographs. This book had a profound effect on him, introducing him to a descriptive visual language of place. At the age of fourteen, his work was bought by Edward Steichen for the collection of the Museum of Modern Art in New York. From 1965 through 1967, Shore worked in Andy Warhol's studio, the Factory, a formative experience that allowed him to experiment with combining documentary and conceptual modes in the laconic style characteristic of his later images. In 1971, at the age of twenty-four, Shore had a solo exhibition at the Metropolitan Museum of Art, the first accorded a living American photographer.
Shore emerged in the 1970s as one of the major exponents of color photography, shooting bleak yet lyrical scenes of the North American landscape. Documenting everyday settings and objects, from hotel swimming pools and televisions to parking lots, gas stations, and deserted roads, Shore exhibited an ability to transform commonplace surroundings into compelling works of art, working with a subject matter similar to Walker Evans. Between 1973 and 1979, Shore made a series of road trips across North America, documenting the vernacular landscape through his view camera, and taking a more formal approach to photographing than in his earlier work. A number of these images later formed Shore's now-classic book, Uncommon Places (first published by Aperture in 1982 and republished in 2004 and 2007). These images arouse recollections of experiences, but in an artful, carefully crafted and calculated manner. His images are made with a large-format camera, which gives his photographs a precise quality in both color and form that has become a signature trait of his work. Shore's use of the large-format camera and innovative color printing has made him one of the most influential photographers to emerge in the last half of the twentieth century, credited with inspiring numerous contemporary photographers. For more on Steve Shore, this and this.
And finally, per usual, a few new or soon-forthcoming releases from Plume contributors:
Grace Schulmann           Strange Paradise: Portrait of a Marriage
Eileen Myles                    Evolution
Christopher Kennedy       Clues from the Animal Kingdom
Erika Meitner                    Holy Moly Carry Me
sam sax                            Bury It 
Jenny Xie                          Eye Level
Stephanie Burt                  Advice from the Lights
Chase Twichell                 Things As It Is
Bob Hicok                         Hold
That's it, for now.
I do hope you enjoy the issue!
Daniel Lawless
Editor, PLUME