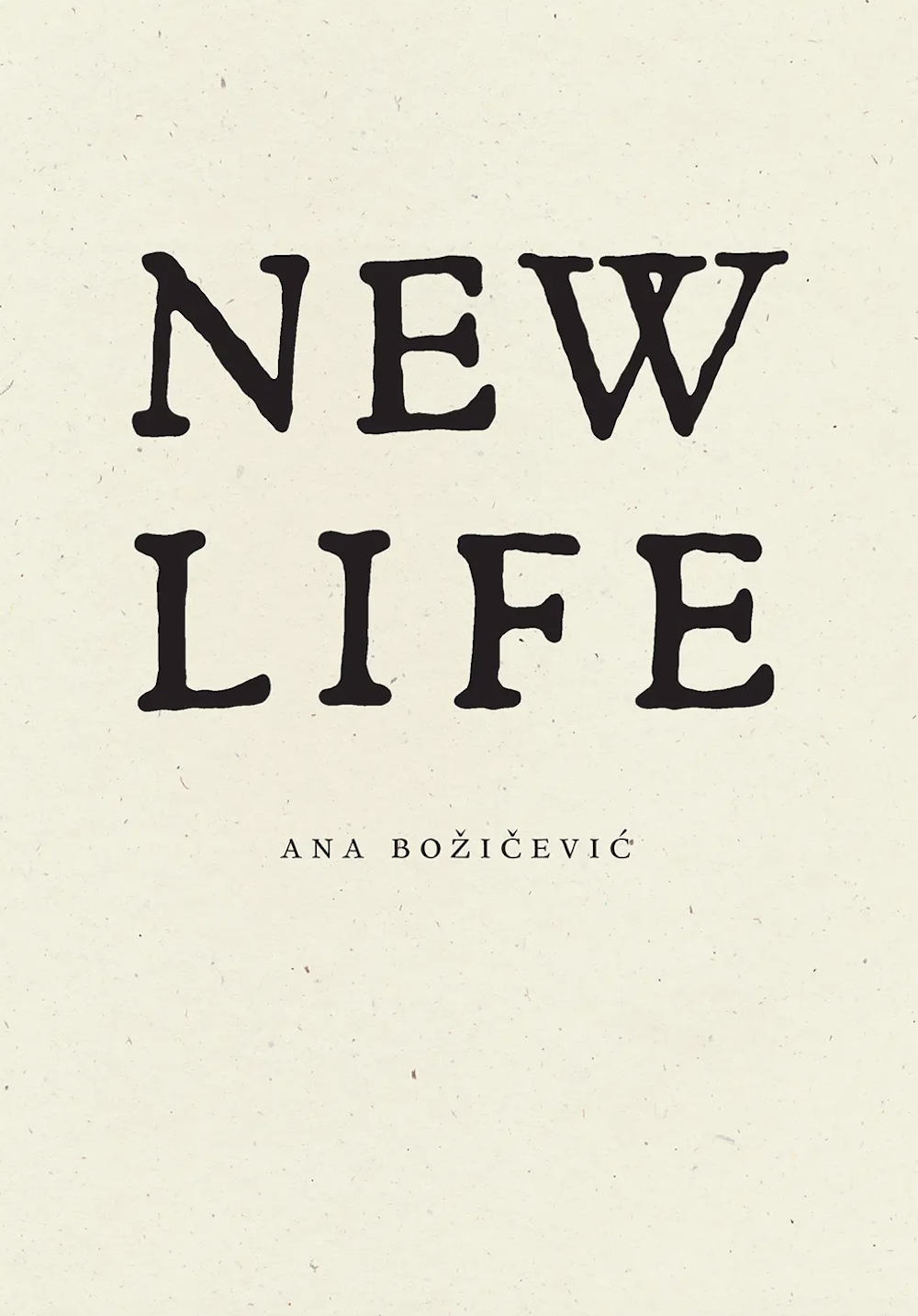 Ana Božičević
New Life
Wave Books, 2023
ISBN 978-1-950268-71-9
I was strolling through Bryant Park in Midtown Manhattan and happened upon a reading at the outdoor Reading Room. Well not really happen upon but strolling with intent as my good friend J. Mae Barizo was reading that evening. But as fortune would have it, Barizo was also reading with Božičević (a two-fer!) which meant that I would get to hear them both first and be able to skip out early into that gorgeous summer evening. Have you ever done that, ask if the persons you want to actually hear are reading earlier in the lineup so you can make your getaway?
All this to say, a poetry reading, like a meet-cute, or a rendezvous, or an assignation, can be both a planned and spontaneous thing. You hope for the best, you have backup contingency plans when things don't exactly go your way. I have read (and reviewed!) Božičević's work before, even know where the three accents go in her Croatian last name. Her Joy of Missing Out holds up very well and is a contradiction, even an antidote, to the very idea of a rampant consumer FOMO. How to embrace what is even when there isn't (or was but is no longer), because who knows what surprises might await around the corners of our incessant expectations.
I once heard Krishna Das say that "expectations are nothing more than pre-meditated resentments."
Can we apply this truism to the review you are currently reading? Is it going the way you had thought it might go? Would you like me to get more quickly to the meat of the matter or are we in fact already deep inside the marrow?
You don't have to have already read Dante's Vita Nuova or Louise Glück's Vita Nova to fully enjoy Božičević's contribution to the poetics of New Life though you may wonder, how might one gain access to the "New Life," is it a religious kind of conversion, does it have anything to do with reincarnation, or is the new life a metaphor for turning the page, closing one chapter and opening another? And what might that have to do with the arc of a poet's life (and career) if a book bears such a title?
Of course the answer to the question (asked or unasked for) is Love. Requited (Božičević) or unrequited (Dante) or terminated (Glück). What I love about New Life is here we have a book of poems gestated and born out of romantic love, the book we've all been waiting for!
Love comes to us in twists and turns, that is, if it comes to us at all. Odysseus slowly making his way back to Penelope. Dante trying to catch a mere glimpse of Beatrice as she rides past in a carriage. And as Cavafy knows, love is not the actual moment of arrival in our longed-for Ithakas but in the journey all along—an almost endless foreplay in which the climax is sort of besides the fucking point! Romantic love more a condition of prolonged edging than climactic release! Poetic embers of an endless denouement languishing in the House of Art alone.
Remember Robert Creeley's For Love? That kind of book. A book as rare then as it is now.
(Which is why I keep Sappho and Rumi and Hafez on my nightstand at all times. Seems like we have to wait hundreds and hundreds of years before someone is willing to foolishly try their hands on another Book of Love).
When I read a book of poems, I only need to dog-ear a handful of pages to decide that the book is a keeper! Something I look forward to returning to. Again and again. So here's a list of my fave poems from the book in order as they appear in the book:
Everyday People
The Alchemist's Diary
Zagreb '93
Psychomagic
Heartland
Person
Trash Moon
Saturday
Strand A
Helmet Music
Trialogue
XXX
Happy Ending
(I actually love all eleven last poems of this book between and including XXX and Happy Ending, there's a real crescendo there, but I'm trying to stick to favorites).
Did I mention that I invited my cat sitter and her boyfriend to the reading? What a gorgeous evening to be out under a tall canopy of grand-old Sycamores! And though I came to the reading with no expectations, Božičević did not disappoint!
New Life is not a how-to love manual, not self-help per se (though as we all know, high art is self-help, offering therapy before therapy ever existed). But the book begs the question: do readers have to be in love (or at least to have been in love) to fully partake of its charms? What about those who have never been in love, is there anything here for them?
When I say Božičević did not disappoint, and I mean both within these pages and on the night of her reading, what I mean is that an inimitable strangeness kept coming through as though she were some kind of lyrical medium:
"When you had a wet dream / the fairies stole your DNA / and made a clone / of you, only a mermaid / sometimes you catch her / thoughts inside of you / like little toes / anemones" (Strand A p. 91)
"I was sitting in my rain study / Studious, soaking / When suddenly a letter flew in: / Alonsious, you must join us / at the Four Beers!" (The Alchemist's Diary p. 20)
Božičević is in command of a surreal jouissance way outside of the box. Poets like Nina Cassian and Adélia Prado come to mind. James Tate even. But Tate was never this vulnerable:
"If wishes were horses, I would have no horse. / I opened my pussy and a crow flew in. / My heart is a dog sleeping / On our love's grave. / Yeah I've been keeping my  / Heart open for you like an elevator / With my bare hands, and now / It's closing as fast as / The escape hatch / In the sci-fi movie." (Psychomagic p.33)
At this point one might ask (as Tina Turner famously did), "What's love got to do with it?"
When someone tells me to read such and such a poet, I immediately ask to see the best love poem so-and-so has ever written. That's the litmus. That's how I know if I want to waste more time even thinking about someone I would rather to have never heard about! Here's a complete poem by Božičević that might whet your appetite, make you keep on coming back for more:
XXX
I stepped out of the shower
Steaming like a glazed donut
I was getting ready for work
I know they want us to hate this part
But I don't. I alter my mind a bit
And put on a really slow song
I plan to be late
Standing forever in the
Sunshine at the crosswalk
Thinking about you
And how it was kind of nice
Just sitting there next to you
Tryna glimpse your fingers
From the side of my eye
Figure out how they'd feel inside
Suddenly like the light
Fills the piazza
For me, the queerest moment of the poem resides in the pronouns in the line "I know they want us to hate this part / But I don't." Who is this insidious ever-watchful "they" so intent on hating on the joy the "I" imagines this "us" might get to experience? Star-crossed love indeed. And then, with the quickest sleight of hand, the "they" gets transformed into the Beloved you's fingers as the speaker imagines "how they'd feel inside." Wow.
The final poem of the book, "Happy Ending," is a tour de force, its forty-five tercets galloping her magnum opus to a fitting close. As we all know, love is not merely two but three. A third thing gets born out of the two, something eternal greater than the sum of its mortal parts: "I would like // To know that when / Alien teens / Find these notes // We write about / Each other / At some distant time // When all that's left / Of u and me / Is dew— // They will say / Wow / Do u see how in love // They used to be / It wasn't just / Literature // The carnival / Of selves / It was real love // That force that rolls / Thru everything / & powers the stars // & they'll speed away / But life is not / A godard movie // Not an early one anyway" (pp. 121-122).
Oh, did I mention that I caught a glimpse of Božičević's Beloved sitting next to her during the reading? Now I can't help but picture her as the namesake to this eponymous tribute:
Naomi Poem 2
While you dream
I synchronize
My breathing to yours
It's like we are rowing together