"To reconcile the people and the stones"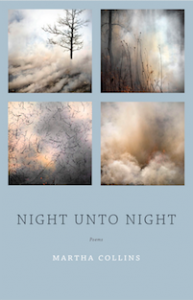 Night Unto Night
Martha Collins
Milkweed Editions
$16, 128 pp.
March 2018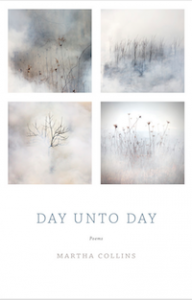 Day Unto Day
Martha Collins
Milkweed Editions
$16, 128 pp.
March 2014
The heavens declare the glory of God; and the firmament
sheweth his handywork.
—Psalm 19:1
Water mirrors house with high
green door opening out (no
 steps) into pure air.
—Martha Collins, "Over Time" (October 2004)
What are the heavens, and what is the firmament—what, a house, and for how long? How do we live, die, survive? Such existential questions, great and small, animate the devotional poetics of Martha Collins, translator and poet. With the recent publication of Night Unto Night (Milkweed, 2018), Collins completes a diptych twelve years in the making, which she first began with her collection, Day Unto Day (Milkweed, 2014). Readers of Collins's extensive oeuvre will recognize in these books a richly textured poetics, which draws on several of the poet's prevailing ways of working: documentary, translation, and elegy. As in Blue Front (2006), White Papers (2012), and Admit One: An American Scrapbook (2016), Collins takes the news—and history—of the world from its reports, ephemera, and archival leavings. The poems trace reticulations of denotation and connotation from within their very words and phrases, a kind of heterolingual investigation that recalls Collins's deep investment in translation proper (see her collections Into English: Poems, Translations, Commentaries, with Kevin Prufer (2017); Black Stars, with Ngo Tu Lap (2013); and The Women Carry River Water, with Nguyen Quang Thieu (1997)). The elegiac meditations in Day Unto Day and Night Unto Night also echo themes and forms from two of Collins's contemporaneous chapbooks, Gone So Far (2005), an elegy for the poet's mother, Katheryn Essick Collins, and Sheer (2007), both from The Barnwood Press.
Day Unto Day and Night Unto Night contain twelve sequences of linked lyrics, which Collins composed daily over the course of a different month each year. The order of the sequences shifts with the seasons from year to year, from autumn to winter months in the first book, and from early spring to late autumn in the second. As Collins explains in an earlier issue of Plume, she wrote the lyrics under several self-imposed constraints: seven-line stanzas, with no skipped days, and no writing ahead.[i] Thus the linked lyric sequences are true to the temporality of their composition. Collins has called her lyrics "half-sonnets," observing that seven lines do not settle easily into couplets or quatrains, instead following after the momentum of their own irresolution.[ii] Often, though not always, a word from the last line of one lyric carries forward to the first line of the next, and the entire sequence roils and rolls forward with these shifting repetitions, leaving meaning to multiply in the silence of the break.
Time is the operative energy in Day Unto Day and Night Unto Night, and the poems enact its passing and loss. Intimacy, love, and mortality are never far from the poet's daily meditations, and yet, even as the poems commemorate personal experiences from the poet's "small life, child- / sized life"[iii]— precarious, sensory utterings of nature, the body, and beloveds in illness, death, and birth—they also record broader circulations of events in the world: American military conflicts, and the veterans they leave behind; the inauguration of Barack Obama; the killing of Osama bin Laden; police killings of unarmed black men and women; suicides on university and college campuses; climate change, and the fate of the earth in the Anthropocene; faith, doubt. Thus Collins charts a world—its all its emergent complexity, minutiae, and motion—through acts of attention, translation, and devotion. So much hangs together—hangs in the balance—in the syntactic fissures of Collins's discursive play.
Day unto day uttereth speech
—Psalm 19:2
How unlikely is Day Unto Day, let alone Night Unto Night, how uncertain the diptych's completion. The poems remind both poet and reader of the lingering threats of change, dissolution, and mortality. Indeed, Collins's memento mori are everywhere inscribed throughout the natural landscape and in our humble, human architectures:
Teeming with leaves, trees
and ground all gold
around gray stones: I
am greeting my last
neighbors, we shall
all be changed, pieces
of gold slipping into air.[iv]
In this lyric from "Over Time," the poet lingers alone between the gray headstones and the edge of the line, with only time enough to contemplate her final transformation and interment. If we live, it is precisely because we change, though such survivals also demand undoings. Still, that the line turns, and that the books' cycle does complete and survive—and we, too, alongside it—seems a sign of grace. One would be remiss not to notice just how much living surrounds and inflects these poems. For the duration of their linked sequences, at least, these lyrics give time and presence, an antidote to the velocities of contemporary experience.
In Day Unto Day, Collins reminds us, as our best poets do, of the layered complexities of lived experience, and the way apparently unconnected events and discourses may intersect with one another at any given moment. Even in our most intimate, lyric, or remote states, violence has the potential to reach and unmake us, and to shake loose the predominance of the first-person (and First World) perspective:
Centered, surrounded by pines, one
could forget the uncentered world
except for the parallel cables and wires
scratching the landscape, the cloudless sky,
stretching all the way to a vest strapped
to a six-year-old boy who is told that flowers
will spray out if he touches, here, this button.[v]
These lines, from "Moving Still," which Collins composed in July of 2007, embeds their report of unfathomable violence and tragedy—the sacrifice of an innocent betrayed—within the everyday stands of American pine, American infrastructure, local skies. The privilege of centering the self, and indeed, the poet's easeful contemplation of her own mortality, are haunted by the body of a child not-yet-but-still-to-be shattered, burst.
Later in this same sequence, Collins contemplates other young children—familiar, cherished step-children—and their security, even sanctity, where they play on the porch of a summer house:
Our summer house, key under the mat
On the porch, his children's girl
and boy, their little trucks and cars
On the ledge, robins nesting again
On the tiny stones that are sand,
generations of waves in a minute,
castles and forts washed daily away[vi]
It is another kind of privilege for the poet's family members to be at leisure, the family unit intact, summering together in a house they call their own. Still, both poem and poet betray their awareness of the danger that threatens to swallow the entirety of this life. The house, the key, the girl, the boy, their toys and the nesting robin, all these are subject to the tides and rest upon the shifting sand—each grain a headstone that remembers, waits for them.
and night unto night sheweth knowledge.
—Psalm 19:2
In the most literal sense, Night Unto Night resumes where Day Unto Day leaves off, linking the sequence from January of 2009 with that of March of 2010. The two lyrics cited below appear as the twenty-third and twenty-fourth segments of "Up North," the opening sequence in Night Unto Night, which Collins wrote in Ithaca, New York:
++++++++Without roots, we grow
+++++++++++++up, like daffodils braving
++++++++the rain, then down, at last
+++++++++++++into those ghost-
++++++++++++++++++++trees or (remember
+++++++++++++October?) gold
++++++++++++++++++++slipping into air.[vii]
In these lyrics, the shape of Collins's lines recall, much more so than in the sequences from Day Unto Day, William Carlos Williams's variable foot. Their rolling rhythm is underscored, too, by the repetition of "slipping into air," which comes with an important difference: the phrase begins as a figurative image, of course, but the second instance becomes starkly literal in its evocation of the suicides of three students at Cornell University, which occurred while Collins was a visiting writer there:[viii]
++++++++++++Slipping into air,
++++++++++++++++++then into that gorge
++++++++of rushing white water, or
++++++++++++bursting into crude bouquets
++++++++++++++++++of flame: thus the young
++++++++++++of the world we have failed
++++++++++++++++++proclaim our future.[ix]
I cite these particular lyrics, too, because they demonstrate the resonant potential of serial poetry. Of course, the lines "(remember / October?)" bring the poem's present progress to a halt and send the reader reeling, back through time, to "Over Time," the earliest sequence in Day Unto Day (from October of 2004). These lyrics also return us to the "crude bouquets" of that first book—only now, the poem confirms the knowledge of our failures, and all our futures forever burst with the crimson flowers of dying boys.
Violence and trauma finally rest, Collins suggests, with the very nature of our species. The small, mortal perils that we experiences as individuals are overshadowed by the looming, much larger threat of global environmental devastation. Indeed, even as our species survives, "the most fit," we are the worst scourge for the planet that cradles us (and all life as we know it, for that matter):
shed skin feathers leaves water
-shed dividing line deciding
time    earth-age named
anthro- for us, our own doing our
undoing losing dying unless—
the most fit the worst
fit for earth in all its ages[x]
One hears in these lines, perhaps, an echo of Wallace Stevens's "Of Mere Being," and that poet's evocation of a world without human occupation and affect. Except here, in Collins's telling, no "gold-feathered bird" remains to sing its "foreign song"; rather, the bird has been plucked, our human skins shorn.[xi] Still the poem allows for a "dividing line," a threshold still "deciding" between destruction and survival, and the tenuous conditional, "unless—"; but how much solace, how much hope, do we allow ourselves?
The tragedy of Day Unto Day and Night Unto Night is that we read these records with the knowledge of the future we have since lived; their promise, though, is the certainty that our trajectories must and will change. What else, then, but prayers and thanks, to reconcile ourselves with stones:
my life my living my being my loving
my friend my friends my one my love
the huge white moon, missing almost nothing
my love in my arms, in my bed again
the advent candle for earth for hope
this almost last this work these leavings
my blessings my many my thanks for these[xii]
[i] Martha Collins, "Introduction." Plume. 32 (2014), accessed April 20, 2018. http://plumepoetry.com/2014/02/featured-selection-up-north/
[ii] Martha Collins, interview by Elizabeth Lund, Poetic Lines, HCAM, May 20, 2015, accessed April 18, 2018. https://www.youtube.com/watch?v=1ZJhhvtfQdQ
[iii] Martha Collins, "Leaving Behind." Night Unto Night. (Minneapolis: Milkweed, 2018). 94.
[iv] Martha Collins, "Over Time." Day Unto Day. (Minneapolis: Milkweed, 2014). 17.
[v] Martha Collins, "Moving Still." Day Unto Day. (Minneapolis: Milkweed, 2014). 62.
[vi] Ibid. 67.
[vii] Martha Collins, "Up North." Night Unto Night. (Minneapolis: Milkweed, 2018). 14.
[viii] Martha Collins, "Notes and Acknowledgments." Night Unto Night. (Minneapolis: Milkweed, 2018). 107.
[ix] Martha Collins, "Up North." Night Unto Night. (Minneapolis: Milkweed, 2018). 14.
[x] Martha Collins, "Leaving Behind." Night Unto Night. (Minneapolis: Milkweed, 2018). 102.
[xi] Wallace Stevens, "Of Mere Being." Poetry Foundation, accessed April 20, 2018. https://www.poetryfoundation.org/poems/57671/of-mere-being
[xii] Ibid. 105.