NAMING THE LOST:
THE FRESNO POETS
Interviews & Essays edited by
Christopher Buckley
Stephen F. Austin State University Press, 2021
L to R: Philip Levine, Peter Everwine, and Larry Levis at Fresno State
NM: Hey Chris. It's wonderful to be talking to you about the forthcoming NAMING THE LOST: THE FRESNO POETS—Interviews & Essays, which you so beautifully curated and painstakingly edited, as well as contributed to with your own terrific interviews and essays. Not only is this labor of love a stellar, moving, epic tribute to the teachers, friends and fellows at Fresno of that phenomenal era, it's the most essential collection any new poet will ever need; the essays by students and colleagues of the faculty are models of how real poets think and move through the world with unwavering dedication to the work and life in poetry. The craft talk in the interviews is the most brilliant, and precise and useful I've read anywhere. And lord, the stories, which testify to the openhearted generosity, inclusiveness, and fidelity that knit this remarkable community together. "What is astonishing about this community" C.G. Hanzlicek writes, "is how little envy there is in it, and how much pleasure is taken by its individuals when another member of the community has a success of one sort or another. Most writers don't have the good fortune to live among such support."
It's not surprising that this atmosphere produced so many excellent poets such as David St. John who credits Fresno for his success "…the life I've made for myself as a writer owes everything to the generosity of the teachers and the many enormously gifted young poets I knew there . . .. We are indeed a lucky band of fellow travelers."
As you write in your introduction, this collection "presents and and preserves an amazing nexus of poetic talent and fellowship, and documents the providence that brought so many outstanding poets to Fresno…There hasn't been another grouping of poets like this in the U.S. in the last 60 years. It seems unlikely there will be another."
Tell us what brought these poets together to unlikely Fresno, to what Larry Levis called the "Dust and Wind State College" and what made this grouping of poets so unique, and, what makes them, in a sense, on the verge of extinction?
CB:  Thanks Nancy . . . the last part of your question first. Philip Levine died in 2015 in his mid-80s. Then in 2017 my great good friend and an amazing poet, Jon Veinberg, died suddenly of a stroke; Jon was my age and we had been in grad school together with Gary Soto. Then in September of 2018 I made a trip to Fresno to visit with Peter Everwine and attend a reading of his new poems, one of Peter's best readings among many luminous readings over the years. I lived in Fresno and taught at Fresno State in the late '70s and early '80s and after leaving for other jobs regularly drove to Fresno two or three times a year to visit with Jon Veinberg and Dixie Salazar, Peter, Phil and Franny Levine, Chuck and Dianne Hanzlicek and as many other Fresno poets as we could round up for dinner.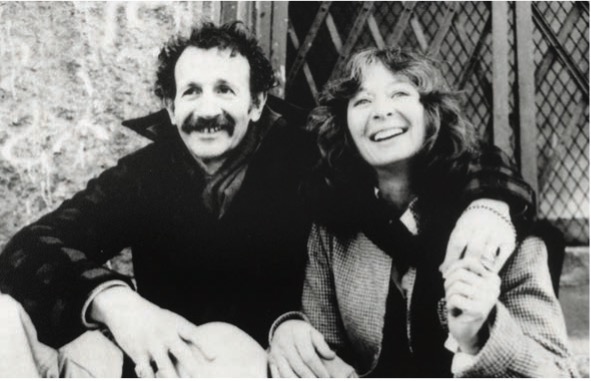 Philip and Frances Levine, c. late 1970s.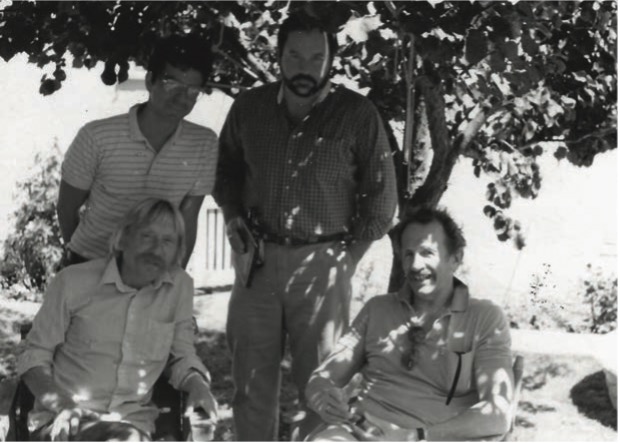 Front L to R: Jon Veinberg and Philip Levine. Back L to R: Gary Soto and Christopher Buckley c. 1980.
Often the occasion was another poet coming into town—Larry Levis, Bruce Boston, Glover Davis, et al. The focus of my trips over the decades was always meeting with Jon and heading for Piemonte's Deli for a sandwich before going over to visit Peter for the afternoon and sharing great Pinots, poetry, stories, and a great deal of fellowship and laughter. That September Peter and Chuck and I shared the same camaraderie as always while deeply missing Jon. Peter was in his mid 80s, had a health issue or two but overall was doing well it seemed. Not quite a month later, in October, Chuck called to say Peter had died in the night. In addition to the loss of a great friend and mentor, it also hit me that we were becoming a bit thin on the ground. Add to that that many Fresno poets were lost far too early: Ernesto Trejo in 1991, C.W.Moulton 1995, Larry Levis in 1996, Sherley Ann Williams and Andres Montoya in 1999, Roberta Spear 2003, Luis Omar Salinas in 2008, and several others including Bruce Boston who died in February and Dennis Saleh who passed in November 2020 as the book was being completed. It was immediately clear to me that something needed to be done to preserve the work, thoughts, spirit of the times, and voices, of this amazing nexus of poets, and doing so in their own words via interviews and essays seemed to be the best and obvious way to do so. A very sad but necessary project for poetry as I saw it. So, the answer to the last part of your "verge of extinction" question is mortality. This book focuses then on the first wave of poets from the early '60s through to 1980, of whom we have lost roughly a third. The first anthology of Fresno poets, Down at the Santa Fe Depot, appeared in 1970. That was followed by Piecework in 1987 and How Much Earth in 2001 and included the many poets who came through Fresno from 1980 to 2001.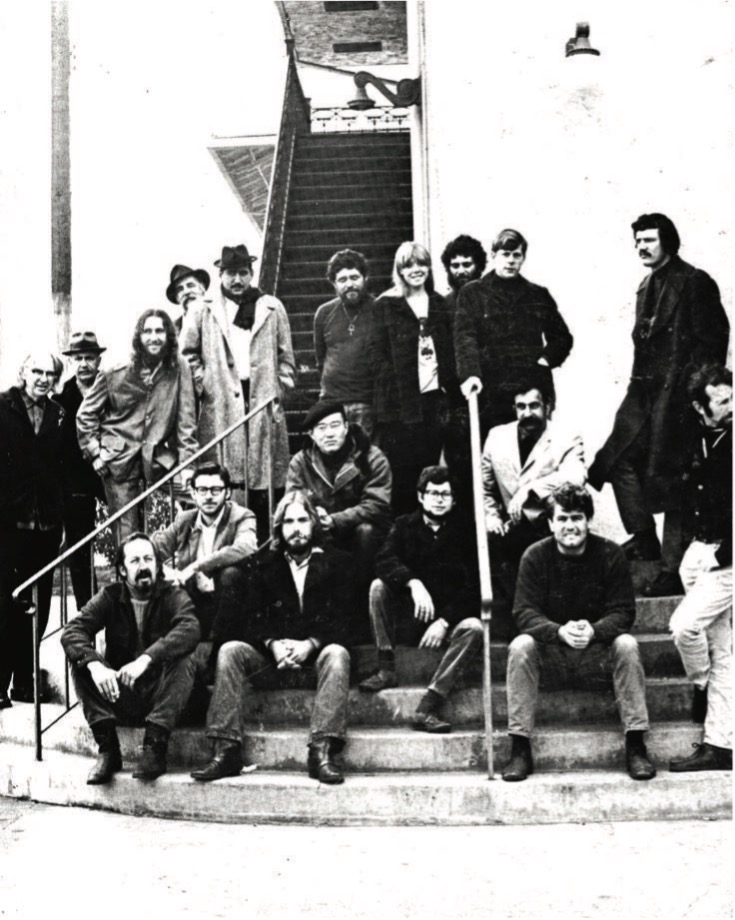 Cover photo for Down at the Santa Fe Depot, 1970. Photo taken by Tom Peck.
Also, a major part of the "extinction" question is the loss of Philip Levine and Peter Everwine, who along with Chuck Hanzlicek, were the main poets teaching in the creative writing program during those years, and Chuck has been retired for several years now. What brought the poets together was Phil, who came to teach at Fresno State in 1958 and who, a few years later was joined by Peter Everwine.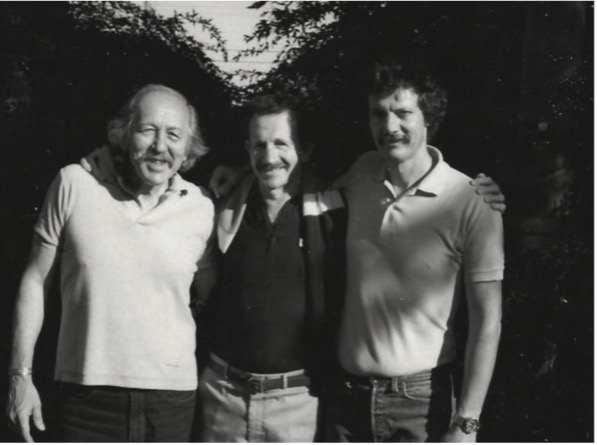 L to R: Peter Everwine, Philip Levine, and C.G. Hanzlicek.
Phil and Peter were important and major poets of the 20th & 21st century. They had different styles in workshop and classes, and used many different poets as models, but between them I think covered the poetic landscape; any young poet was fortunate to work with such accomplished and inspiring poets. They grew the program and soon Chuck Hanzlicek joined them and the three poets together were not only inspirational but also supportive to the young poets and each other.
Many things made the Fresno poets unique—primarily the amazing depth and variety of talents, coupled with the rigorous instruction from Levine.
NM: Yes, although Levine was a bureaucratic rouge of sorts—I relished hearing about when he took classes with Berryman and Lowell at Iowa without being officially enrolled—Larry Levis, his student, writes,  "…it wasn't Milton and Wordsworth who changed my life back there at Dust and Wind State College; it was Levine, his poetry, his teaching, the purity and fire of his genius that did that." Yet,  "If the class was difficult, if Levine refused to coddle students or protect the vanities of the lazy and mediocre from the truth about their work, if his criticism was harsh at times, all of this was justified and beautiful."
 CB: There was no "School" as such, no group of poets displaying a single influence or style; rather, there was in each poet a dedication to rigor and excellence, clarity matched with fresh imagination. Each poet mastered his/her own voice, voices as distinct as Sherley Ann Williams' authentic dialect, Dennis Saleh's poems bordering on the surreal, and the fierce empathy of Jon Veinberg. When Phil arrived in the Valley, many poets to be were ready and waiting; the earliest poets to come through were Lawson Inada and Sherley Anne Williams, locals. Followed by Larry Levis whose family had a ranch in nearby Selma. David St. John's grandfather had been Chair of the English Department at Fresno State and was the Dean of Humanities who hired Phil. Luis Omar Salinas had moved to Fresno with his family in the '60s. Gary Soto grew up in Fresno and Ernesto Trejo came to study economics and work at his aunt's restaurant. Jon Veinberg's family moved here when he was a young teenager after leaving Estonia and escaping the Russians via Germany; and Tom Emery came on a baseball scholarship. Roberta Spear grew up in Hanford nearby, David Oliveira in Armona, Greg Pape lived in Fresno from the age of six. Dixie Salazar moved to Fresno from the Midwest.  Marty Williams grew up in Fresno, went to UC Berkeley, and came back to Fresno for poetry. There are many more such stories. As the reputation of the creative program and its faculty grew, young poets began to arrive for the M.A. program as well as for the undergraduate program, joining the poets from the Valley already here. It was an amazing serendipity and amalgam of spirit and soul—all these poets writing this excellently in one unlikely place.
NM: Yes. I'm struck again and again by what a generative system the Fresno program was—teachers turning students into teachers who then took this incredible boon out into the world beyond. Although this group of Fresno has produced some of the most innovative work in the history of poetry, the program honored the tradition of poetry, and was clearly ground in Levine's belief that "the truth is we form a family with other poets, living and dead, or we risk going nowhere."
Thank you, Christopher Buckley, for reminding us of where we come from with this beautiful homage to the Fresno branch of the family tree. I'll be carrying NAMING THE LOST: THE FRESNO POETS around with me into the coming years. https://www.amazon.com/Naming-Lost-Fresno-Christopher-Buckley/dp/1622889045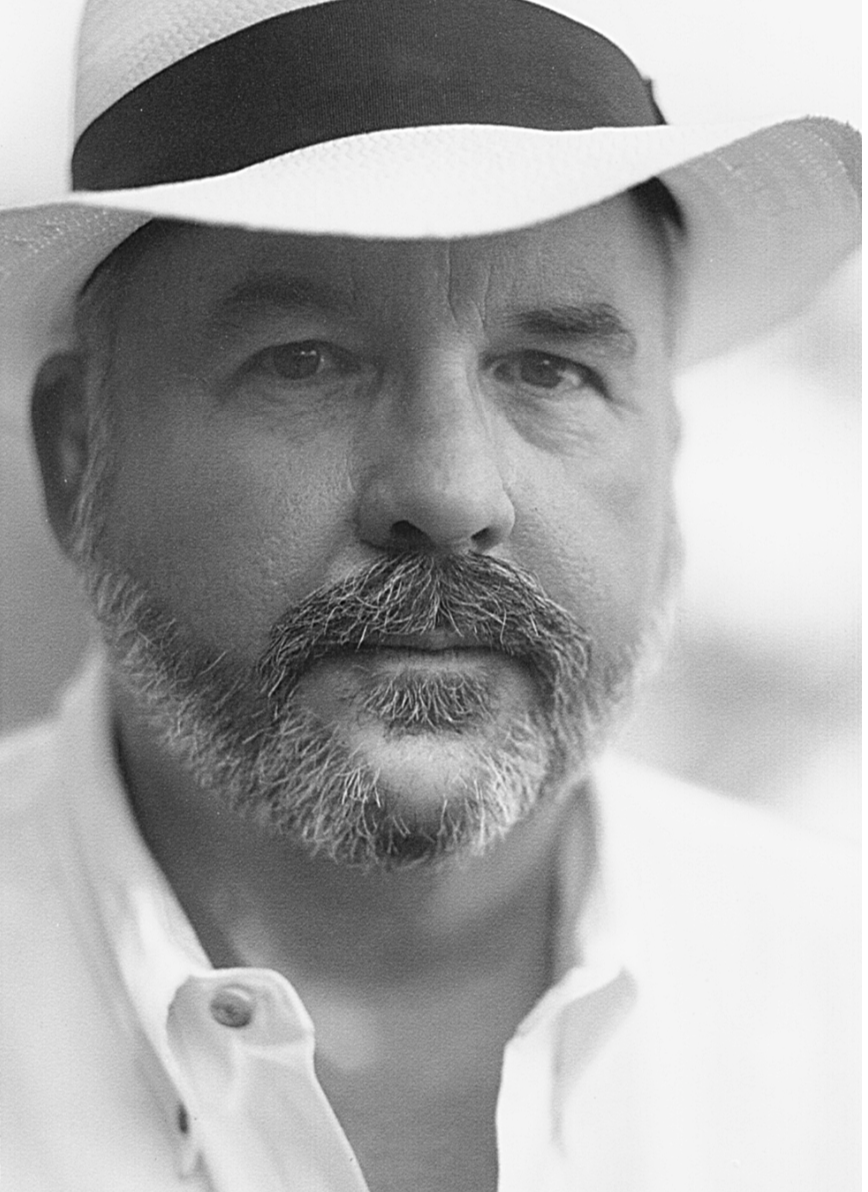 Christopher Buckley was raised in Santa Barbara, CA. He has taught at CSU Fresno, UC Santa Barbara, and UC Riverside. He has published three books of creative nonfiction and twenty-seven books of poetry, including STAR JOURNAL: Selected Poems (Univ. of Pittsburgh Press 2016), Cloud Memoir: Selected Longer Poems (Stephen F. Austin State Univ. Press, 2018), AGNOSTIC (Lynx House Press, 2019), and The Pre-Eternity of the World (Stephen F. Austin, 2021).
He was a Guggenheim Fellow in Poetry for 2007-2008 and a recipient of NEA grants in poetry for 2001 and 1984. He received the William Stafford Poetry Prize from Rosebud in 2012, and the James Dickey Prize for 2008 from Five Points Magazine. He was a recipient of a Fulbright Award in Creative Writing to the former Yugoslavia, four Pushcart Prizes, two awards from the Poetry Society of America, and the John Atherton Fellowship in Poetry to the Bread Loaf Writers' Conference. He was awarded the Tampa Review Prize for Poetry from the Univ. of Tampa Press for Rolling the Bones, 2009, and the Vern Rutsala Poetry Prize for The Far Republics from Cloudbank Books, 2017.
With Gary Young, he edited The Geography of Home: California's Poetry of Place and with David Oliveira and M.L. Williams, How Much Earth: The Fresno Poets. For the Univ. of Michigan Press' Under Discussion series, he edited The Poetry of Philip Levine: Stranger To Nothing, 1999, and in 2013, FIRST LIGHT: A Festschrift for Philip Levine on his 85th Birthday.
He has also edited Bear Flag Republic: Prose Poems & Poetics from California (with Gary Young) 2008, Homage To Vallejo (Greenhouse Review Press, 
2006), and A CONDITION OF THE SPIRIT: THE LIFE AND
WORK OF LARRY LEVIS, (with Alexander Long), 2004. The Backwaters Press published Aspects of Robinson: Homage to Weldon Kees, edited with Christopher Howell in 2011, and in 2012, again with Gary Young, One for the Money: the Sentence as a Poetic Form With Jon Veinberg, he edited MESSENGER TO THE STARS: A LUIS OMAR SALINAS NEW SELECTED POEMS & READER, and in 2020 The Long Embrace: Contemporary Poets on the Long Poems of Philip Levine, Lynx House Press.