Readers:
May: As promised I am happy to report our own wave good-bye to Phillip Levine in Plume: the "secret poem" Phil's "Belief," with a marvelous introduction by Christopher Buckley in this month's Newsletter.  For this reason,  I strongly urge you to subscribe to that short monthly report. Unsubscribe if you like immediately thereafter – it's a matter of a mouse-click.
Also this, something new in Plume's series of Featured Selections: no poems this time (well, a few), but rather – what to call them? — "remembrances" of work of the non-poetry type, as befits Phil's long-standing interest in that subject.. For example, here we attend the somewhat harrowing story of Jane Hirschfield's job as a trucker; watch as D. Nurkse, in Iceland, drops 50 kilo bag of Portland cement within a foot of the foreman, from three flights up; accompany Ron Slate, working at Ziljian Cymbal factory in Quincy, Massachusetts, as he meets his boyhood idol Buddy Rich; ruminate with Afaa Weaver on the origins and implications of writing about work or the "working class."
What else?
Many thanks to Nin Andrews for her wonderful "orgasm" poems in last issue's Featured Selection, with that lively – it seem like two old friends kibitzing at a dizzyingly high level, didn't it? – introductory interview conducted by Nancy Mitchell. Instead of the usual promissory list of upcoming Features, let me just add that we have some very exciting ones in the offing – some "portfolios" of work, some just-got-our-hands-on rarities. Watch this space.
And, this, filed under "bears repeating": We've made a small change to the anthology, moving from the year designation to simply a number, in the upcoming case "3". Something, I am told, to do with the advantages of securing an SPD number. And, I can tell, immodestly, it is going to be…something: living up to our Mission Statement's (so audacious in its pre-first issue conception!) promise to publish "the best work by the best poets working today, nationally and internationally." E.g. Shamsad Abdulloev, translated by Alex Cigale; Kim Addonizio; Kelli Russell Adagon; Sandra Alcosser; Meena Alexander; Kazim Ali; Kelle Groom; Ralph Angel; Rae Armantrout…and, obviously, that's just the A's. Copies will be available at AWP and thereafter through Madhat/Evolution Arts, Amazon, etc.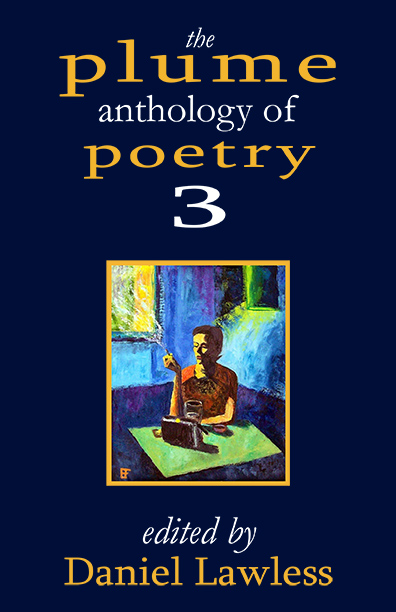 Our cover art this month is from Amy Sacka, a Detroit-based street photographer whose ongoing project, "500 Days in Detroit" captures the nuances of a city that is often view with a narrow lens. Her work has been featured in National Geographic, The Guardian, The Detroit News and most recently on PBS World News Hour.
Finally, New Work Received this month includes pieces from Jim Daniels, Irene Maslinski, John Skoyles, Daniel Bosch, Timothy Liu, Stuart Friebert, Harriet Levin, Annie Finch, Bruce Bond, Cathleen Calbert, Denise Duhamel, Maureen Seaton, Tara Skurtu, Sophia Galifianakis, Wendy Barker, and others.
As always, I do hope you enjoy the issue!
Daniel Lawless
Editor, PLUME