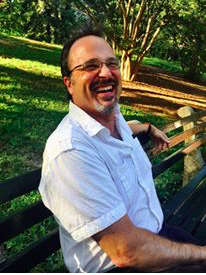 Photo credit Laura Byrnes
My hometown of Salisbury, Maryland hosted Gerry Lafemina as poet-in-residence for Poetry Week, April 5-9, 2018. At the end of a whirlwind week of TV and radio interviews, readings and workshops throughout the community, Gerry graciously agreed to come for dinner and an interview with me for Plume 's very first video interview. Click on the link below to hear Gerry talk about quantum physics and the revision process, the poems and roads taken and not taken in writing and in his life. Featured here are poems Gerry has so generously shared with Plume. Many thanks to videographer John Ebert.
A Saturday Like Most Other Saturdays
Early April & some street clown
gives every child who comes by a balloon,
swollen & helium light
so their thin-skinned bodies strive skyward.
Free, he insists. Free.
++++++++++++++++++++In every newly bloomed daffodil
he sees a face; above, the sugar maples'
fresh leaves tickle the underbelly of Cumulus Humilis.
The kids hold on to their strings with solemnity
though they grin the way they will
at first love,
++++++++++++++blessed by fortune. Hours pass:
after the families have returned home,
after the small zoo has locked its gates for the night
leaving the nocturnal animals to entertain themselves
in their enclosures, when only
joggers & dog walkers, some sullen
teens in headphones & a studied aloof disdain
remain, disinterested
by his pancake face,
++++++++++++++++++++his boldfaced blue-font smile,
his ridiculous bouffant, he strolls
to where someone waits, the helium tank in tow,
every hundred steps or so, as if to show gratitude
to the old gods who remain watching over us, he releases
another balloon to the spring breezes,
+++++++++++++++++++++++++++++++++++++which bat them,
latex parcels of the rainbow over streets & alleyways both.
How surprised some will be
when out a twelfth floor window,
++++++++++++++++++++++++++++++++a glimpse,
some fleeting blue
or scarlet, something yellow & jubilant
floating by
vibrant against the inevitable dusk.
Just Another January
So cold tonight, even the wind doesn't want
to be outside, & moisture
on the windows has frozen, teasing me
with faux lobelia florets crushed against the glass.
Here I am again
loss curled up in my lap like a stray
with a broken paw, its plaintive mews
finally gone to purr.
When it ended there were no
arguments or curses or accusations,
just dwindling twilight.
But for the vampires I might
name this cat Twilight.  I've outgrown
monsters & melodrama &
loneliness, but not desire, not romance.
It's so cold tonight that I'd build
a fire, light candles
the way lovers do—not
for the heat but for the illusion of heat,
but I've outgrown deluding
everyone, even myself, outgrown
the mythic relationships of sitcoms,
the easy sentiments
of silly love songs. Perhaps
the heart is a faucet left trickling
to insure the pipes
won't freeze. A plow truck passes
scraping the streets clean or
clean enough for
whoever needs to go out, my neighbor,
for one, who deals blackjack, late shift
at the casino,
& the gamblers, also, who even
if they have little else, enter
those lit rooms
to sit by a field of green felt
with their cards & a drink. It's their
hope I recognize,
that & the startled expression—
the slight lip quiver, the downcast eyes—
when they toss in
another useless, busted hand.
Rat
The albino one Linda owned looked
so much like her—the thin, elongated face,
coarse white hair, skin pink, & the teeth . . . .
her smile, practically feral.  These nights,
when the winter wind skitters around
the houses, & snow teases the black leather crowd
I hear her laughing with joy, with cruelty
—the way she always did before we kissed.
Anole
I've held them squirming in my palm
though being hard to catch is a survivor's
stratagem. Camouflage helps, too,
so these little lizards, splay-legged
shift from leaf green to stem brown
in seconds, the way teen girls
changed faces away from home, their skirts
seeming shorter, their eyes scanning
for parents in hopes not to get caught
even as the boys we were looked on,
working to calm our predator hearts.
Second Day on the Island
—Castarra,Tobago
The roosters begin calling at first light, but unlike in cartoons
they crow at 8AM again, continue all day. This land is ours,
they declare, & visitors here,
++++++++++++++++++++++++++++who are we to complain
or argue they're wrong. The papaya at breakfast was
pink as my thoughts of her, as sweet & fragrant as her nape
in all this heat. What the tongue wants is celebrated
in papillae, our bodies
++++++++++++++++++++++designed for so much pleasure, &
grief, too. Here, the water pets the beach; the sun seems to set
the air ablaze. I'm reminded once more of what
the masters teach: there's no either/or in the world,
not for the wealthy with their yachts anchored off the south shore,
their junkets to Scarborough
++++++++++++++++++++++++++++for more gin & fruit, &
not for the fishermen of Castarra whose boats
bob within wading distance beyond gentle breakers. Tonight
we'll eat whatever they catch, we'll drink rum that remembers
the molasses it was distilled from. How is it
I can be both here & not here simultaneously?
The crested oropendola in the palm tree laughs & clacks at me.
Even it has a beautiful accent.
Repair
All morning men have worked
repairing a large woven net while offshore
other pull their catch toward the beach.
More boats nod & shimmy
as if to last night's reggae.
Sun on the bay shimmery as desire—
high tide of our pulse. Behind those men
scaffolding surrounds a building,
butterscotch stucco, no glass
in the frames. I haven't seen any workmen
there. New construction or repair?
Old man Colin talks
of the last woman he loved,
his ramshackle manor sprawling up
the cliff.  He watches all this
from a hammock in his aerie.
In three months he might
be dead but who isn't that true of?
Tomorrow the men will cast that net
for the supper I'll eat
grilled with hot peppers. Satisfaction &
want. Satisfaction & want, the surf's mantra.
A sand crab steps from its burrow &,
startled, scurries back underground.
A Drop in Barometric Pressure
I walk in the Caribbean from Big Bay to Little Bay
++++++between boulders I've dubbed Crab Rock & Gull Rock
for the denizens of each. The water translucent, the sand below
smooth & giving beneath each step. Fish flee my ankles
++++++gills pumping anxiously. Ashore, three men cut & gut
today's catch, discard the spines & heads in a heap while
a beach cat circles in longing. Ditto flies. One hunger or
++++++another, it's all the same. The bartender mixes rum
with ginger beer while clouds assemble as they do each afternoon.
One of the men howls, tosses the stray some entrails & flesh.
++++++How almost feral she is. How almost domesticated.
She wolfs down the tripes, pulls the bones away for later.
She licks her lips, arches her back, then purrs at her
++++++good fortune. The flies like a black hat over everything,
& the rains, despite the tropical depression, never come.
Gerry LaFemina's latest book is the poetry collection The Story of Ash.  He is also the author of a novel, a collection of short stories, and numerous award-winning collections of poetry, including The Parakeets of Brooklyn, Notes for the Novice Ventriloquist (prose poems), Vanishing Horizon, and Little Heretic. His collection of essays on poets and prosody, Palpable Magic, came out in 2015 from Stephen F Austin University Press and his textbook, Composing Poetry: A Guide to Writing Poems and Thinking Lyrically is out this year from Kendall Hunt. He teaches at Frostburg State University and serves as a Poetry Mentor in the MFA Program at Carlow University.
Nancy Mitchell is a 2012 Pushcart Prize winner and the author of two volumes of poetry, The Near Surround (Four Way Books, 2002) and Grief Hut (Cervena Barva Press, 2009) Her third book; The Out-of-Body Shop is forthcoming with Plume Editions in 2018. She teaches at Salisbury University in Maryland and serves as Associate Editor of Special Features for Plume. She can be reached at nancymitchellpoet@gmail.com