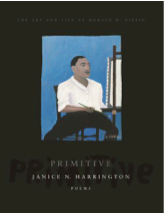 Primitive: The Art and Life of Horace H. Pippin by Janice N. Harrington
BOA Editions
$16, 104 pages
published October 2016
Two epigraphs from the esteemed Cornel West introduce the seventh section of Primitive: The Art and Life of Horace H. Pippin, and the latter seems particularly resonant for its melancholy poignancy. "Can the reception of the work of a black artist," West asks, "transcend mere documentary, social pleading or exotic appeal?" Poet Janice N. Harrington's third poetry collection traces the arc of this very question in its examination of Horace H. Pippin, a World War I hero and intuitive artist who began painting in middle-age to express his lifelong creative yearning, cope with the trauma of battle, and celebrate the richness of African-American culture. Harrington's project realizes several ambitious goals simultaneously, as her poems probe Pippin's private struggles, rejuvenate his fascinating oeuvre, meditate on the oppressiveness of segregation during the interwar years, and interrogate the infinite ways in which black talent is compartmentalized or minimized. Primitive achieves all of this and more, demonstrating Pippin's boldness in life as well as his originality on the canvas through Harrington's imagery-rich poems enlivened by their formal variety and historical sweep.
Primitive offers a complex portrait of Horace H. Pippin that expresses his integrity and virtue as a soldier, painter, and family man, who was fated to be among that last generation of African-Americans to endure a pre-Civil Rights society. The earliest poems in the book, such as the jazzily staccato "Like This, Like That" and hauntingly lyrical "Night March, 369th Infantry" depict thirty-year-old Pippin's traumatic war experiences in the trenches of France, where he and others slept "quick and deep and near to death." One of the collection's most evocative poems is the sequence "Horace Pippin's Red," which tethers the painter's near-fatal wounding in battle to the striking immediacy of his later compositions. (Pippin's dominant right arm never fully recovered from a sniper's bullet, so for the entirety of his painting career, he would support one hand with the other in order to command a brush.) The poem's third and final section, "Red Is the Color That Asks for a Body," provides a potent finish while self-referentially magnifying the book's larger themes of creativity and race:
How does the eye read color? Are you sure
about the hue of your skin? Does the light
deceive—inconstant light that never stays?
Deceived, we think we are dust, but we are
articulations of light. We are flames.
Our tongues are brands. They burn
and incinerate words. To paint wounds,
dip a boar-bristled brush or tip a finger
into cadmium selenide or cadmium sulfide.
When the Hebrews painted red on their lintels, death
passed over. Red is the color that asks
for a body, even this body you failed to save.
Later, the more subdued poems of domestic life such as "Domino Players, 1943" and "Victorian Interior, 1945" employ a longer legato line that renders Pippin's family and community with cinematic precision. By the end of the book, the doily emerges as a tantalizingly elusive symbol for Pippin and Harrington alike, since it embodies geometric order, totemic gentility, and the impossible dream of artistic escapism all at once. Though Pippin's wife Jennie remains a passing figure, his love for her crescendos in "Commitment," one of the book's final poems, which dramatically conjures the day she was relegated to a mental hospital in March 1946, likely due to a pill addiction. The poem's surreal reenactment elegizes Jennie's sanity, the Pippins's marriage, and ultimately, the lovers themselves, as both of them would die four months later in July of that year.
Harrington's ekphrastic poems, marked by their keen imagery, blaze Pippin's best paintings back to life and reveal his artistic complexity and vision. In "White Flesh," Harrington investigates a crucified Christ more macabre than redemptive:
How said this Christ, how mournful
his salt-gray flesh, the gray nipple
on his bare chest, small flesh circle
exposed as if to suckle.
White flesh, colorless, ash, ash,
remnant of terrible flames, a body
more wick than flesh, more
winding sheet or wordless page.
Liturgical in its catalog of suffering, a hissing sibilance heightens the poem's coldness, leading us to discover that this body is not merely battered, but lacking limbs. Ultimately, Harrington depicts Pippin's Jesus as a "cruel theatre" whose whiteness symbolizes empty violence, which in turn facilitates the endless projections viewers ache to see in the savior's body "scraped against the canvas." Sensual, vivid, and metaphorically inventive, "Lilies, 1941" endures as the strongest short poem in the book, heightening the suggestiveness already evident in Pippin's floral study:
Could they, because of their folding
or unfolding, be any more erotic, or,
because the eye can almost
enter their white flutes, more conflicted?
Little nuns in strict wimples, buds
thrust up from carnal soil.
See—at the center—
amidst the tubular scrolls: darkness, void,
and fear daunted by calla lilies rising
from a porcelain bowl above a white doily.
Crude paint and yet discernment: the eye's lechery,
The mind's flowering roots, flesh as cornucopia,
throats lifted in song, the trumpets of Torricelli.
Four calla lilies thrust from painted earth.
Throughout, the inventive integration of primary sources—such as Pippin's letters, journals, and paintings—express the sincerity and authenticity of Harrington's charge. Indeed, the sheer range of forms on display in Primitive impresses, as the reader encounters lists, blues refrains, an almost-sonnet, short imagistic marvels, and polyphonic sequences. Playful and moving, "A Canel" riffs on a war diary's misspelling of the word 'candle,' while "Losing the Way, 1930" juxtaposes a slender prose-poem with a column of dramatic headlines from that year. Comprised entirely of found texts in Pippin's notebooks, "Forms and Shapes" heightens the terse intensity of the painter's private reflections. "Definitions," a diptych that lays bare the daily tasks of Jennie and Horace Pippin alike, captures the tenacious work ethic and commitment to one another that made them "two knots nothing will undo."
Despite this abundance, Primitive occasionally buckles under its excessive qualification and robust exposition. While one can appreciate Harrington's impulse to situate her reader in an older milieu, her inclusion of more than two-dozen epigraphs—the aforementioned West quotation aside—bogs the reading experience. Moreover, some of the collection's weaker poems, such as "A Primitive Portrait" and "Topoanalysis," lack concision and strain prosaically to ensure no aspect of Pippin's life lingers unexamined; in the case of the former, we explore biographical details that are better rendered elsewhere. All things considered, however, Primitive transcends the mere redemption of a painter whose success never matched the breadth of his imagination, and remains an engrossing read despite its length. For those repulsed by our regressive political discourse who are eager to delight in the fullness, intricacy, and brilliance of African-American art past and present, Janice N. Harrington's Primitive is a great place to start.
Adam Tavel won the Permafrost Book Prize for Plash & Levitation (University of Alaska Press, 2015). He is also the author of The Fawn Abyss (Salmon Poetry, forthcoming) and the chapbook Red Flag Up (Kattywompus, 2013). Tavel won the 2010 Robert Frost Award and his recent poems appear or will soon appear in Beloit Poetry Journal, The Gettysburg Review, Sycamore Review, Passages North, The Journal, Valparaiso Poetry Review, and American Literary Review, among others. He can be found online at http://adamtavel.com/.