In this month's special holiday installment, reviews editor Adam Tavel offers five mini-reviews of recent poetry collections—just in time for the gift-giving season.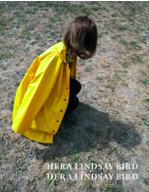 Hera Lindsay Bird by Hera Lindsay Bird
Victoria University Press
$25 (NZD), 111 pages
published July 2016
"If you slit your wrists while winking," New Zealander Hera Lindsay Bird asks in her debut collection's opening poem, "does that make it a joke?" Emblematic of her punk-rock aesthetic, Bird's rhetorical question is the first of many self-interrogations readers encounter in Hera Lindsay Bird, a spectacle of a book where irony, crassness, and unvarnished emotional disclosure intentionally overwhelm poet and reader alike. The book's cover sets the tone: Bird herself appears crouching, her face hidden by a mop of brown hair, her body swallowed by a canary yellow rain slicker above her name printed twice in all-caps. (The rear cover is just as cheeky: one blurb is a text message from a friend's mother, while another appears to be a critic's charge that Bird has no taste.) At her worst, in poems such as "Having Sex in a Field in 2013," "Everything Is Wrong," and "Having Already Walked Out On Everyone I Said I Ever Loved," Bird wallows in self-indulgent bathos—seemingly indifferent to her raggedness—in lines that read like tipsy undergraduate journaling. At her most electric and accomplished, however, Bird's tragicomic voice, startling similes, and swooning examinations of bisexuality achieve that striking vulnerability we find in Richard Brautigan and Mary Ruefle. Take, for example, these lines from "If You Are an Ancient Egyptian Pharaoh": "Without you I am just/a regular medieval knight/settling ongoing tenancy disputes/and doing other knight-related activities/like dying thousands of years ago/I rise from the grave to lean/like an ancient wind against your house/Your roof a red eyelid/closed against the sky." Readers are transported from playfulness to disassociated ache in the span of nine lines. Elsewhere, she eviscerates poetic convention ("Wild Geese By Mary Oliver By Hera Lindsay Bird"), charts surreal stream-of-consciousness ("Daylight Savings"), and exhibits true lyric majesty ("Planet of the Apes"). One finishes Hera Lindsay Bird satisfied but puzzled if the poet can sustain her idiosyncratic aesthetic, a question Bird seems to answer near the end, writing "you have to make a career of your pain." Regardless of her growing fame and future work, we should be grateful to have Bird's wild spirit among us.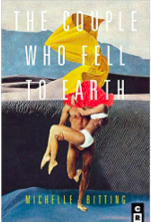 The Couple Who Fell to Earth by Michelle Bitting
C&R Press
$16, 110 pages
published May 2016
In rollicking, voice-driven poems, Michelle Bitting's The Couple Who Fell to Earth explores contemporary domestic life in all of its messiness, duty, and love. Paying particular attention to the traditional roles that subjugate women, Bitting catalogs the physical and emotional sacrifices our family commitments demand, and the result is a witty, frantic, and thoroughly modern rendering of femininity, often framed by ancient myths of sacrifice, that paints a far more realistic depiction of marriage and motherhood. Bitting displays a captivating gift for the corporeal, as in "Dead Wrong," which transports us from the terror of a newborn's sleepless nights to the unending wars in the Middle East, and "Elegy for a Body," where breast milk becomes the "sheen of buttered stars poking through/my shirt's thin firmament" while a husband sits before a plate of homemade pasta to "lean closer into that delicious heat,/his mouth a flower flamed open by the sun." While Bitting honors quiet moments in poems like the gardening study "How Like Marriage is the Season of Flowers" and the aviary narrative "Finding Steckel Park with My Son," her ultimate focus remains the struggles and joys of romance, sobriety, and autonomy balanced against one's obligations as a parent and spouse. Indeed, the book never strays far from the starkness of our survival, as in the masterful allegory "In the Mining Shaft" that ends with the image of an "empty lunch pail,/its skull licked clean," or these closing lines from the ekphrastic "Lion Attacking a Horse," which could easily serve as Bitting's thesis: "Show me an art unstained by blood./I'd be lying if I claimed exemption./There's a poem in here somewhere/and I'll kill what I have to to get it." At times uneven—"Food" and "Rolling Ball Writer" feel like unpolished drafts, and "Free" falters as a self-referential exercise about writing in a bistro—The Couple Who Fell to Earth succeeds as a bold, colorful portrait of "this kingdom we've built/till death do us part."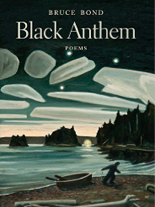 Black Anthem by Bruce Bond
University of Tampa Press
$14, 179 pages
published July 2016
As a reviewer who has never written about any poet twice, it is a delicate endeavor for me to discuss the same poet twice within a single year. Too many good books fall victim to silence, and for all of the naysaying about the state of American verse, there are, to paraphrase the title of Hayden Carruth's marvelous anthology, many voices that are great within us. Bruce Bond's Black Anthem is such a momentous achievement, however, I feel compelled to discuss it, despite having reviewed his book For the Lost Cathedral in April. At nearly triple the length of the usual poetry volume—it clocks in at nearly 180 pages—Black Anthem celebrates the uncanny malleability of the sonnet, where Bond's virtuosity shines in traditional incarnations of the form, as well as poems that abandon rhyme and meter altogether, preferring to merely follow its skeletal structure and compression. For readers familiar with Bond's work, he continues to explore familiar themes, such as spiritual longing ("The Chain," "Ladder"), artistic fulfillment through music ("Beethoven's Ear Horn," "Dusk"), and the omnipresence of grief ("Book of Kells," "Elegy for Keith Moon"). Additionally, Black Anthem's seven sections find him charting new territory, as he confronts the horrors of the Holocaust, the complexities of genius, the escapism of sleep, and the psychology of time. Throughout, Bond's radiant lyrical gifts shine. Few contemporary poets would dare write about serial killer Jeffrey Dahmer, let alone imagine him peering into a dismembered skull: "To play God, he learned, was to play alone,/to talk to no one through the open halo./What did he hope to find there, what glow,/warm and fading; what paradise he lost,/so deep, dark, utterly abandoned, he cut/a dead boy from his dying to redeem it." Haunted, majestic, and sprawling, Black Anthem exhibits Bruce Bond's formal dexterity and affirms his status as a visionary master.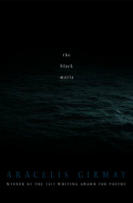 The Black Maria by Aracelis Girmay
BOA Editions Ltd.
$16, 120 pages
published April 2016
With the experimental reach of Charles Olson, the syntactic inventiveness of Marianne Moore, and the historical engagement of Robert Hayden, Aracelis Girmay's The Black Maria simultaneously mourns the vile legacy of African slavery while celebrating the dignified endurance of the African diaspora. Taking the ocean as their totemic symbol, Girmay's polyphonic narratives inhabit voices from the past four centuries, including those who braved the Atlantic slave trade's cataclysmic Middle Passage and modern-day Eritrean immigrants who risk open water in their search for a better life. The book's title comes from a misnomer coined by early transatlantic explorers who believed the moon's surface contained water, and Girmay weaves this dreamy myth into larger considerations of blackness, memory, violence, survivor's guilt, and perseverance. Comprised of fragmentary, overlapping poems, The Black Maria lends itself to being read as one continuous epic that reflects how the sea is both "a flat blue line" and a graveyard "built/out of history & time." Though a few of her weaker poems stall as mere impressions ("the luams") relying too heavily on expository notes of introduction to establish their context and tension, Girmay proves herself a distinctly original lyric voice ("to the sea") capable of working in a variety of modes, including the nature study ("."), the prose poem ("on poetry & history"), the dramatic monologue ("luam"), and the confessional reflection ("Cooley High, Fifth Estrangement"). Ambitious in both form and sweep, The Black Maria elegizes the dehumanizing effects of colonialism and institutionalized racism, yet champions the documentary power of language to overcome the silences that threaten to swallow trauma. In our age of historical amnesia, Girmay's potent poems are necessary reading for anyone committed to addressing global questions of race, justice, and equality.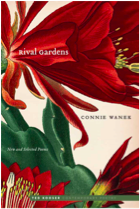 Rival Gardens: New and Selected Poems by Connie Wanek
University of Nebraska Press
$19.95, 204 pages
published February 2016
With her plainspoken elegance, her reverence for the natural world, and her preoccupation with the lives of common people, it would be easy to compare the poetry of Minnesotan Connie Wanek to that of Mary Oliver. Such cursory similarities fade upon deeper examination, however, as Wanek's rustic poems are arguably more intricate—full of sensuality, wiliness, paradox, and grief—and ultimately have more in common with those by James Wright and Amy Clampitt. Rival Gardens collects the best from Wanek's three previous collections and offers a bounty of fifty new poems. Readers can trace the exacting detail and early promise of poems such as "April" and "Christmas Tree" from 1997's Bonfire to the irony, inquisitiveness, and moral searching in poems such as "Lipstick " and "Fishing on Isabella Lake" from 2010's On Speaking Terms. Though a few of Wanek's recent poems suffer from sentimentality ("Recalled to Life") and regional clichés ("Ghost Town"), most are worthy of our wonder, and often find her engaging painterly pastorals ("Golden Glow," "Parts per Million") and hardscrabble elegiac narratives ("I Heard You Come In," "A Last Time for Everything") with vigor. "When I Was a Boy" displays Wanek's mastery of imagery and understatement, recalling a tomboy childhood full of footraces and squabbles where the speaker "was not yet convinced/that when people died,/they stayed dead, because/when I was a boy/friends rose again from the field,/ grass in their long hair, having grown/ten seconds older, ten seconds/closer to their other fates." Here and elsewhere, Wanek investigates rural life, gender roles, and our increasingly fraught relationship with landscape, while resisting the comforts of platitude or assurances of divine order. Equal parts marvel and pang, Rival Gardens documents the grit, heart, and wisdom of an ecopoetic sage.
Adam Tavel won the Permafrost Book Prize for Plash & Levitation (University of Alaska Press, 2015). He is also the author of The Fawn Abyss (Salmon Poetry, forthcoming) and the chapbook Red Flag Up (Kattywompus, 2013). Tavel won the 2010 Robert Frost Award and his recent poems appear or will soon appear in Beloit Poetry Journal, The Gettysburg Review, Sycamore Review, Passages North, The Journal, Valparaiso Poetry Review, and American Literary Review, among others. He can be found online at http://adamtavel.com/.