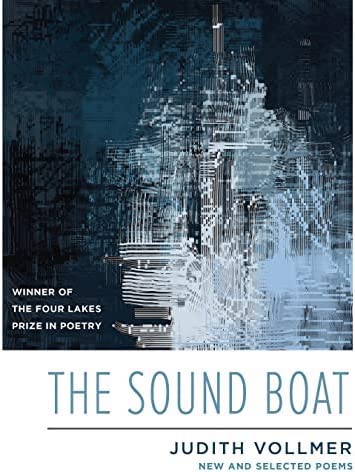 The Sound Boat
New and Selected Poems
By Judith Vollmer
Wisconsin Poetry Series, 2022
Review by Linda Johnston Muhlhausen
A Moveable Feast
What's the poor reviewer to do, faced with trying to do justice to a volume of poetry as gastronomically and symphonically generous as Judith Vollmer's The Sound Boat? For this collection of 77 poems (21 new, and 57 from 5 earlier books) is beautifully cooked and served, full of harmonic oscillations, as transporting and philosophical as it is grounded and sensual. Vollmer is a poet in love with the world, real, imagined, terrestrial and atmospheric, and her poetry works in varied and magical ways to secure us a place at this poetic banquet.
First thing is to apologize (too late?) for overworking the food analogies. But Vollmer is a poet who feeds us, allows us to inhabit the world of each poem and experience it in much the same way that we might experience now familiar, now exotic cuisines. Nothing about these poems is static or predictable. We might sit at the table with Camus, have a shot of espresso in Rome or a pint in Pittsburgh. We are treated not to a smorgasbord with everything laid out, but to a true banquet where every course must be savored for its singular flavors and textures.
Therefore, a feast. But moveable? This reference to the title of Hemingway's memoir is not meant as a paean to that author, but rather as a roundabout way to introduce the idea of movement.  Vollmer's poems are always in movement. They travel and explore and recognize no specific boundaries, from faraway Apollonia and Rome to New York, down to the slice of Italy called up by young Italian men in a Pittsburgh pizza parlor. Within any poem there may be movement through extrapolations that take us from one sight, sound, or feeling to an unexpected corollary.
This principle of movement is particularly active in the new poems through Vollmer's subtle use of enjambments, by which each line amplifies the one before it. From the title poem:
I stayed in the mountains

five months, took their air into my lungs

mornings along the river that rushed down-mountain

fast as bird flight. Staring up at the fourteeners

I stitched granite bands from bark and twine.
The spellbinding three-part narrative of "The Sound Boat" oscillates seamlessly between the working landscape of a tailor, as a Note explains, "near Via Dondalo in Trastavere, Rome," to Colorado (the fourteeners), the Everglades, circling home to "Diondega," thought to be a native Seneca name for Pittsburgh: "I have missed you like a child / unaware of how sad her face looks." Virtually all the poems are journeys of the mind and heart linked but not bound by metaphor, in this case those of tailoring and the "boat" of sound that floats above a city street. As in the above passage, each line seems complete until the one that follows provides new and often unexpected information: mountains/five months; lungs/mornings; down-mountain/fast; fourteeners/I stitched.  Skillfully crafted line breaks move the reader always forward, into an ever-increasing richness of understanding. Notice, too, how the enjambments pull us over the double-line white space with the inevitability of gravity, as a ball rolling down stairs, while moderating the cadence to allow each line to touch down into consciousness.
From the same poem, "The sound boat eats till it swells / red on green, purple on cobalt, / dancers breathing, feeding – " Here we have sound translated to color, to physical movement, to hunger, all in a few soaring lines. This sort of transformation is characteristic of Vollmer's poems, not only in the new poems like "The Sound Boat," but continually throughout the collection.  It is consummate craft that feels unscripted and unplanned, a free-association always underpinned by sensuality, by yearning.
And what could be more sensual than an adolescent sex fantasy such as we encounter in the delightful "Fabian," selected from the 1990 collection Level Green, in which the speaker is sixteen and "in love with the boys / at the counter" of a pizzeria:
They handled
the slender bottles of olive oil,
talked on the phone, joked and sang
to each other in Sicilian
thick and bronze as their fingers and lips.
Sound, taste, texture, color, all convey animal attraction for the exotic male, to be conflated with a sweetly virginal sex fantasy about the 1960's teen idol Fabian Forte, "pretty greaser," and further conflated with desire that is no less visceral for being unattainable: ". . . and I / flew, with Fabian, the palms of our hands / sticky with flour and spice."  Mangiare, eat, the poem says, and how remarkable it is that Vollmer knew how to feed the reader a full poetic meal in her early poems and unfailingly thereafter.
Also among the earlier selections, from the 1997 The Door Open to the Fire, Vollmer continues to explore the personal, but always as a jumping off point to wider meaning. "Asleep at the 2001 Club, Early Seventies" begins with a bacchanalia, 1970's style, meaning drugs, alcohol, drag queens and all flavors of unabashed sexuality on display. The speaker, we learn, is "drowsy / meaning high" and falls asleep. This vivid scene in the first stanza slides into "my persistent dream / of the bacchantes," summoning up those dancing, inebriated female worshipers of Bacchus from Roman myth who were "neither goddesses nor special, / they were who they were, revelers, 500 B.C."  The bacchantes were women doing what they wanted to do, and the speaker admires their particular in-your-face brand of freedom:
I love them
for their open beauty
and transparent pleasures,
the human being alert to its physical character
without interference.
The poem is not content to rest on this significant insight about being open to desire, but pivots to haunting images of two dead men who still appear, talking, in the speaker's conscious or unconscious mind, concluding:  "We were friends / and held the door open to the fire." This holding the door open is an invitation to us all from poems that lay bare the truth of desire and do not shrink from the possibility of grief and futility.  And we, as readers, can open these myriad doors to be illuminated by the flames.
All that being said, let's take a deep, satisfied inhale and talk about form. And about the presence of water, because Vollmer's form leans toward lyrical free verse that, like water down a hillside, flows both unbridled and with precision through irregular lines, negative space and cognitive confluences that tumble and froth. We have seashores, rivers, rain, their smells and sounds, their internal lives. We have bridges that cross over, roots that go under, animals and plants in nature's liquid symbiosis.
In "New Black Dress," from The Water Books (2012), fabric becomes fluid, "floating above the shift-gears of the night rivers / where otters slide onto their backs," representing the delicious "pleasure of a simple dress."  The poem is structured with double-spacing between lines, additional space separating stanzas, and white space within lines, a technique that works to slow the eye and create a sense of distance that here amplifies the speaker's longing for distant friends. Of course, the simple black dress is far from simple, and as we "Pack light    move on / with all who travel by river or sea," the dress ebbs and flows on waves of female power, inevitable death, solidity of the present and comfort of remembered joys.
There is no regular rhyme pattern in any of the poems, but rather a richness of sound in words and phrases. Open the book randomly, and it's more than likely the eye will fall on lines that are umami on the tongue. Opening to "Notes to the Mist ­­–at H.D.'s grave" from Reactor (2004): "I belong to you, / O nonhuman mind, scarf knotted at the throat, / my mind's a sax, brass gone smoky." These first lines conjure the ambiance of mist with sensate detail and in the series of soft "m" and sibilant "s" sounds.  In contrast, the harder "n" and "t" sounds of "knotted . . . throat" almsot suggest choking, reminding us of the specter of death at graveside. There's the near-rhyme assonance between "O," "throat," and "smoky," and "sax" and "brass"; in so few lines, the scene is set through imagery and sound that operate on both cognitive and emotive levels and accrue exponentially as the poem continues: "All flowers are roses, / even you, mist, / unfold your pearlescent lips from the black trees." And how about, further on, the exquisite "organza veils"? The taken-at-random example of "Notes . . ." suggests The Sound Boat collection is aptly named, for the way organically crafted sound (in Vollmer's case, not the oxymoron it might seem) opens a level of experience that fulfills each poem's inspiration.
Let's stay with Reactor for a bit. The selections from this collection are notably varied in form and length, some with long single-spaced stanzas, one completely italicized, others with jagged line lengths and flotations of white space. "In Praise of Camus at the End of His Century" is in unrhymed couplets that lend an air of classical structure perhaps appropriate to the legendary author. But enjambments open the couplets into a continuous conversation rather than discrete units of thought. As with all of Vollmer's poems, "In Praise of Camus . . ." prefers to take on a free range, cage-free style in which content strains against a structure that is more visual refreshment than verbal containment.
This is true for "Street Fair" from the new poems, one of the few prose poems in the collection.  An unbroken block of text houses the speaker's peripatetic musings: "Speed weeding, friends due in ten, I catch the familiar smell: sewer gas, city trying to patch a century's fracturing." The fast stream-of-consciousness pace pushes against the stolid prose form but does not limit the poem's wanderings through associations, memories, striking images, arrivals and departures, coming back to a fractured landscape. "Beloved dead, swelling into wider circles, will you know us on arrival, hurtling downhill no brakes?" Recognition of person, place, history, labor, love, friendship, desire is the "knowing" that the poems in The Sound Boat achieve through this poet's lyrical craft.
Place is explored in many of the poems. They take us to Italy, Eastern Europe, the east and west coasts of the U.S.; guide us through cities, along rivers, up hills and down ravines. In "Copper, Gold, Olives, Wine – to Apollonia" from The Apollonia Poems (2017, winner of the Four Lakes Prize) we find out that a number of cities around the world bear this ancient name ­–
But I know your many cities, whether
Greek, Czech, Polish, or Slovenian,
I know your copper bracelets,
your rivers of destruction.
— and so does an eponymous virgin martyr of A.D. 249, now canonized as saint, who died for her (Christian) faith. Even while ranging in time and distance, and in this case paying homage to a mythical figure, the heart of Vollmer's poems is rooted in the homeland:
you are honored here too:
bowl of olives and oil, glass with a worn
gold rim, in this house built on Pennsylvania
soil, old earth, many times over
burred and extracted.
It is the Keystone State (also Coal State) and its geography to which the poet returns time and again.  Many poems bear witness to the destruction of the environment, here referenced in the "old earth . . . burred and extracted," as well as the grueling workscapes of laborers. In "Street Grate," also from the Apollonia poems, we look up through the eyes of workers for the "Allegheny City Department of Public Works 1936":
Smashed glass and matted rot-mouth;
rat cage-top my uncles
breathed through in the hell tunnels
they had to scrape by hand
Though pleasure and love arise from other places and encounters, Pittsburgh is a foundational theme in these poems, bound by a family history of labor in public works and the nuclear industry. From the new poems, "Old Red Dog" paints a vivid picture of land violated by coal-mining waste:             "Stench of rotten eggs blurred the air. / I couldn't hear a bird or see / dirt or cinder under the covering stink." The author's connection to this history, this land, is a cornerstone of this fine collection. No matter how far we might travel in the poems, the geographies of home pull us back to parse the varied strands of that elemental relationship.
Camus is quoted as having written, "What counts is not the best living but the most living." That quest for the most living may very well be the driving principle of Judith Vollmer's poetry, and The Sound Boat privileges its reader with poems that span decades, a body of work that startles and enchants with honest longing and love, all laid bare. Any poet/reader will enjoy and learn from this book.  So take a seat at the moveable feast of language that Vollmer has generously laid for us, full of sound and flavor, to be fed by its visceral wisdom and surpassing emotional intelligence.