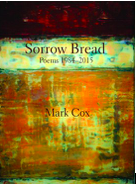 Sorrow Bread: Poems 1984-2015 by Mark Cox
Serving House Books
$14.95, 178 pages
published April 2017
In the final stanza of "Joyland," a poem teeming with amusement park ephemera, Mark Cox's playful account of a mini-golf outing unexpectedly morphs into an ars poetica: "Let the warning lights of the water tower/blink off and on all night, let the planes traverse the sky,/there are these holes you have dug for yourselves,/this emptiness that need be aimed at, filled." Wistful yet resolved, these lines are fittingly emblematic of Sorrow Bread, which culls the best work from Cox's four earlier collections and also includes two dozen new poems since the publication of his previous book, Natural Causes, in 2004. Cox rarely strays from the concerns of daily life—home, family, love, work, and nature endure as his chief subjects. And yet, even as he holds his gaze on domestic concerns, the tonal versatility, emotional complexity, and unflinching honesty with which he confronts our deepest yearnings for fulfillment honor the resonance of those everyday experiences many poets overlook. Whether he's examining dreamy remembrances of family history ("Pail of Eggs," "Alcohol"), the requisite pangs of romance ("Geese," "Rubbing Dirt from My Dog's Nose, I Realize"), the relished burdens of fatherhood ("Get Me Again," "Want"), or the omnipresent specter of our own small deaths ("Grain," "Finish This"), Cox's imagery, clarity, and directness embody the lyric narrative mode at its best. Other poems showcase Cox's sinister wit ("Better Homes and Gardens," "Like a Simile") and lithe lyricism ("Lemon Icing," "Poem for the Name Mary"). While some of the collection's earliest inclusions from the 1980s suffer from discursive looseness ("Donald," "Running My Fingers Through My Beard on Bolton Road"), they nonetheless allow readers to trace the steady emergence of Cox's mature voice. Somber and soulful, Sorrow Bread is a testament to life's endless heartaches and how we weather them, and should reaffirm Mark Cox's stature as a poet worthy of a national audience.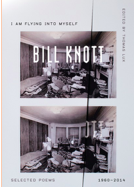 I Am Flying Into Myself: Selected Poems 1960-2014 by Bill Knott
Farrar, Straus and Giroux
$28, 256 pages
published February 2017
Despite a career that spanned six decades, Bill Knott remains a mercurial figure, even in death. Depending on who you ask, he was a meticulous craftsman, a merry prankster, a selfless teacher, an internet troll, a ragged talent, a shameless huckster, or a whacky scribbler. Though his introductory remarks acknowledge Knott's zaniness and self-destructive tendencies, the late Thomas Lux makes a compelling case for reading the poet's work as equal parts sweat and spirit, asserting that "Knott's high imagination, great skills, singular music, and crazy-beautiful heart" make him "one, in a school of one, among the American poets." While the boldness of that final claim lingers for future generations to judge, I Am Flying Into Myself is a robust and engrossing retrospective, where Knott's formal range and vivid originality shine through. In his lesser work, Knott coasts on cute premises ("The D and M's"), wallows in self-pity ("Tautological"), or surrenders to the rapture of a Hopkins-esque sound that overtakes sense, as in the opening lines of "Oct-Nov (Michigan Memory #4)": "The bacon of the ankles crackles, and the sky/Perks up birds this coldsnap morning—every/Breath sheds a breath-effect, brief-bloomed steam-sheaf…" Those pitfalls aside, however, Knott's brilliance remains impressive, and his best poems display his hallmark strengths: a child-like vulnerability ("My Mother's List of Names," "Going My Way," "The Closet"), a boundless quirkiness ("Hollywood Nightmare," "To the Reader"), and a swooning intimacy ("Poem," "Sonnet (To –)"). Even for readers familiar with Knott's manipulation of traditional forms ("Christmas at the Orphanage," "To Jose Lezama Lima") and mastery of the miniscule lyric ("Fragment," "To Live By"), several treasures remain, revealing his understated tenderness ("An Instructor's Dream"), his gritty morality ("Epochs"), and his political outrage ("The Patriots"). I Am Flying Into Myself proves Bill Knott was more substance than shtick, and like Whitman, his vast and varied oeuvre contains multitudes.
Adam Tavel won the Permafrost Book Prize for Plash & Levitation (University of Alaska Press, 2015). He is also the author of The Fawn Abyss (Salmon Poetry, forthcoming) and the chapbook Red Flag Up (Kattywompus, 2013). Tavel won the 2010 Robert Frost Award and his recent poems appear or will soon appear in Beloit Poetry Journal, The Gettysburg Review, Sycamore Review, Passages North, The Journal, Valparaiso Poetry Review, and American Literary Review, among others. He can be found online at http://adamtavel.com/.