5 under 35
JN I am honored to introduce these remarkable works by supremely talented young poets. These ten original poems by five poets under the age of thirty-five touch on themes of gender, economics, history, identity, intimacy, family, technology, exploration and politics. These dynamic poems put in conversation surprising and daring events, images and ideas I count myself so lucky to get to highlight young poets whose work I know very well. I hope to continue to promote young poets doing the hard work of examining our turbulent times with fresh eyes and using their skills to say things that mean. I am heartened that stunning poets like these will be the stewards of verse for the decades to come. I hope you enjoy these pieces and perhaps find a new favorite poem or a new poet's career to follow. Thank you for taking the time to explore something truly new.
Caroline Chavatel is the author of White Noises (Greentower Press), which won the Laurel Review's 2018 Midwest Chapbook Contest. Her work has appeared in AGNI Online, Gulf Coast, Sonora Review, Hayden's Ferry Review, Nimrod, and The Journal, among others. She has won or placed in prizes from The Cossack Review, phoebe, and Gigantic Sequins and was nominated for 2018 Best New Poets by AGNI. She is currently a M.F.A. candidate at New Mexico State University where she is Poetry Editor of Puerto del Sol and co-founder and editor of a chapbook press, Madhouse Press.
John A. Nieves has poems forthcoming or recently published in journals such as: Beloit Poetry Journal, 32 Poems, Southern Review, Cincinnati Review, and Copper Nickel. He won the Indiana Review Poetry Contest and his first book, Curio, won the Elixir Press Annual Poetry Award Judge's Prize. He is assistant professor of English at Salisbury University. He received his M.A. from University of South Florida and his Ph.D. from the University of Missouri.
JN What, if any, particular responsibilities do you think younger and up-and-coming poets have that are specific to that group?
CC I think we sometimes fall into the trap of believing our work exists in a vacuum, so I find contextualization especially important in this regard—being honest about who is influencing you and who you owe credit to, while still attempting to form a unique and recognizable voice within the larger poetic scene. On a similar note, as a young poet I'm constantly negotiating and re-negotiating the concept of "doneness" and squaring that with realistic publication and professional expectations. Sometimes I think being a young poet means trying for your dream journals and submitting to the rockstar presses even though you feel inferior and like your poems will never actually be "done" in the sense that you believe others' are. And, so, this is all to say, it feels my largest responsibility right now is to myself, staying honest and humble and reminding myself that I have that time to grow.
JN What are some younger poets you like to read and would suggest to others?
CC Lately, and not necessarily intentionally, it feels I've only been reading younger poets, so it's difficult to choose only a few. On my night stand right now I have Fatimah Asghar's If They Come for Us, Sara Eliza Johnson's Bone Map, Hannah Cohen's bad anatomy, and Diana Khoi Nguyen's Ghost Of. I also really love George Abraham, Safia Elhillo, Safiya Sinclair, Paige Lewis, Jill Mceldowney, Emily Paige Wilson and then so many others. I'm privileged to be an editor for both Puerto del Sol and Madhouse Press where I get to not only see a lot of stunning work from younger and emerging authors but also form relationships with the poets.
JN What are the most pressing aims of your own work? Briefly, how do they manifest in the featured poems?
CC As a writer, and I think generally as a person, too, my goal is always to be critical. I find myself hyper-aware and therefore hyper-critical of a lot of our political, economic and social structures, so lately this is where my "obsessions" have been living. With these obsessions, for me, comes substantial research and outside reading. The two poems featured in Plume are from a larger series on the circus woman as animalized commodity, so I found myself looking at old Barnum and Bailey ads, reading journal entries from the performers and researching the economic practices of the circuses at that time. I read something about how the performers were not only there to do their acts, but their bodies were used to sell goods to the general public via a catalogue, so I became obsessed, and I guess you could say critical, of this.
Portrait of Adelaide Cordona, 1881
Adelaide Cordona performed a spectacular flaming zone hurdle act wearing red
tights and a matching curvaceous leotard astride a galloping horse.
Burning gate, flame-wall
woman—your delicate wrist
bones tightly tense and gripping
a horse rope and red
stealing the show
seat by seat
your old equestrian act
performing your face
forget the flattering leotard
performing your face
the suited men who told you
no in your mortal
regalia: lace & memory, bone
& marrow, slip & fire falling, you leap
and leap and leap out naked
of the hoop, out
of the frame and home.
Portrait of Madame Yucca, 1892
Whose most extraordinary feats of strength stand unequalled. Record breaking trials with heavy weights and ponderous cannon balls. Carrying many men aloft at one time and even lifting giant wild horses from the group. A graceful athlete with the might and power of Samson.
-Barnum & Bailey Advertisement
with your female hand
untangling the mob                                                                              calls knot by knot
out to you & you to them in unison
a dance of muscle-tongue and eye                                    to be left behind
dream dream woman
crack the joke of the tent
carry them to you & back to them
sweet daisies                         in the palm                               palm in the air
air in the lung                   of the afternoon's heat
shrinking away                 from itself
crowd fire crowd                 laugh crowd—
without care
                      Iron Lady                                    of the old times
hand yourself to us                                                    give give give your all
with weights
    hanging                               from your locks                          locks
hanging
from the sky's door
              Female Hercules
Strongest Woman on Earth                     sky's door welcoming           The Next Big Thing
she is a graceful girl she is
above all                               giving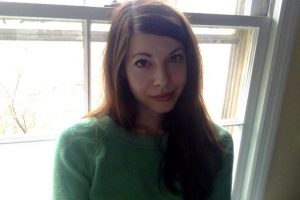 E.G. Cunningham is the author of a full-length poetry collection, Ex Domestica (2017), and a chapbook, Apologetics (2017). Her poetry and prose have appeared in Barrow Street, Colorado Review, Fugue, LUMINA, The Nation, The Poetry Review, Puerto del Sol, Quiddity, 3:AM Magazine, and other publications. She teaches at the University of California, Merced.
JN What, if any, particular responsibilities do you think younger and up-and-coming poets have that are specific to that group?
EC I see the poet's responsibility as one of revelation. The poem's language can be baroque, chiastic, bombastic, laudatory, stripped—so long as it reveals something vital about the world or the nature of language, about the core relationship(s) between signifier and signified.
JN Who are some younger poets you like to read and would suggest to others?
EC Hanif Abdurraqib, Donte Collins, Raquel Gutiérrez, Jodi Johnson, Hannah Sanghee Park, Margaret Ross, Solmaz Sharif, Eoghan Walls, Phillip B. Williams.
JN What are the most pressing aims of your own work? Briefly, how do they manifest in the featured poems?
EC I aim to articulate toward an honesty while doing something pleasurable and/or disruptive with language. To those ends, these poems stutter against the inaction toward climate change as the overwhelming threat of our time. I'm not sure that they accomplish those aims, but they strive to do so!
Sense Cinch
circumvention theory means you go to
an island defined by scant adherence
in the main the governing principle is
whatever proves most efficacious
haphazard, then. reductio absurdum.
she says love lyfe. says get your nails done.
the sky is the sky is the sky, the theater
waits for first call to become itself selves
are not analogous though we can clutch
approximations. any grip to keep the shelf.
Jet Stream Elegy
look—you have
grammared the land
something vengeant. forgot
the trick to bliss—just
at the surface—what animals
do—sit under weather, hear
the modal river—logic or
love—& hindsight is a vector
drawn later—we spent
the last days wide awake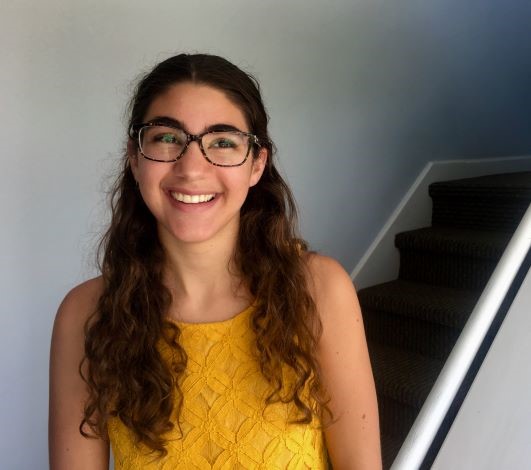 Emma DePanise has poems forthcoming or recently published in journals such as: Superstition Review, Potomac Review, Nimrod International Journal, and Arkana. She won the 2018 Pablo Neruda Prize for Poetry. She currently studies creative writing at Salisbury University in Maryland.
JN What, if any, particular responsibilities do you think younger and up-and-coming poets have that are specific to that group?
ED As younger and up-and-coming poets, we must value ourselves as artists and see our art as necessary to the world. Honest and empathetic poetry has the ability to connect others in moving and valuable ways. Perhaps young poets understand this best; in a time of hyperconnectivity, we can feel a disconnect and a growing distance even within ourselves as we are spread across places and platforms. Poetry grounds us in a shared human experience. We can recall a line or lyric and be taken into a constructed moment; we can live in a concrete image or raw emotion and see through a different set of eyes, gaining insight into the world while still intimately speaking to ourselves. Whether it be through reflecting upon the current social and political climate, reacting to a personal experience, or invoking history, science, or culture, we bring our own unique values to the topics we tackle, a coming-together that infuses tension into our work. As younger and up-and-coming poets, we must be risk-takers and fervent observers who refuse to look away from the world's beautiful, mundane, and ugly and who can then innovate meaningfully from those observations. With the amount of information readily available to us, we also have a responsibility to research, to work for our poems and make our readers work for them too.
JN What are some younger poets you like to read and would suggest to others?
ED In terms of younger poets, I most enjoy reading works by strong female voices such as Molly McCully Brown, Charlotte Covey, Sarah Eliza Johnson, Courtney Kampa, and Susannah Nevison.
JN What are the most pressing aims of your own work? Briefly, how do they manifest in the featured poems?
ED The most pressing aims of my work are to create an emotional and empathetic experience for readers through lyricism and a special attention to sound and line. This concern is displayed in "The Wandering Telegram," as I want readers to feel an emotional resonance across time and space. I often write elegy and am drawn to topics that reckon with what is missing and what remains. This tension can be seen in "Marlborough Street Meets Permineralization," where a photograph is connected to petrified wood to explore how documents or fossilized artifacts are both part of and separate from the events and objects themselves. While the poem explores this distinction, I also hope distance dissolves for readers and they can connect to the situation within the photograph in new and intimate ways.
Marlborough Street Meets Permineralization
—after Stanley Forman's Fire Escape Collapse
A stoned tree finds itself hard
to forget. Under rock and ash, rings
and bark remain, their life replaced
by copper, cobalt, crystal. This is not
that tree but its artifact. This wood
won't decay, this grainy print will never hit
the ground. Tree and stone, suspension
and release, is this gravity
or levitation? Their young bodies: falling leaves
floating. The pot will never break, the soil
never separate, the plant never feel
a new breeze. Could someone still grab her
outstretched arms, her hands ask
with question marks. She could be
snow-angeling the glass.
The Wandering Telegram
What hands drove these guideposts, what sky
mosaicked this stratus
haze. Blue. Even without
proof, it must be. The earth isn't
round. The grass: brown, yellow
or green, begins with an itch
and releases chlorophyll
to breeze. I want
to lie on this cracked stone
ground and watch the world grow
microscopic. I want to forget
these monuments that crush soft
bodies. I want to be ground
into this muddy lime mortar, let the night
harden my skin.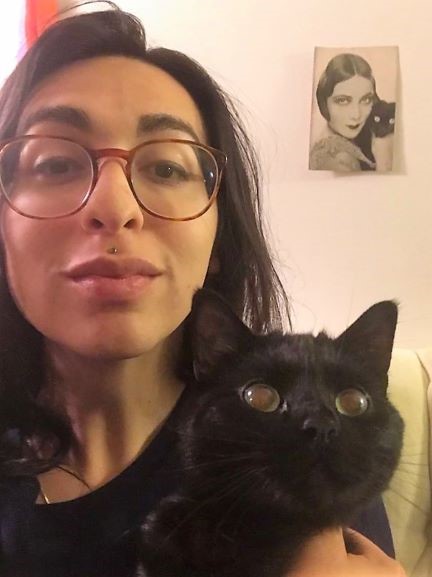 Ella Flores is an MFA candidate at Northern Michigan University and is an associate poetry editor for Passages North. She has recent and forthcoming publications at Hawai'i Pacific Review, The Bitter Oleander Press, RHINO Poetry, and Barely South Review.
JN What, if any, particular responsibilities do you think younger and up-and-coming poets have that are specific to that group?
EF Younger and up-and-coming poets have, more than ever before, the means to follow the pulse of the writing sphere. The responsibility they have, if any, is to use, share, and react to this information. Their responsibility is not necessarily to bandwagon or to capitalize on it, rather, it is to understand where the conversation is and how to add to it, disrupt it, or redirect it. Pretending to write in a vacuum is, particularly for younger writers, choosing to be ignorant.
JN What are some younger poets you like to read and would suggest to others?
EF Recently, I had the honor of attending a Danez Smith reading, if you haven't read or watched their work, please do. I am ever grateful for, and inspired by, the work of my peers, Lauren Yarnall, Caylie Herrmann, Sarah Bates, and Alex Clark.
JN What are the most pressing aims of your own work? Briefly, how do they manifest in the featured poems?
EF I tend to be most aware of time in my work, and approach the anxiety I have over it as not a process of chronology, but a process of accumulation. I approach it like an equation of subtractions and additions that nevertheless continues to grow. Dissipation approaches this anxiety with tenderness and acceptance despite a backdrop of a failing infrastructure. Void Lore invites creatures from different geological eras to be present around the same sex act as the speaker. The amoral violence of time seemed reflective of the violence of sex; the giving and taking, the continuation.
Void Lore
A golden toad flinches from a tail, finger, or toe
curling in its rem sleep.             Were it yours,
not mine, would it know the difference? A passenger
pigeon perches                   on the small muscle, craving
its oral fixation.                     Whose hand is this untying
our mouths, turning our insides,
out?                     Above the treetops                  a quetzalcoatlus
smells the saliva, the friction, burnt skin—A moa shoots
over the heaped body                          whose face twists open
to speak. But we quell it, press our canines to its throat,
as we realize the body is yours, a warrah wets its lips,
preparing to join in.                                          How will you endure
this?                              A sea mink emerges                from my armpit
sweat feeding the marsh.                                            How we tired
of all the weapons god gave us
nails to scrape each others'                                     backs—You mouth
don't bite to remind                                   me & all the bygone
sounds & anatomies                                        our brevity.
A dodo nests between our legs, not caring
if you draw words                                         or blood
on my back.                              A Steller's sea cow follows
how you mold                         my fingertips to your gums,
incise teeth                       into their keratin                       & bite them
for me.                   Each spit-out shard tossed in the rug fibers
for our soles to find another night.                        But some nights
one falls              jagged                   & crescent
to the sky, illuming a quagga yipping for a lost herd, saying
we are good, that we've got to feel good on some
body's skin.                 A thylacine sniffs
our passed out limbs,                     feels its epoch
twitch—                        A tectonic shift.
Dissipation / Hello, Proxima Centauri
The holes in its reinforced concrete continue
to crumble.                                          Exhausted,
the bridge gasps
at the cars it carries,                         Please,
stop.                                 They maintain their weight.
Fifty miles southeast,                                  a cyclone
approaches.         What are you up to here,
moonless night?                       A school of tadpoles
spin below the stream                        of headlights.
Where did I lose                                count of the light,
and years?              There is no respite.
One car follows another.                              Goodbye
my little buoys.                                No exchange of words
or glance.                          Goodbye my bright
antennas. Through the tollbooth          and over
the railing.            Goodbye you startling creatures
who leap from me.                          Into the water,
I hope you are trusting for brief journeys,
happy                strangers.                       I can't wait
to meet you.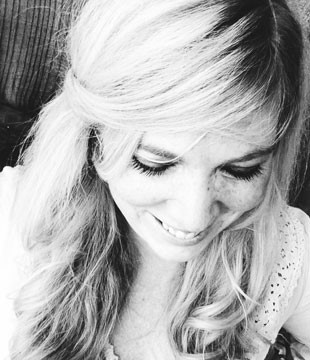 Kimberly Grey is the author of two books of poetry, Systems for the Future of Feeling, forthcoming from Persea Books in 2020 and The Opposite of Light, winner of the 2015 Lexi Rudnitsky First Book Prize. Her work has appeared in numerous literary journals such as The Kenyon Review, Southern Review, Narrative Magazine, A Public Space, Tin House, and PN Review (UK). She is the recipient of fellowships from The Civitella Ranieri Foundation in Umbria, Italy and Stanford University where she was a Wallace Stegner Fellow from 2012-2014 and then a lecturer in creative writing. She is currently completing a PhD in Comparative Literature and Creative Writing at the University of Cincinnati and teaches for the Stanford Online High School and Summer Institutes Program.
JN What, if any, particular responsibilities do you think younger and up-and-coming poets have that are specific to that group?
KG To read each other, listen to each other and pay attention to that listening. I can't remember a time when the world (including the poetry world) has ever been so polarized. I'm also not sure we can hope for any kind of mutual, conclusive understanding because understanding is experiential, not theoretical. Our thought systems are vast and diverse, and I don't expect another person could possibly understand my inherent perspective, my suffering, my joy, my concerns. But my cohort of poets, in particular, are the poets of the social media age. Branding yourself and promoting yourself has become an art that some succeed at and others eschew. I think we all need to be cognizant of the private and public dilemma of being a poet and a figure in poetry. What I try to practice (and what I hope for in return) is for my peers and I alike to be generous readers and listeners. For us all to pay attention to each other. Attention is, I think, the easiest and most necessary form of generosity.
JN What are some younger poets you like to read and would suggest to others?
KG Oh there are too many to possibly name. There is such exciting work being written right now! But three books I keep returning to over and over again are Allison Pitinii Davis' Line Study of a Motel Clerk, Hannah Sanghee Park's The Same Different, and Phillip B. Williams' Thief in the Interior. All works that strive in and quarrel with the material of language in new and compelling ways. I highly recommend these books and any future works by these poets.
JN What are the most pressing aims of your own work? Briefly, how do they manifest in the featured poems?
KG My work is inherently concerned with the difficulty of language: both the construction of language itself and how language constructs us as beings who constantly defy it, violate it, desire it. I'm interested in how technology and trauma, in particular, play a role in, shift, or evolve our individual manners of expression. These two sonnets are from a series entitled The Broken Mother Sonnets and are particularly obsessed with using language and form to construct some movement toward comprehending the incomprehensible. In this case, it is the rejection of a daughter by her mother in early adulthood. Mothers are often mythologized and seen as unconditionally loving beings. But that has not been my experience and these poems and the current book I am writing grapple with that reality.
Excerpts from The Broken Mother Sonnets
1.
I'll introduce a problem the poem can't answer: a mother
is rife with erasure. She disappears slowly like a limb
lost fastly. Logic has no place here. Language will
replace her leaving and then it will also break. I promise
I am awake in the poem as I was not awake in life.
If I remember her face at all now, it is that it was shapely,
and in my dreams, a summing of angles and degrees.
She was almost really there. But a mother left me just to
leave, and, in her going, left a shape of cruelty as round
as a sun burned deep in my head. (Yes, each moment
of learning is a new turn). Or take what Stevens said, death
is the mother of beauty, which to me makes no sense. But
see how much there is in language to be uncovered?
If I had to rephrase it, I'd say no, death is a mother.
2.
Of vulnerability, I said the pronoun. That is the answer,
to remove her name as dark is removed from a light night.
A substitute for the noun, a word now illogical in its form:
why say mother when I can just say her? A demotion
down. Now that she's not even a noun I can place her
syntactically elsewhere. Call her Foucault's "unthought."
Is a poem just a little system of words? A way of
interpreting all that I now see? Built much like the thought:
Are all shes broken? No, just broken is this she. Logic works best
when it cannot be found, when it's revealed in a series
of tests we once knew, like the sequence: her, her her. Like
a song a different mother might have sung, in a different life.
But now, I owe my thinking to the one thing I've been taught:
language has been gentle with me the way people have not.