Summer is Coming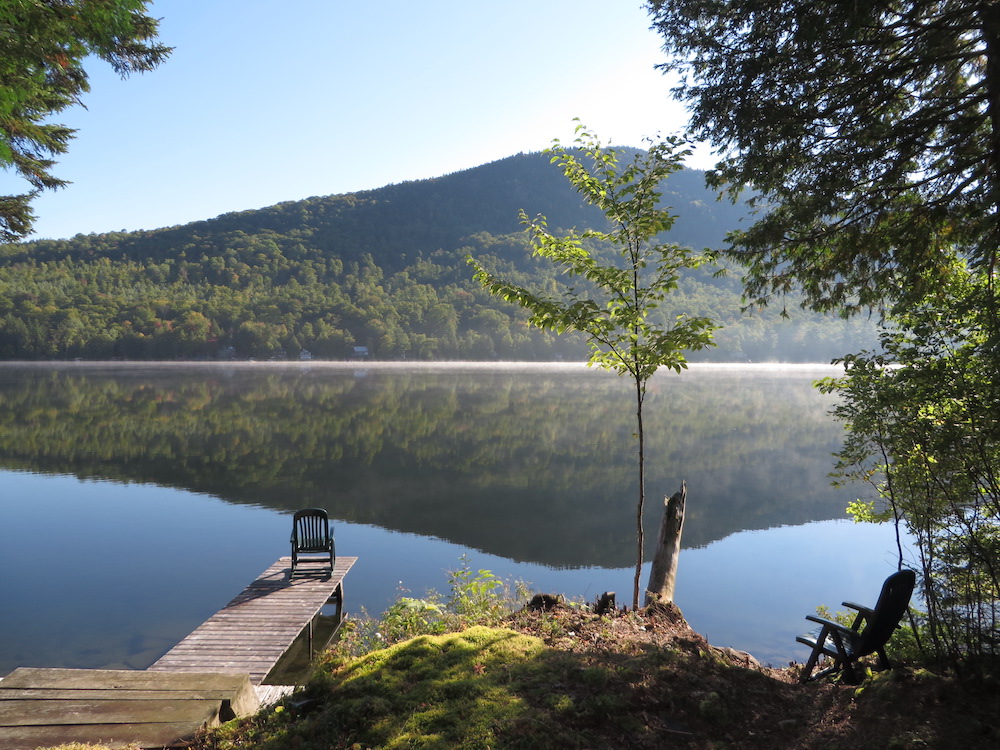 The poet Ann Arbor has many gifts. One of them is the art of conversation. The first time we spoke we were surrounded by Ansel Adam's landscapes in downtown Washington. She was visiting DC from Maine for the 2014 Split This Rock poetry festival.  That day we spoke about how difficult it can be for a writer to share trauma with a reader. Since that first conversation, I have wanted to share Ann's ability to paint a picture—both through her writing and in her conversation. With Ann, it feels like the fireside chat can happen without the hearth, on a busy city street even, because she carries the hearth with her.
On February 14th, 2021, we spoke over Zoom, and just for fun, I decided to position myself in front of a fireplace! Here is the full video interview, with a bonus in the last two minutes, where Ann and her husband, John Rosenwald, read Robert Bly's "Winter Poem."
Ann Arbor is also a photographer and novelist. She grew up in Mexico, Maine, a place she says "is in my bones." Before going to college in Massachusetts, Ann worked in the local paper mill where her father also worked, and on board   a ferry that sailed between Maine and Nova Scotia.
"I'm a Lithuanian French Canadian Yankee poet," says Ann, "You are from India, but we can cross these lines, we can know each other." This "knowing" spans continents—including many years teaching in China—and is part of her allure. In the interview she also references her working class roots, and the threat to the natural environment that industry   brings to small towns. She speaks of how many homes are touched by cancers caused by pollution from the paper mill. But her vision of responsibility and conservation is made that much more provocative when she speaks of her travels and work in China, where one Chinese artist says, "Alas, there are no more trees." Industrialization and environmental pollution are veiled themes in Ann's poems, which bring eco-justice and small-town politics to the reader. In the interview, Ann says with so much feeling, "If I could give the Chinese people one thing, I would give them clean water."
From 1976 until 2010 Ann Arbor served on the editorial board of the Beloit Poetry Journal. Her husband, John Rosenwald, retired a few years ago as co-editor (with the late Lee Sharkey) of the BPJ. Together with John, Ann has built a poetry library that houses rare texts such as the typescript of Anne Sexton's first published poem, correspondence with Langston Hughes concerning the BPJ's publication of his translations of Federico Garcia Lorca's Gypsy Ballads, and a memorial chapbook for William Carlos Williams edited by David Ignatow in 1963, whose list of contributors reads like a Who's Who of mid-twentieth century American poetry. The library, of which a photograph appears with this text, is looking for a new home.
Since 1975 Ann has been a participant in Robert Bly's Conference on the Great Mother and the New Father. This annual June gathering and Ann's poems of Maine summers  inspired this feature. Summer is Coming seemed a fitting clarion call for a deeply divided America in this second year of the pandemic. After twelve months of home-bound exile for so many, at a time when in-person conversations are rare, the chance to bring Ann and her work to our readers lifted my mood.
Five Poems by Ann Arbor
Thanks for the offer
Thanks for the offer
of your city to play in, live in.  For now
I'm still a Mainer, three quarters potato,
one quarter pine.  All the rest is fresh water,
with a pinch of paper-making sawdust swirled
in a flask of brine from the Bay of Fundy.  That's me,
salty child of Shoe-sucker Bog, granddaughter of Mt. Turk,
sister to the Rangely Lakes, and direct first cousin
to the loon.  Though I have no feathers, my bones
are solid.  Flutes made from them would ring out melodies
sung before spelling invented itself in the caves of India,
or carved its rock etchings on sacred Putuo Shan.
I am as old as the North Star, as fresh as trillium rising
from April snow.  If you look for me in a foggy mist
along Rt. 17, look carefully.  My bony shoulders, dark
with the rain, blend in with alders, fir, spruce.
Tilted to the side, my antlers disappear
into hillsides, solid as the night, heavy
as Coos Canyon granite.  If you don't find me, don't feel bad.
My night vision notes your arrival as I make the next climb,
leaning forward to pick up my feet, one after the other,
after the other, and move on.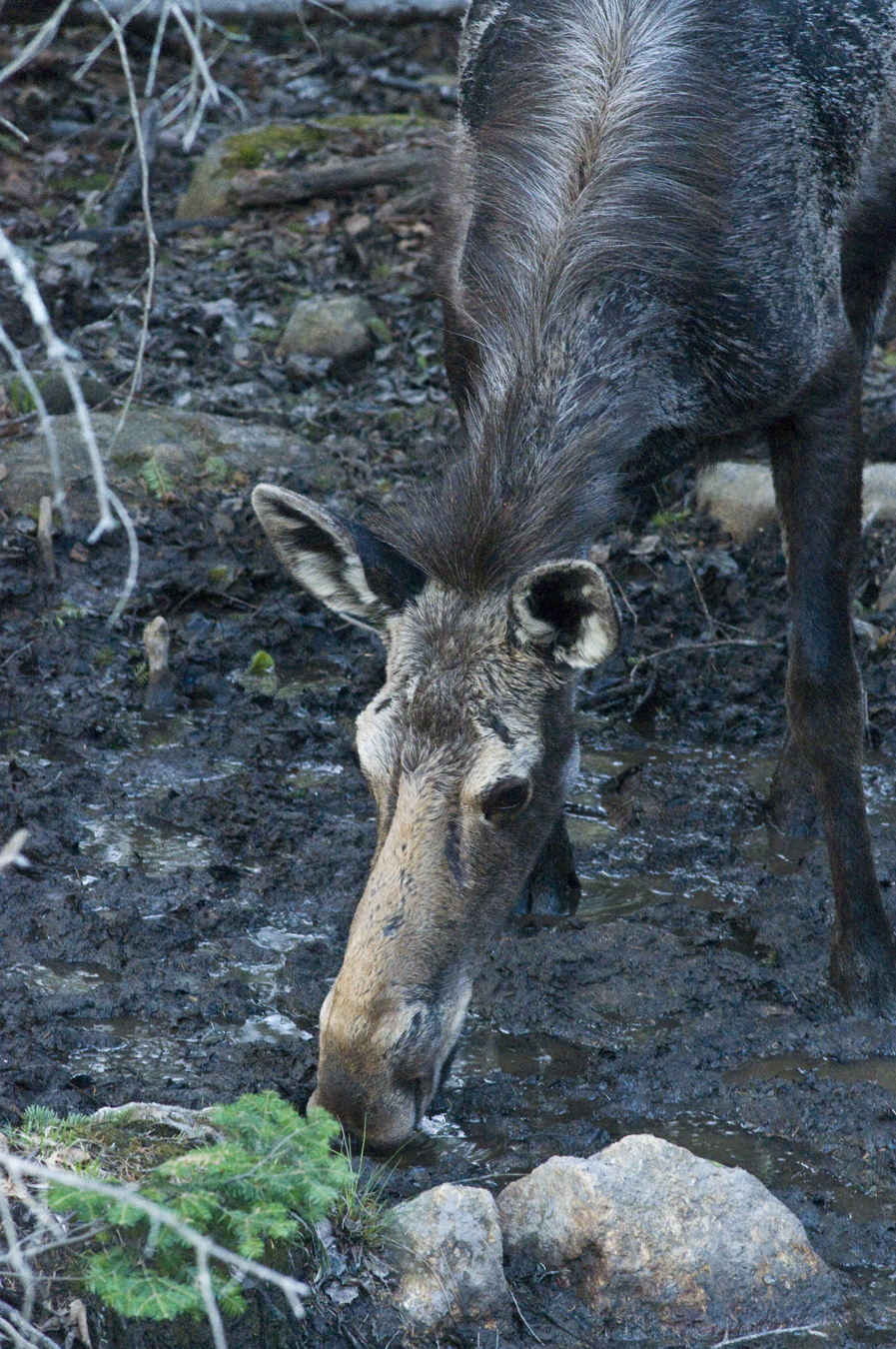 Pulling Through
Observing my mother's face at rest
plump lower lip protruding,
rounded chin with downy hair,
where the sunlight through the window shines,
I notice her long thin nose, the cheekbones
that show through freckled skin,
pale and drawn up at the eyes
as though there have been more smiles
than tears in this life time,
but her forehead creases say,
"I have willed it so.  I have willed it so."
Folded in her lap, her cracked hands
clutch a white buttoned cardigan
draping over her shoulders, around her arms.
Breathing softly, she seems to rest, but her thumbs
worry at the weave of her pants,
test the cracked skin along her snipped nails.
The cancer her surgeon removed, a third
of her intestines, may or may not have come
from the dioxin the mill spread on the hillsides
to fertilize their forest holdings, but no one
will prove it in her lifetime.  Just as no one
proved the origin of the breast cancer
that killed her sister twenty years ago,
or the lung cancer that defeated
her fiddle-playing father in his prime.
I see her scalp through the curls at the crown
of her head where the chemo has thinned
what no comb in her childhood could pull through.
That is what I wish she would do, pull through,
this tangle of appointments, medications,
and insurance papers that leave her thumbs fidgeting
at the thin cotton covering her frail body even as she sleeps.
Arriving at the Great Mother Conference
for Rachael Resch
In the way of elephants at the annual gathering
we see each other across the distance
and merge until we are forehead-
to-forehead, flesh-to-flesh,
eye-to-eye.  We stand there,
just stand there in the midst
of arriving strangers,
and don't move, swaying, sighing,
pressing into each other's presence
after so many years apart.
I will always remember that
maple-shaded spot near the lodge
where we inhaled with the scent
of chestnut blossoms the aroma
of all the dances between us,
long-lost sister, fellow-traveler, friend.
In your eyes I saw the well of light
that had grown deep in you and
I drank thirstily, my own tusks
worn down to nubs, unable
to dig the arid soil for water
that still ran true there.
Though I had last seen you
ill and weak, you had learned
to rest, to take care of yourself.
Glowing now, you brought with you
all the essence of the savannah
after the first delicious, spring rains.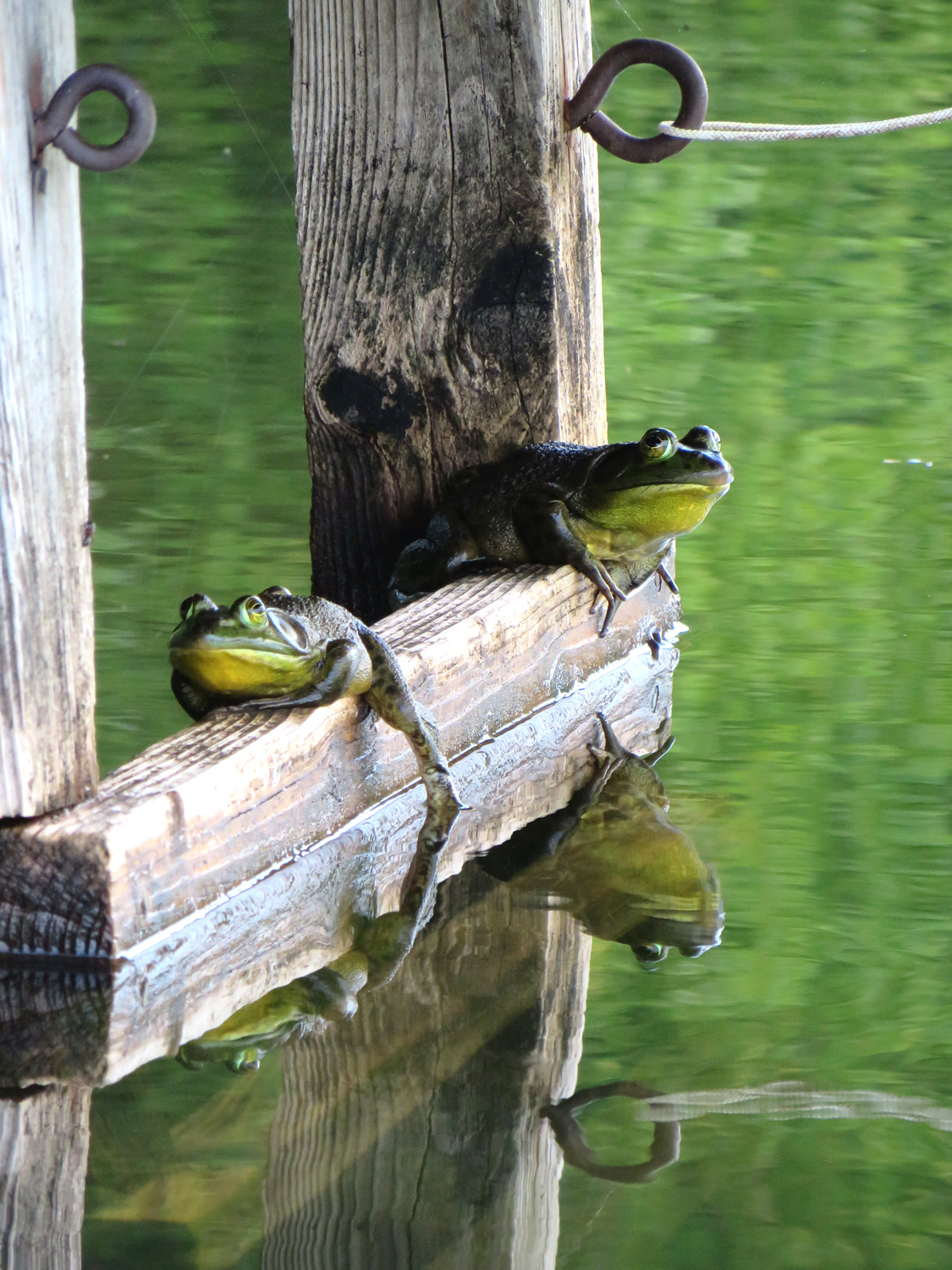 At Camp
We are sucking the marrow
out of September, skinny dipping
under the stars, reading on the porch
in late afternoon light while listening
to loons, sunning ourselves in rockers
after swimming, like the old ones we are.
Decades have passed and still
we savor apple pancakes griddled
on our old green stove, still feel
our red wedding canoe surge
under our unified strokes,
still love the glow of knotty pine by candlelight
as we play cards in the evening
listening to some of our crazier neighbors
singing patriotic songs off-key,
while calling owls echo the hooting bears.
Assume Nothing
Assume nothing more
than you would of the sea:
constant motion,
delicate patterns in the sand,
lingering fingers of water.
When you read these poems
assume nothing
not that you know me
or that this one
this one here
explains it all
explains everything
you've always suspected
a flaw in high relief
a crack at the base
of the fountain.
When you read these poems
assume nothing
not the nature of the world
nor language as you know it.
The journey to get from there
to here had many bridges.
Some of them required burning.
Many supports still smolder
covered with ashes,
ashes over embers
everywhere you look.
Ann Arbor is a photographer, novelist, and poet who grew up in Mexico, Maine, worked in the local paper mill, and attended college in Massachusetts. She has taught English to students from pre-kindergarten to graduate school, coached the Beloit College women's basketball team, and served as Foreign Expert in China at Fudan, Nankai, Zhejiang, and Hangzhou Normal Universities. From 1976 until 2010 she served on the editorial board of the Beloit Poetry Journal. Since 1975 she has been a participant in Robert Bly's Annual Conference on the Great Mother and the New Father.  As a photographer she has published work in national and international magazines ranging from The Chicago Tribune to Geo (Germany).  Recent one-person shows include Ambassadors of Light (光之诸使) at Hangzhou Normal University, At Home in the World in North Carolina, and Beauty: A Retrospective at the University of Maine Farmington, featuring more than seventy of her works and scheduled in conjunction with the honorary doctorate bestowed upon her by that university in May, 2009. While working in China, she also completed her first novel, About Time.
Credits for the photos for this feature: In the video interview, the cover photograph  of Ann Arbor with her Hasselblad camera is by John Rosenwald.  Other photographs, Court Street Library, Thirst, Frogs at Garland Pond, and Camp, are by Ann Arbor.