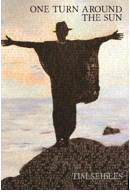 One Turn Around the Sun by Tim Seibles
Etruscan Press
$16, 120 pages published February 2017
Halfway through his epic eleven-page sequence "Mosaic," Tim Seibles echoes the closing of Robert Hayden's oft-anthologized "Those Winter Sundays," writing, "what did I know?" after recounting a terse childhood exchange where his father slapped him for "handing him/the scissors/wrong." Given that so much of One Turn Around the Sun reads as an elegiac memoir-in-verse honoring Seibles' aging parents, who endured the midcentury Civil Rights struggle with stoic resolve while cocooning their son in love, it is a jarring moment that nonetheless humanizes a father whose life demanded so much silence and sacrifice. Though Seibles' sixth book rarely strays from questions of aging, it remains a moving and sinuous collection that copes with his parents' twilight, his own middle-aged yearnings, and the ways in which race and technology perpetually complicate American society, in poems notable for their metaphoric power and elastic forms.
Part tribute and part goodbye, One Turn Around the Sun is first and foremost an homage to the poet's ailing parents, whose final years prove to be a bittersweet coda after a life of dignified endurance together. Two of the strongest poems in the collection open the book—"Ode to Your Mother" and "Ode to Your Father"—which strike a tone of reverence and invitation. In the former poem, Seibles' conscious use of second-person voicing subtly prods the reader to consider the visceral mysteries of how one's own brain was, in its earliest stages, "almost building itself    a secret/mansion—a million doors/to a million rooms, each/with a candle, your little head/holding the Milky Way/rekindled in miniature: consciousness,/The Great Mischief/waking up/to try again." The poem crackles with metaphors: developing feet are "fat crickets," the womb a "warm pond," and the interdependence between an unborn child and expectant mother like "a starfish/riding the big back of a blue whale." "Ode to Your Father" is an equally compelling testament to a man who was once a poor Oklahoma boy fending off bullies, later toiled in the horror of slaughterhouses, and ultimately came to realize he was scuffling to survive in a "country/try[ing] to break his skin." Seibles wisely resists hero worship, but his painterly lyricism offers several poignant descriptions in the poem's closing stanzas of a father who may not have offered bedtime kisses, but mopped the kitchen floor while whistling "My Satin Doll" and "every October he drove you/to the arboretum to see/the blood-orange leaves." Here and elsewhere, such as the commanding, memory-steeped "Morning Where You Are" that reflects on his mother's youth, Seibles lays felt intensity bare while guarding against mere sentimentality. By documenting the actual circumstances of their lives, free of romanticized overtures, Seibles is able to express gratitude for his parents—as well as an entire generation of African-Americans who carried their dreams into the daily ferocity of racism—with a clear-eyed wonder and grace.
Throughout, Seibles' self-interrogations—a few years shy of age sixty—lament the inevitability of alienation in a culture obsessed with beauty, race, and vapid consumerism. "Walk," one of the book's most inspired long poems, scrutinizes vignettes and shards of thought under the microscope of poetic gaze in an attempt to make meaning from monotony and unfulfilled longing. Much like George Oppen's "Discrete Series," the poem's brief, unnumbered parts offer the punchiness of aphorism while remaining anchored in the fixed details of observation, as we see here in the second section:
Do we live to scuff each
hour   dragging the hours
past?— as if you could
see best by turning back—
the Present   with Her lips
soft on your neck / the future
filling with ghosts.
I still remember
the first dog I ever saw:
that crazy tongue, the one sound
flashing between its teeth.
Days when Crackerjacks
crashed their music in me,
and crabgrass sizzled
with chiggers, us playing tackle
till the sun ran out of breath.
A page later in this same poem, Seibles' poses the collection's definitive question, beseeching, "is it true   the mirror/has confused you/with someone else?" Seeing others caged by "hatred or the hunger/for God   an ache for/money," Seibles condemns his own tendency to be a mere "running clock." Similarly, "Magnifying Glass" marvels at "the ant's/careful antennae/testing the air," but swells into an allegorical examination of human toil and existential dread: "when/two ants meet/there's no tongue/for hello—it's a/bug, a nearly/less than/little thing." At thirteen pages, the book's muscular, stream-of-conscious title poem remains a riveting examination of the proverbial daily grind, where the speaker wrestles with the palpable alienation he feels from the other patrons in coffee shops and the shameful lust he feels for a young woman at the gym. In one of poem's strongest moments, the speaker admits just how little separates him from "that lost brotha/in the parking lot trying to sing/smelling like moldy piss and dead dog/with no lovers or friends, with no place/to sleep."
One Turn Around the Sun occasionally falters when Seibles wallows in generalities or absolutes. The second of two poems bearing the title "Composite" begins with lyric wonder at the origins of awareness, but its vague lines stall ("You go somewhere/then somewhere else: your life./When did you open your eyes?"), and its hazy elementary school recollection is too brief to fulfill the poem's impetus. Similarly, "Taste Me Blues Villanelle" finds Seibles so ensconced in the form's rigors that his lines lack his hallmark assuredness and craft ("I grope along this broken road from sea to shining sea," "I've always been an optimist so that is what I'll be"). Additionally, for all of its aforementioned strengths, the titular poem suffers from a few lurches into grumpy fatalism: "cells and phones, twitters—tweets, charged/and re-charged, telling   telling each other/what? As the big teeth close around us."
These concerns aside, One Turn Around the Sun endures as a mature, expressive, and soulful collection that reaffirms Tim Seibles' status as a vibrant contemporary voice. Whether he is paying tribute to his family, confronting his own "gray beard," or exposing the numb predictability of our daily routines, his sonorous lines grieve, praise, rage, and hope. At his best, Seibles inhabits the pain and awe of "each/of us   made/from two people:/an angel's/tambourine—/the self, something/like lamplight/on a slush-covered/street."
Adam Tavel won the Permafrost Book Prize for Plash & Levitation (University of Alaska Press, 2015). He is also the author of The Fawn Abyss (Salmon Poetry, forthcoming) and the chapbook Red Flag Up (Kattywompus, 2013). Tavel won the 2010 Robert Frost Award and his recent poems appear or will soon appear in Beloit Poetry Journal, The Gettysburg Review, Sycamore Review, Passages North, The Journal, Valparaiso Poetry Review, and American Literary Review, among others. He can be found online at http://adamtavel.com/.