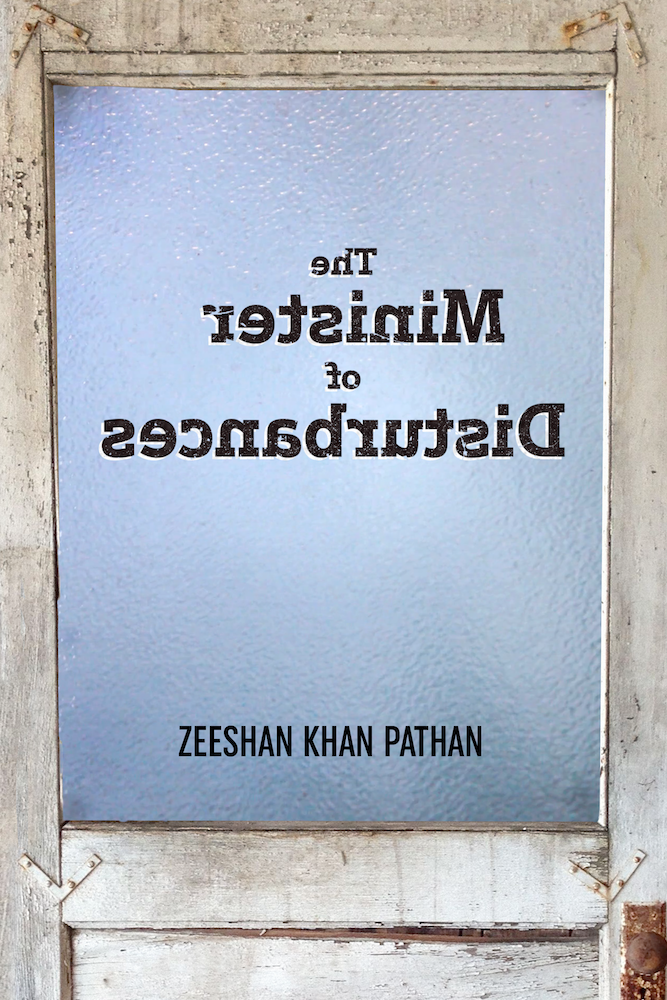 The Minister of Disturbances
Zeeshan Khan Pathan
Diode Editions
The poems in The Minister of Disturbances have a wide variety of settings, and jump around the globe—Cameroon to Istanbul to Afghanistan—which is appropriate, for these are poems
of dislocation, poems of leaving one's native tongue, and often poems of longing. The way they  pivot without warning, however, and effortlessly jump-cut, goes beyond geographical movement, and often occurs in associational movement or through figurative language: "In Cairo people are sleeping with the dead / near the gallows house: /I try to meet my relatives, halfway, along the road to Memphis. // The road blistered like the feet of a Syrian refugee. // In the Nile all through the night – / I am hostage to juniper and orange…" The poems interrogate the gap (and sometimes the friction) between the legal and the moral within a given country, as in "In His Homeland," but sometimes within a broader moral or faith tradition as well, as in "Treason" ("What if I said I no longer believe in handcuffs / In executions in prison cells red wine in aliens or God…).  Some of Pathan's lines are just startling: "Rising from the Gulf of Spezia / I am the elbows of a dead man…" Or: "A man in the Marrakesh of his hopelessness." Yet because the poem is faithful in developing its animating tension—or departing from it in a meaningful way—this is not a book of fragments.
The speaker often turns to an unanswerable or rhetorical question—these range in subject from linguistics or linguistic-adjacent to the metaphysical to the social—or utilizes apostrophe, or direct address, sometimes in epistolary form, to address a number of different persons ("And whole centuries of rubble, Walter Benjamin, / Fill the palm lines of your hands."). In an era in which the speaker of the poem is often assumed to be the poet, Minister stands out with a delightful range of persona poems and self-portraits, and ends with the poignant and riddling "Self Portrait as Susan Sontag" ("If language lives inside one's mouth, / Then what is this darkening / Hunger in my throat"). With the small surrealist touches and asides of Lorca or Jean Valentine, The Minister of Disturbances is a dizzying, sometimes disorienting book, yet a masterful debut from a poet confident enough to acknowledge and respond to his influences, which deepen the resonance of those influences, and set the book echoing with those voices: Lorca, Vallejo, Brock-Broido.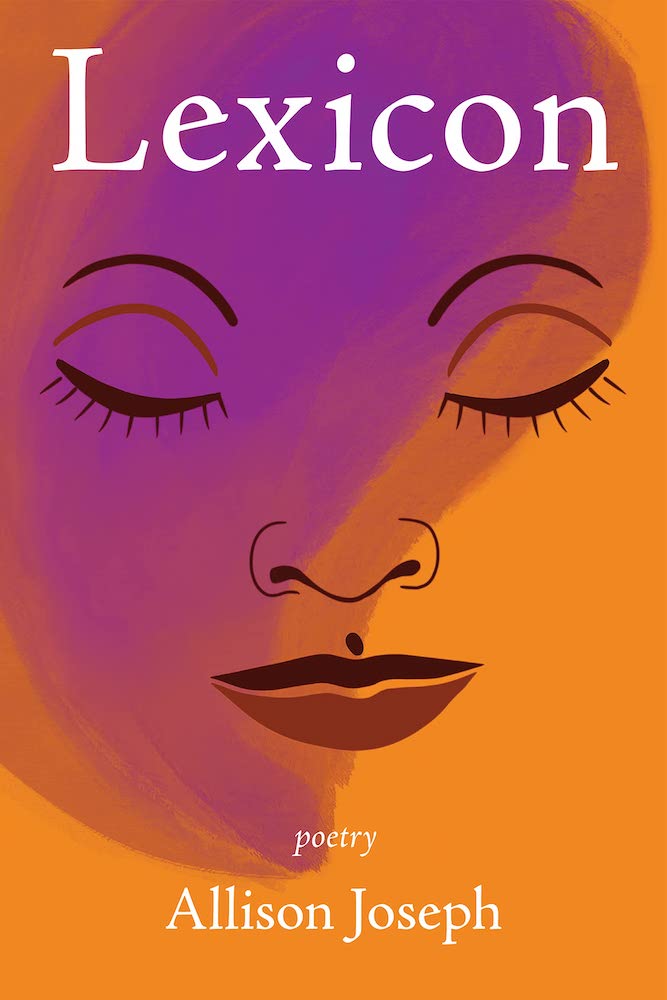 Lexicon
Allison Joseph
Red Hen Press
Lexicon is the follow-up to Allison Joseph's Confessions of a Barefaced Woman, a book that won a variety of awards. Joseph manages to be both timely and timeless, and her poems often feature intricate forms that are expertly executed—she might be the foremost writer of the pantoum in the world. It's fascinating, in Lexicon, to experience grief and desire threaten to unravel and tear at a speaker's psyche and body, only to have the emotions bottled into a form, and that tension is present in many of the poems. Other poems interrogate form itself, such as in "Beauty Queens I Wish Existed," in which poetic forms are personified. Likewise, "Grief: A Petition" speaks of the longing to limit grief, and the need to give it form—within a sonnet! And speaking of grief, there is a good deal of it here, in a number of poems that elegize the speaker's parents—yet here too, Joseph's craft is apparent, as in "Plaint," when "my late mother" and "my late father" interrupt an otherwise largely iambic poem—absences that physically lodge in the poem, and disturb the meter itself ("My Posthumous Mother" is also particularly haunting). Here's "Keisha Addresses Her Teacher on the Art of Poetry": "Just a bunch of pretty lies white people tell…poems my teacher likes / have no ribs in them, no greens, no taste / or grease or salt…" The speaker promises that her poems will make people dance, all the people who have been put to sleep by this teacher's poems—funny, but then the reader can already feel and hear shoes tapping on the floor in the repetition and the internal rhymes: "lips/hips," scrawny/yawn, no/to, stories/kiss."
Beyond form, there is also a real animating humor throughout many of these poems, which is another reason I believe she's due for national recognition—how many poets can you name who work in form, but are also funny? Not to mention willing to take risks, as in the poem "World's Worst White Supremacist," who is described as a pimply litigation-happy lawyer—the poem's funny, but it just might have you tugging at your collar, for white supremacists are certainly dangerous in our country, and especially for people of color—but it's impossible not to feel a spot of pity for this fellow, as abhorrent as his beliefs are (for Letterkenny fans, she might be writing about Hard Right Jay), which leads me to wonder, can pity be dangerous? Is there a danger in humanizing Nazis, or treating them less than completely seriously? I don't really have answers, but I appreciate a poet who is willing to go into "dangerous" territory. And her humor extends to poetry itself, and several poems about poetry, like "Looking is For Poets," "Aloud," and "Poetry," take self-deprecating turns or make gentle tongue-in-cheek jokes or remarks about poetry itself. Although the phenomenon of poets being mistaken for other poets is of course dreadful, "Mistaken Identity" begins with a funny enough line ("The day I became Rita Dove in a bathroom / in a library in Harrison, Arkansas…"), but Joseph manages to turn this encounter with an elderly white woman in a bathroom, of all places, in Arkansas, into both a touching encounter, and a terrifying reminder of the state's history with African Americans: "…can only thank her for having the sublime / taste to mistake me from someone more / famous and more talented when if I'd / showed up on the wrong day in Harrison, / Arkansas, I'd be tree bait…" Lexicon is brimming with poems that are both wry and tender, both elegiac and full of desire, sharp-eyed poems charged with the heartache of the world and alive with body-quickened music.