JERRY PINTO ♦ ARUNDHATI SUBRAMANIAM ♦ JEET THAYIL
I had an idea earlier this year that I'd ask five contemporary Indian poets to share a poem each on Summer Love. It didn't have to be romantic love, necessarily. I was looking for respite. I was searching for a little hope. Maybe I was in need of confessions, like from an old friend distanced by this pandemic. That the five poets were willing to share these poems made me exult both in their offerings, and in their generosity. Nothing is more joyous for an editor than to be a matchmaker on the page for some of her favorite poets. First came Tishani Doshi's with her wide lens of Pilgrimage and I was "impatient for the next gift to drop." Rajiv Mohabir writes, "as we trek deeper into each other, / the sun a delight and danger." If love "was never meant for words," then Jerry Pinto brings us an image of what it was meant for. If Arundhathi Subramaniam gives us an anthem for sisterhood, she still proclaims: "This sisterhood could be enough / and still it isn't, we know." Yes, we are still trapped by desire, aren't we, and that close up is Jeet Thayil's image of "sheets tangled at our feet."
Summer has begun in the East, and with it, comes unprecedented danger and desire.
Pilgrimage
 by Tishani Doshi
Every now and then the universe hands out treats.
A cryogenic pod for Christmas, a family trip
to Greece. We stare like pigeons at our feeders,
impatient for the next gift to drop, sprouting stress bars
on our feathers at the bounty of some other pigeon's trough.
We were taught to show devotion by walking in circles.
We had visions in caves and when the host served an apéritif
of fermented mare's milk, we drank it with grace.
We walked barefoot, keeping the centre to our right,
measured paces between shrines in twilight. These days
we take the video coach, but still bring baskets of marigold.
In times of war we go from cot to cot, whispering sweet nothings
into soldiers' ears. We write letters to their beloveds and preserve
their relics—toothpick, comb, bone. How else to arrive
at the ecstasy of ourselves if we cannot see another's body?
The world has its unknown territories, its dragons.
We wander about with blindfolds, shouting Marco.
Only the devil responds, Polo. It is all remembrance. To repeat
and repeat again, the names of what we deem holy.
Sometimes we move so far we forget where we've been.
It's like looking at an old picture of your face. The earth holds
all our dead, all our half-eaten apples, and still, it has space.
We make circuits around history with lamps
and portable altars of fire, feel the thrill of ghosting in footsteps
of gods and demons. Remember this hill where you were crucified,
this spot in the river where you tore out your breast and flung it
at the cursed city. Remember this sky you forgot in your room,
confusing the blue of the screen for the cosmos within.
No matter how many nights you spend in exile,
remember, pilgrim, you come home to this skin.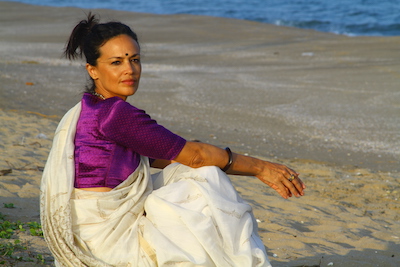 TISHANI DOSHI publishes poetry, essays and fiction. Her most recent books are Girls Are Coming Out of the Woods, shortlisted for the Ted Hughes Award for Poetry, and a novel, Small Days and Nights, shortlisted for the RSL Ondaatje Award. Her fourth full-length collection of poetry, A God At the Door, is forthcoming in 2021. She lives in Tamil Nadu, India.
Photo credit: Carlo Pizzati


♦
On the Path at Middlesex Fells Reservation
 by RAJIV MOHABIR
What promise can I make
that birch-wings will plume
again in spring-sprout,
or that the black-capped
chickadee will chase another
from bough to branch
all trill and flurry of wing,
or that the pinecone's yawn
is a green spell? You can't see
beneath the bracken if leaves
do not wither. I can never
return to that stone bench
on the cliff or to yesterday
where I sat overlooking the trails
beneath that will sunburn our ears
as we trek deeper into each other,
the sun a delight and danger.
Either you or I will die first
and still I open to you because
we can bear both burden and joy,
knowing we perch on the mouth
of the greatest silence.
Let's throw paintbrush and
rue-anemone seeds on the path
for people we will never meet.
Let's live the parable and feed
waxwings and towhees.
Let's braid garlands of rogue
growth, each smiling tendril
beckoning the body back
into nitrogen to enrich
the soil, life after life renewing.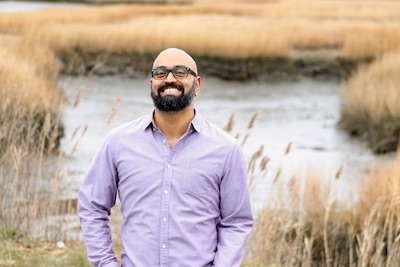 RAJIV MOHABIR is the author of Cutlish (Four Way Books 2021), The Cowherd's Son (Tupelo Press 2017, winner of the 2015 Kundiman Prize; Eric Hoffer Honorable Mention 2018) and The Taxidermist's Cut (Four Way Books 2016, winner of the Four Way Books Intro to Poetry Prize, Finalist for the Lambda Literary Award for Gay Poetry in 2017), and translator of I Even Regret Night: Holi Songs of Demerara (1916) (Kaya Press 2019) which received a PEN/Heim Translation Fund Grant Award and the 2020 Harold Morton Landon Translation Award from the American Academy of Poets. His hybrid memoir, Antiman (Restless Books 2021), received the 2019 Restless Books' New Immigrant Writing Prize. Currently he is an Assistant Professor of poetry in the MFA program at Emerson College, translations editor at Waxwing Journal and poetry editor of Asian American Literary Review.


♦
The History of My Loves
(For names, please read some other poem.)
by JERRY PINTO
I was six or maybe seven
When I first fell in love.
I had no words for it.
Only eyes and offerings.
She knew. At 26, she knew
I loved and loved being loved.
We met again but
The river was different.

At twelve, I fell in love
And recognised the feeling.
At thirteen, I said it was lust
And laughed at myself.
At eighteen, I fell in love on principle:
It was political.
It was social.
It was official.

At twenty-one, I was free again
For apolitical, antisocial, unofficial love.

It didn't happen.

At twenty-eight, a friend I loved
Said, 'Let's write love poems.'
She read hers to herself and sighed.
I laid my own open wide.
She closed her eyes and said,
'Like mine, it's a hate poem.'

At thirty, I remembered
That first love,
Now an eighteen-year-old love,
Matured in an oaken cask
It was good. It was lust, yes,
But it was love too.

At thirty-two, I loved again
And said nothing.
I knew by then how terrifying
Love could be, how anarchic.
To note name it was to love/

In a cloud of unknowing,
A comfortable cloud.

At forty-eight I wrote this:
"Perhaps it was never meant for words.
Perhaps that's why love poems are moon fruit.
They're cool and luscious to the thought.
But they cannot be sold or bought."

I abandoned the poem.

I am here.
I am still.
I am still here.
For a video reading of this poem by Jerry Pinto please Click Here.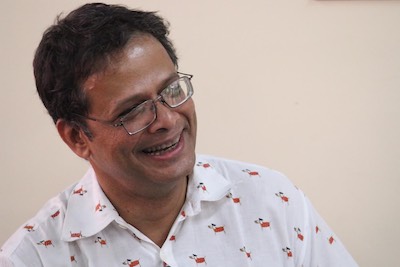 JERRY PINTO is a poet who lives and works in a city by the sea which goes by many names. His first book of poems, Asylum, has just been reprinted by Speaking Tiger after nearly twenty years of being out of print. His latest book of poems is called I Want a Poem and Other Poems (by Speaking Tiger again). Jerry Pinto was awarded the Sahitya Akademi Award (India's National Academy of Letters) in 2016 for his novel Em and the Big Hoom.


♦
This Could Be Enough
by ArundhatHi Subramaniam
We are warm with Mojitos
and your stories of Poland
and your verities about men
who fear intimacy.
This sisterhood could be enough
and still it isn't, we know.
And those men —
the ones that fear intimacy
and the ones that don't —
they won't be enough either.
But this evening
of muddled longing and rage,
your laughter acacia
and honey,
me in my red skirt,
you in your linen smock,
the man at the far table
glowering in lust,
the ditsy waiter
(his gaze greened by a memory
of rain holidays in Mangalore),
the embrace
of this gently hysterical city,
and the hours deemed happy
by the gods
of Tuesday night,
is all we really need to remember.
Ten years later,
and maybe sooner,
we won't ask for more.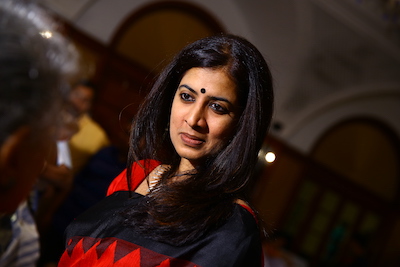 ARUNDHATHI SUBRAMANIAM is an award-winning poet whose most recent books include Love Without a Story, When God is a Traveller and the Penguin anthology of sacred verse, Eating God: A Book of Bhakti Poetry. When God is a Traveller is winner of the Sahitya Akademi Award (India's National Academy of Letters), the inaugural Khushwant Singh Poetry Prize, and was shortlisted for the TS Eliot Prize. Arundhathi divides her time between Mumbai, Chennai and New York.


♦
Old
by JEET THAYIL
The word went first,
not the meaning, but the word,
before sight, before hearing.
My hands continued their work,
but without the exaltation
black carved into white became
an insect's crawl across the wall,
markings on a scroll buried in a jar,
cuneiform from future Sumerians
never to be unearthed or deciphered.
Like St. Gregory at the end,
how he'd take out his dentures,
slam them on the table and say,
Nothing false in the mouth!
Just so, when I spoke
I could not hear my voice,
the hush was too deep,
and I was not too far gone to know
the nature of the silence
that became my boon companion,
the wings of the angel of the end
nearing me, nearing mine,
lining the buoys with quicklime,
trees new and ancient fell
like birds into understanding
that we are not benefactors
but gods, gleeful and mad,
pulling the world down around us
to sleep, sheets tangled at our feet.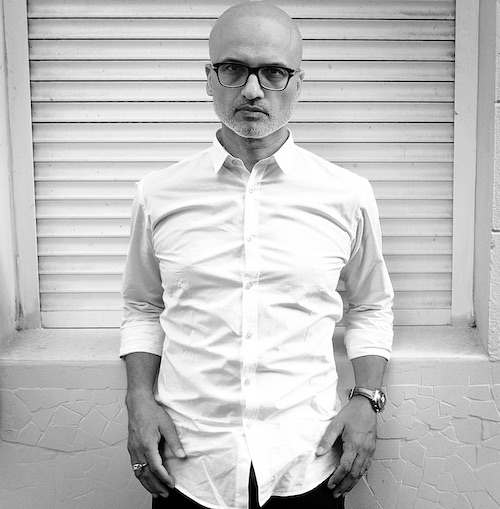 JEET THAYIL worked as a journalist for twenty-three years in Bombay, Bangalore, Hongkong and New York. In 2006 he began to write fiction. His first novel, Narcopolis, was awarded the DSC Prize for South Asian Literature and was shortlisted for the Man Booker prize. His five poetry collections include These Errors Are Correct, which won the Sahitya Akademi Award (India's National Academy of Letters). As a musician his collaborations include the noise quintet Still Dirty, the experimental trio HMT, and the opera Babur in London. Jeet's most recent novel is Names of the Women.
Photo credit: Akanksha