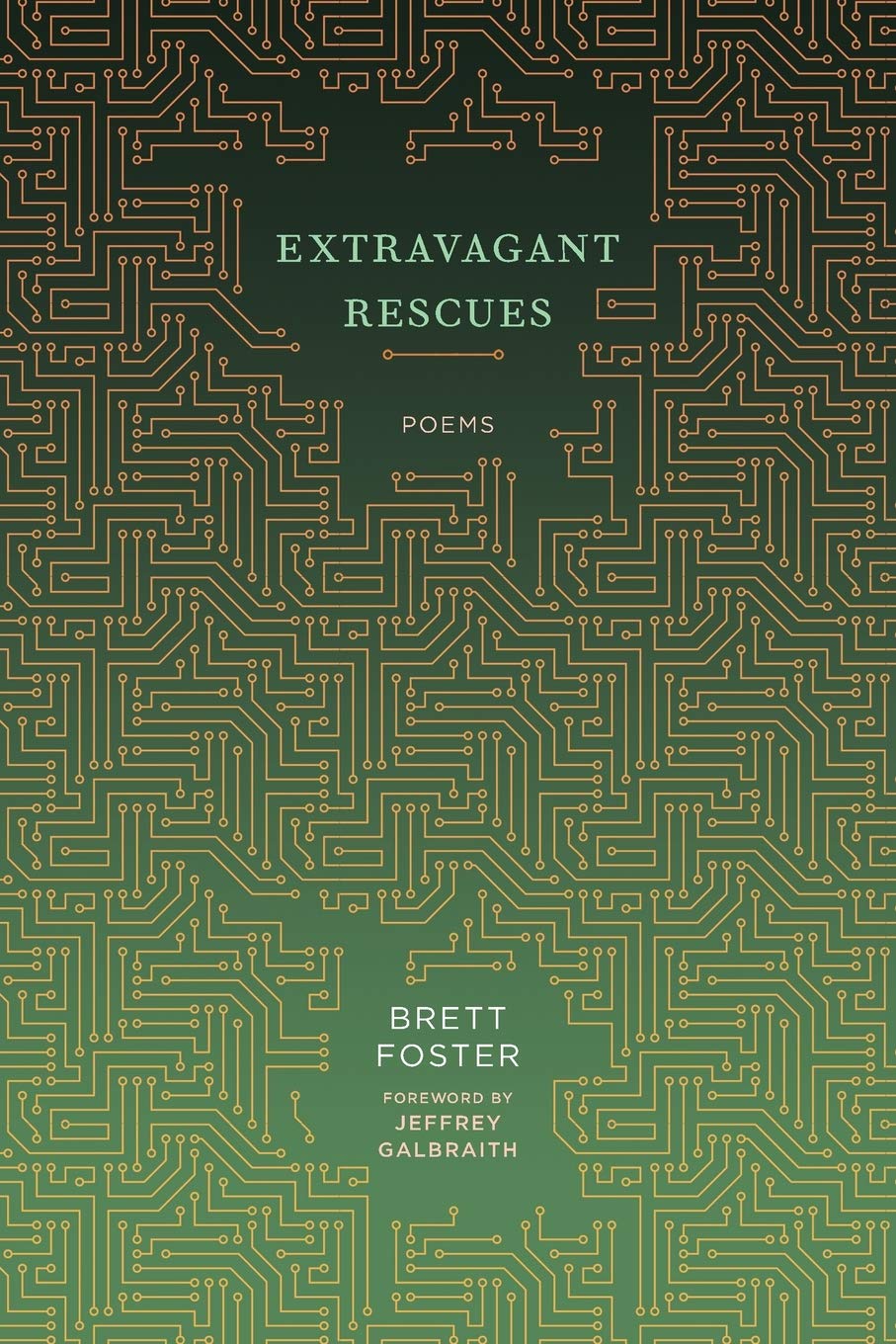 Brett Foster
Extravagant Rescues
2019
TriQuarterly Books/Northwestern University Press.
$17.95, paperback. 95 pages.
Reviewed by Chelsea Wagenaar.
In the abcedarian list poem "Alternative Titles for the Book You Are Holding in Your Hands," Brett Foster offers a litany at once illuminating, self-deprecating, and humorous: "Echo-Criticism" is one choice, as is "Idiot Savant" or "Prayerful Googling." I think it best he settled on Extravagant Rescues as the book's proper title, but the alternatives offer entry points, too. "Echo-Criticism" for the way the book echoes writers and artists past, from Homer to Augustine to Spenser, often as a rigorous, critical conversation partner; for the way it critiques contemporary echo chambers like YouTube; and for the way the words of the poems themselves seem often spurred forward by sound—Foster is a lover of the alliterative grace note—so that each line often peals its own echo. "Idiot Savant" might capture the charming self-deprecatory nature of the poems, refreshing in a time when the first-person "I" often overwhelms collections, ironically making the reader feel like the freedom to inhabit another's consciousness is an inescapable trap of narcissism. Not so in Extravagant Rescues—though many of the poems in this posthumous collection do inhabit the first person, the speaker is not so much judge and expert of everything around him as he is a reactor, a listener, an eye turning in a circle to see more truly.
In "Upon News of the Important Fossil," Foster describes via heroic couplets the discovery of Australopithecenes: "breathless fossil bones, found in a cave," maybe "the best we have" of "human features on the apelike creature."
It may have traveled close to upright, straight
in the cool of the day, but could not yet tear
itself from trees, not ready for firmer earth
always. It says something, to imagine all
remaining ahead, dizzy festival
of ozones, phonemes, green zones, iPhones,
charred craters of conscience, newer loneliness.
The sound play of "ozones, phonemes, green zones, iPhones" is typical of Foster, to link sound in a way that links sense, too—those lines take on a wide vantage point, allow for us to see our blip in history as small as Australopithecenes, all of us hurtling our way toward fossilization—but in Foster's hands this never makes living a mere futility. Instead, it's imbued with meaning when viewed in this aerial manner. The speaker appears once in this poem: "but I like to imagine for a moment." That captures, for me, some of the hubris and humility of the entire collection—hubris to imagine the prehistoric creature's reasons for choosing tree over earth, humility to venture that it, too, was lonely.
If "Upon News of the Important Fossil" fast forwards such that human progress makes a "dizzy festival," then "Polaroid Elegy" slows down, unfolds patiently. Foster elegizes the Polaroid as an artifact and a way of seeing:
But let's maintain this one ruminative fiction
of long-gone vision, the years last seen:
air and light
and handheld conjuration like a funeral-
home fan. The salvaging of lives,
imperfectly.
The imperfection of the Polaroid was "intrinsic" and perhaps preferable to today, when our means of taking photos is instant, near perfect, and "a single click deletes / all mishaps, // instead of bearing them unknowing into light." If the Polaroid's purpose was to salvage our lives, then we might contrast that to what the advent of "iPhotography" has done to our lives—advertise them? In typical fashion, having built a concentric circle around himself, the speaker enters the poem in line 28 of 46. Referring to Polaroids, Foster writes,
Awkward ones
make me weep the most. I think of the SX-70
in the hands of Walk Evans, his everyman's
scrutiny
so bittersweet, or Andy Warhol like a sentinel:
one in hand, taking portraits of people's
genitals,
holy disco sessions for posterior's sake,
but the Polaroid "most pleasing of all"— bringing us to the poem's emotional height—is the "yellowed snapshot / in the sun visor of my father's maroon Caprice / Classic." His father, we learn, kept a Polaroid accidentally snapped on the night "another / driver swerved through thunderstorms, sent / us to the ditch." The photo lived in his father's sun visor, a "cherished shot // he kept always just inches from his temple." Drawing upon the unsettling double possibility of the verb "shot" to refer to gun or camera, Foster elegizes his father, too, as one who kept close to himself the sobering reminder of his own mortality.
Extravagant Rescues is organized into six sections, with a proem and a "Horatian Valediction" to close. Six sections, in a collection not charting any kind of chronological narrative, can seem a lot, but I kept thinking of something the late poet Philip Levine said to me once, which is that sections in a book are about momentum more than meaning. They create the sense that we've arrived somewhere, can rest a moment, and begin again. They keep a book from sagging in the middle, bottoming out. Extravagant Rescues might be thought of as a book in praise of momentum—the movement of a life through time, of time itself—all while elegizing the costly place to which the momentum of our lives eventually delivers us. From "Good Night," one of the collection's last poems:
For me,
insomnia again and finally the emptied,
scorched end of this extended day.
It was ours together, we realized,
and overly costly, like everything we kept.
In "Memento Mori, With Summer Fair," Foster names this anticipated arrival at death more explicitly:
Let's anticipate instead a dark scene,
fair enough, but also one that's somehow swaying
in front of us, inviting from where we've been
to some place fully realized, more serene.
It's no accident that the final poems begin to use the verb "realize," in contrast to the "imagining" the speaker of early poems does. To mature from imagining to realizing—isn't that a kind of wisdom? Isn't that the movement from "sign" to "thing," a way of sitting down at the laid table "to bite through or drink deep" (from "Artes Liberales")? I say it is, with deep gratitude for the grace, humor, and formal ingenuity of this collection, to which I'll be returning again and again.