Readers:
Welcome to Issue # 32 of Plume.
February: a fitful month, restless, frayed: month  of quarrels: the trees fight with the wind, the human eye with the glare of never-ending snow, wakefulness with sleep, purpose with idleness; we, too, with ourselves, friends, strangers – and so the poem below, our now-regular "hidden" one, from the majestic Nina Cassian, which takes up the theme:
A HAPPENING
Yesterday I watched an amazing fight
between a woman in love and a man
who wasn't, her hair agitated,
and her mouth interrupted by white teeth.
She talked and talked — he didn't.  She talked furiously,
striking expired time with words.
There was no sound of shields.
Time totally disarmed!
She had her arguments, he did not.
He was leaving her for another woman,
he was guilty — so was the other woman,
but the woman who loved was the innocent party.
Her words had a natural nobleness,
the mud of passion left only cast gold.
To avoid her eyes, he looked at his hands —
noticing a certain contrast between them
It was a ridiculously unfair battle,
the air whistled as if clutching a line
of a thousand arrows never felt reaching their target.
Everything about them seemed to sink — to decline.
~ translated by Brenda walker and Andrea Deletant.
[from Life Sentence: Selected Poems. Nina Cassian, edited and with an Introduction by William Jay Smith. Norton, 1990]
Yes: Everything about them [and the world] seemed to sink — to decline. One knows the sensation all too well these short days.
And so: on to Seattle! I hope to see many of you there…to meet and place faces in context: you whom I have already met in so many ways. Yet: the corporeal presence, the movement of limbs, the face-multimedial… 
But, to business.
Speaking of Seattle, here is the lineup for Plume/Madhat's Friday evening reading – impressive, if I can say it…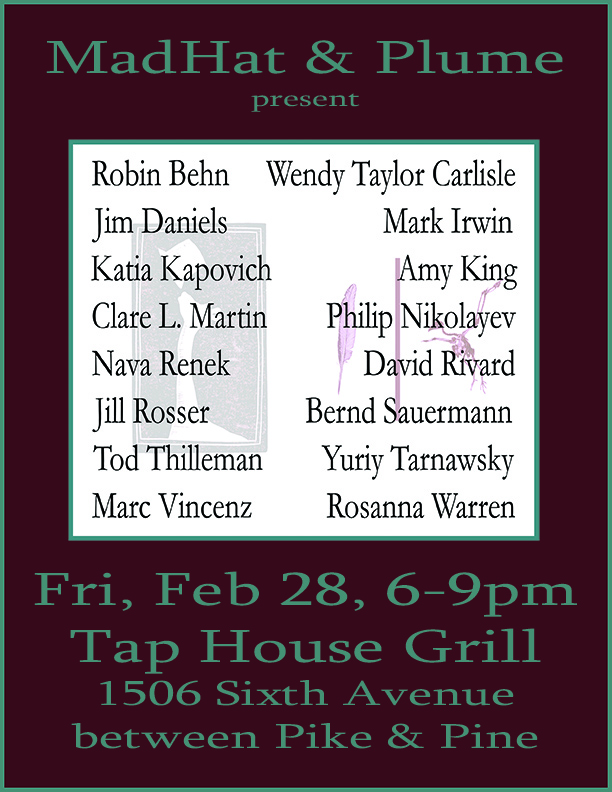 A short, three-minute walk, according to Google Maps.  Please, stop by, listen, say hello.
Our cover art this month, "My Leaner Meaner Me" comes from the many-talented Steven Bradbury: poet, paint, translator extraordinaire of the great Hsia Yu, whose work has appeared several times in our both our online pages and in the print anthologies.
Next up, after this issue's Featured Selection by Martha Collins, a dazzling  project from Hank Lazer. Several more features are in the pipeline, as has been noted.  (Here, too, again, let me add as always: those with projects that might be suitable for the Featured Selection, please do contact us with your proposal at plumepoetry@gmail.com ).
A new reading has been added to the list of upcoming events in Seattle, NYC, Cambridge (with Chicago in the works): New Orleans, with Peter Cooley leading the way. More information as this comes together.
On the off chance that you, poets, are interested in reading at one of the above sites, or might want to organize a reading in your own neighborhood, please, again, email me at plumepoetry@gmail.com – we'll make every effort to accommodate you, I promise.
Finally, new work received this month includes pieces from Barbara Hamby, Brian Culhane, Glenn Mott, Kwame Dawes, Kathleen Graber, Erika Meitner, John Kinsella, Henry Israel, Christina Pugh, and Kathleen Ossip.
As always, I do hope you enjoy the issue!
Daniel Lawless
Editor, Plume